Top Reasons For Loan Rejection With Good CIBIL Score
Even with a good CIBIL score, your application for a new loan could still get rejected. Why does this happen? Read this article to know!
4 Dec,2022
18:17 IST
20 Views
2 Likes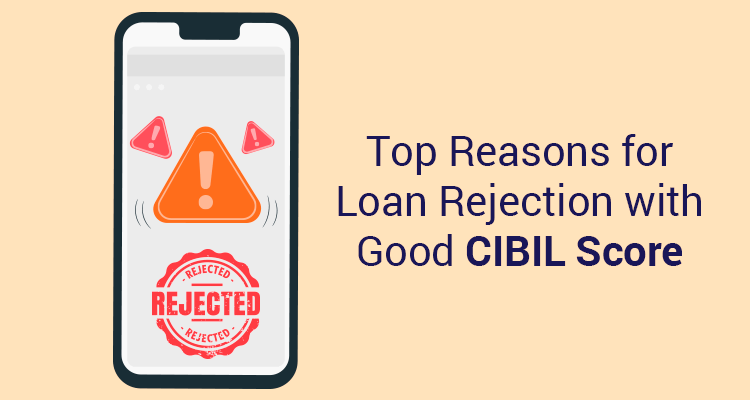 At times of financial emergencies, loans are the most viable solution that one can think of. They are versatile funding mechanisms to take care of unexpected expenses and keep the post-retirement funds untouched.
But it is the lenders who make the ultimate lending decisions. For a lender, the most important parameter is to assess the repayment ability of the applicant. Hence, they run a check on the credit risk profile of the applicant and then decide the lending terms and conditions.
Usually, a CIBIL score of 750 or above is considered a good score to qualify for a loan. That said, it does not mean that all the loan applications of all individuals with good credit scores get accepted. And that can be a great cause of disappointment to some prospective borrowers.
Here are some possible reasons for a loan rejection, despite a good CIBIL score, that can help borrowers in future:
• Low Income:
Lenders prefer borrowers with appropriate and regular income sources to qualify for loans and better loan terms. This criterion may involve a minimum income range to avail of the loan. However, the income eligibility criterion depends on whether the individual is salaried or self-employed, his age, etc. Additionally, some banks require applicants to complete a certain number of years with the employer.
For business owners, lenders will want to know the annual profitability and cash generated in a business. Business owners seeking a loan must ensure that their loan application is supported by necessary financial information to avoid the risk of rejection.
• Frequent borrowing:
When an applicant applies for a loan, lenders access the credit details with the help of credit information bureaus like TransUnion CIBIL and Equifax. They also ascertain the loans availed by the individual from other financial institutions.
Frequent borrowing raises doubts in banks and financial institutions about the repayment ability of the individual. Similarly, having multiple existing loans at the time of a loan application reduces the chances of approval.
Applicants should not apply at multiple banks and NBFCs at the same time as it increases multiple hard enquiries by different lenders which ultimately affects the credibility and financial profile.
• CIBIL report remark:
A
CIBIL report
often contains several remarks on an individual's finances like a missed payment, requests for favourable loan terms, delayed EMI payment, loan settlement, etc. These comments can prevent a loan application from getting approved since these reflect the poor repayment habits of the individual.
• Overleveraged:
A high debt-to-income ratio is another factor that borrowers should keep in mind. It is a measure that helps lenders evaluate how much additional debt a borrower can handle in addition to the existing debts. Dividing the total monthly debt by the total monthly income gives the debt-income ratio. It is ideal to keep a low debt-to-income ratio, meaning one has a sufficient amount left after paying all expenses.
• Unstable job:
Instability in employment and frequent job changes have a negative impact on the loan application process. Working for an organization that is blacklisted by the lender can also cause a loan rejection.
• Age limit:
Banks and NBFCs often hesitate to sanction loan application of individuals who are close to their retirement age. Similarly, the loan application of an applicant may get rejected if the minimum age criteria is not met.
• Purpose of the loan:
Lenders are always interested to know the purpose for which the money is required. It helps them to analyse the specific market conditions of the business. For example, if the loan is being taken for starting a new business that is likely to become redundant after a few years, then some banks may not have the risk appetite for such a business.
• Collateral provided:
For secured loans, the nature of collateral is important. If the pledged collateral is not adequate to secure a loan, the loan application may be rejected.
• Errors in the loan application:
Lenders verify financial and non-financial information as a regular procedure. Any inaccurate information found in the application form of the individual can have a negative impact on loan approval because it is the basis of information for the lender to refer to. Hence, the information in the loan application should be complete and authentic. To avoid mistakes, borrowers should do a thorough check of the application form along with the required supportive documents.
A few other reasons of possible loan rejection could be:
• Previous history of rejected loans
• Unbalanced mix of secured and unsecured loans
• Inadequate or weak tax payment history
• Poor CIBIL record of the co-applicant
Conclusion
Before applying for a loan, borrowers should check the eligibility criteria and then apply so as to avoid the possibility of a rejection. A loan rejection might also affect the credit score of the individual. Borrowers must do extensive research on the different requirements of lenders and then choose the lender that offers the best deal.
IIFL Finance is a renowned lending institution in India offering a multitude of loans especially curated for the ease and comfort of its customers. Based on their requirements, customers can choose between personal loans, business loans, gold loans etc. All the loan application processes are simple and come with flexible repayment options.