Purpose Of CIBIL Score
CIBIL score is an important factor that is considered by lenders at the time of offering you a loan or credit card. Know all the purposes of cibil score here!
19 Nov,2022
16:48 IST
15 views
6 Likes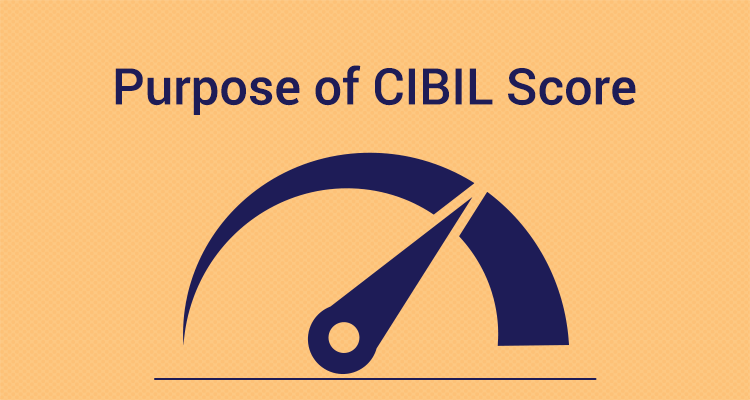 Larger financial goals in life require careful planning. The best way to accomplish them is to set small steps and fulfil them. Every financial goal, whether small or big, requires budgeting. And when instant cash is not readily available, taking out a loan can turn out to be useful.
While applying for a loan, one of the most important metrics that almost every lender considers is the CIBIL score. It is a credit score based on the consumer's past credit behaviour. The CIBIL score speaks of an individual's creditworthiness and their ability to repay the loan on time.
CIBIL stands for the Credit Information Bureau India Limited, a credit information company responsible for maintaining records of credit-related activities of individuals and organisations. The company is now known as TransUnion CIBIL. The CIBIL score is three-digit number between 300 and 900. A CIBIL score of 750 or above is ideal for securing personal loan, home loan, car loan, or credit card from most banks and financial institutions.
Here are a few purposes of the CIBIL score:
Creditworthiness:
A CIBIL score and the corresponding credit report is a summary of an individual's present and past credit transactions. It informs the lenders about the credit status of an applicant. As a CIBIL score is a reliable way to measure a person's creditworthiness, lenders determine the applicant's borrowing capacity based on their credit status. So, it is important to repay all loans on time. Any default in payment gets reflected in the credit report and lowers the credit score.
Faster approval of application:
A score of 750 and above indicates that the applicant is creditworthy. It reduces the lender's risk and simultaneously, increases an applicant's chance of getting quicker loans.
Lenders often hesitate to sanction loan applications of individuals with a low credit score. Sometimes, some lenders may ask borrowers for a number of additional documents or for guarantors. Accordingly, the loan disbursal process may take more time than expected causing delay in the overall financial planning.
It is equally difficult for lenders to consider loan application of applicants with no credit history or credit score as there is no way to assess their creditworthiness. Consequently, some applicants may even face rejection.
Lower Interest Rates:
Timely repayment of loans can be a bit of burden. One effective way to reduce the loan EMI is to look for a lower interest rate on loans. Applicants with high
CIBIL scores
can negotiate with the lenders for a favourable interest rate. It is, however, important to understand how the interest on the loan is being calculated before closing the loan deal.
Loans With Longer Tenure:
Many lenders customize the loan products for borrowers with high CIBIL scores. While applying for a loan, borrowers are mostly confused between longer tenure with lower EMI repayment or shorter tenure with higher EMI repayment. Usually, the final repayment tenure is decided by both the lender and the borrower at the time of availing a loan. The repayment tenure determines the interest rate on the loan.
Longer repayment tenure reduces the EMI burden as the total interest component and principal amount to be returned to the bank gets divided over a longer period. It can also help to free up cash for other expenses. However, lenders may not be willing to offer a loan with a longer tenure to borrowers with low CIBIL scores to minimize risks.
Higher Credit Limit:
While applying for a loan, an important consideration is the loan amount to be borrowed. A high CIBIL score not only helps approve loans at a lower rate of interest but also increases the chances of getting the maximum amount possible. But one should always borrow based on the financial needs and affordability. Lenders also use the CIBIL score to calculate how much loan is one eligible to borrow.
Applicants with good credit score may also enjoy the following benefits:
• Loans or credit cards with better benefits and rewards
• Pre-approved loans
• Discount on loan processing fees and other charges
Conclusion
There are many factors that lending organizations consider while approving a loan application of an applicant. Of these, the CIBIL score plays an important role. A
good CIBIL score
increases the chances of getting loans easily and at lower interest rates as well as flexible repayment terms.
A bad credit score may not allow individuals to get the desired loan terms. So, it is ideal to wait and improve the credit score before applying for a loan. Also, approaching the right bank for the best loan deal is ideal during financial emergencies.
IIFL Finance is one of the leading lending institutions that offers a variety of loans to cater to every need of individuals. The loan application process is simple and involves minimal paperwork. And borrowers with high CIBIL scores get the most competitive rates of interest.