Common Misconceptions About CIBIL Score And The Facts Behind Them
When we talk about credit scores, there are many myths associated with them. Here are the top facts & misconceptions about cibil score!
12 Jan,2023
08:52 IST
1692 Views
926 Likes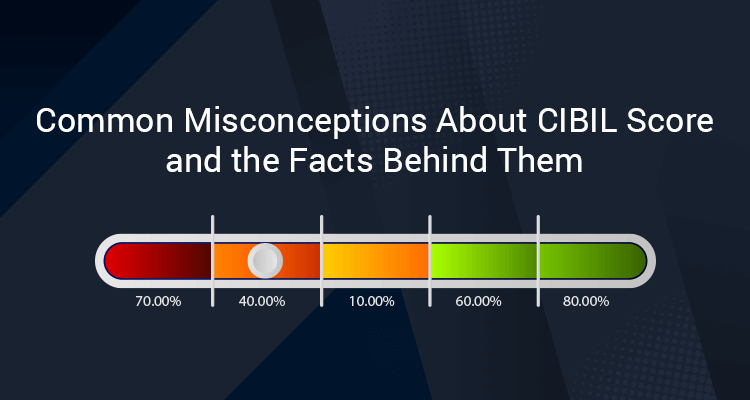 The CIBIL score, or the credit score, is a key parameter that determines a prospective borrower's eligibility for any loan, whether secured or unsecured. The three-digit CIBIL score falls between 300 and 900. It is calculated using various inputs, including the credit history of an individual and amount that the person may have in open loans.
However, there are many myths attached to the CIBIL score and how it is calculated. Let us look at some of the common misconceptions about the CIBIL score and the facts behind them.
• Misconception: Income Helps Determine CIBIL Score
Fact: A person's income does not get reflected in the CIBIL score. A person with high income may end up with a low CIBIL score if the repayment history is poor. Conversely, a low-income person may have a high CIBIL score if the credit history is clean.
• Misconception: CIBIL Score Is Calculated Solely By Loan Repayment History
Fact: While the loan repayment history plays an important role in determining the CIBIL score, there are several other factors that are also taken into account. These include length of the person's credit history and number of recent credit enquiries.
• Misconceptions: Debit Card Transactions Impact CIBIL Score
Fact: The number of debit cards a person has or transactions through them are directly linked to the bank account. These transactions have no bearing on the CIBIL score as there is no credit involved.
• Misconception: Checking CIBIL Records Affects Score
Fact: An individual checking own
CIBIL score
or record, whether once or many times, does not impact the score. However, if many lenders are accessing the person's CIBIL record in a short span of time, it may lower the score by a few notches. In fact, it is a good idea to frequently check your CIBIL score to make sure it is accurate.
• Misconception: A Low CIBIL Score Is Bad
Fact: A low CIBIL score is not always a bad thing, even though it can cause issues when applying for a loan or credit card. For instance, if you have no credit history and a low CIBIL score, this can be a sign that you are a debt-free person who is financially responsible. Also, lenders may look at many other aspects such as income and security provided before advancing a loan.
• Misconception: Closing A Loan Erases Bad Repayment History
Fact: The repayment history for a particular debt will have a bearing on the CIBIL score for a long time, even if you were to close or settle the loan account. A similar misconception is that if you return a credit card where you missed repayment, it will immediately restore your CIBIL score. That repayment history stays on the CIBIL score for a long time.
• Misconception: Taking New Credit Card Impacts CIBIL Score
Fact: The credit card repayment history is one of the important factors that determine your CIBIL score. But taking a new credit card in itself is not bad for the CIBIL score. However, if you make multiple enquires for credit cards with many lenders in a short span of time, it may reflect on the CIBIL score.
• Misconception: A Bad Score Can't Be Improved
Fact: There are a number of ways to
increase the CIBIL score
including clearing all dues on credit cards, improving the credit mix and lowering the credit utilisation ratio of credit cards. Fewer enquiries about new loans and credit cards also help increase the CIBIL score. The improvement may be gradual in some cases but it can definitely be increased.
Conclusion
A high CIBIL score assures a lender that the borrower is financially responsible and has repaid prior loans on time, in full, and with interest, in addition to having a reliable source of income from a business or job.
On the other side, a low CIBIL score essentially indicates that the borrower is a high-risk customer who has a history of making late payments on debt or of defaulting. It suggests there is a strong likelihood that the borrower would default on the loan due to the possibility that their financial situation and income are unstable.
But there are many misconceptions attached with the CIBIL score as listed above. For borrowers with strong CIBIL scores, IIFL Finance offers different kinds of loans—gold loans, personal loans and business loans—at the best possible interest rates in the market and customized repayment terms. IIFL Finance uses a fully online loan application method and quick disbursal to make the entire process hassle-free.