Is CIBIL Score Above 700 Good?
A good CIBIL score will be followed by many benefits such as quicker approval. Is CIBIL score above 700 good? Read this article to know!
25 Nov,2022
17:22 IST
67 Views
2 Likes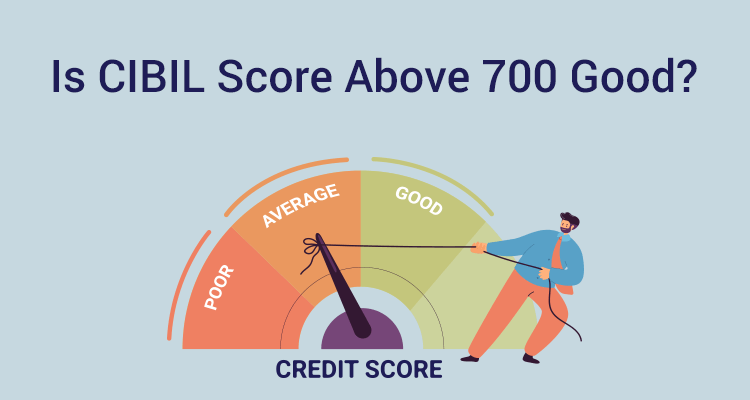 Getting a loan is easier than ever, be it a gold loan, a home loan, a car or bike loan, or an unsecured personal or business loan. However, different lenders offer different loan terms that are based on several factors, of which a credit score—or the CIBIL score—is the first parameter that lenders check while considering a loan application.
What Is CIBIL score?
A CIBIL score is essentially an evaluation of the creditworthiness of an individual based on the personal credit history in terms of previous debt payments, and credit card payments, etc. It is a three-digit numerical representation of a person's debt repayment ability, issued by the credit bureaus of India. Applicants with a high credit score are deemed as low-risk borrowers.
An Ideal CIBIL Score
A borrower's credit score helps the lender assess the amount of risk they can expect if a loan is approved. Most lenders prefer a credit score of 750 or above for loans. This is especially true for unsecured loans like personal loans. Lenders classify such borrowers as "financially responsible borrowers" gifted with good money management skills.
Applicants with a lower CIBIL score between 600 to 700 may still get a personal loan, but with stricter loan terms. Lenders look upon individuals with lower credit scores and an inconsistent credit history as riskier consumers. For collateral-free business loans, a CIBIL score of 700 is ideal.
On the other hand, there is no minimum CIBIL score requirement for gold loans. The main criteria is the quality of the gold. However, the RBI has made it mandatory to check CIBIL score to process any loan.
Scores above 700 are mostly acceptable to lenders. Applicants with a credit score of 700 but below 750 can secure credit but not necessarily with the best interest rate. Listed below are a few situations when loan applications of individuals with credit scores of 700 can still be rejected:
• Debt Overburden:
Applicants with too many loans, irrespective of whether they have been honored or not, may be identified as credit-hungry borrowers. Such borrowers are deemed as risky candidates for loans.
• Overleveraged:
An overleveraged individual is into too much debt. It means high debt-to-income ratio, indicating high debt when compared to income. It is calculated by adding up all monthly debt payments and dividing them by the gross monthly income.
• Tax-Paying History:
In addition to the
CIBIL score
, lenders evaluate the creditworthiness of borrowers based on their income tax returns. Most banks and NBFCs prefer loan applications of individuals with history of income tax returns filings for at least two years before applying for a loan.
• Past Default:
A list of defaulters and their details lies with most banks and financial institutions. If an applicant's details like name, age, address, current employment etc. match the details of a defaulter then the loan application stands a chance of getting rejected.
Some other reasons of possible loan rejection are:
• Instability in career and salary
• Poor CIBIL record of co-applicant or guarantor
• Unbalanced mix of secured and unsecured loans taken in the past
• Adverse remarks in CIBIL Report on loan settlement terms
Disadvantages Of Applying For A Loan With A CIBIL Score Of 700
The following are the disadvantages that borrowers with a credit score of 700 may possible confront:
• Lower Loan Amount:
Lenders may sanction a credit amount smaller than the amount applied for.
• High Interest Rate:
Lenders may approve the loan at a higher rate of interest, implying increased financial burden.
• Shorter Loan Tenor:
A shorter tenure loan reduces the risk for lender but may increase the financial burden on the borrower, meaning possible default on further loan payments.
• Need For Collateral:
To minimize their risk, lenders may require borrowers to pledge some security or collateral towards the loan granted.
Hence, building a good credit history is essential for a good credit score for better loan terms.
Conclusion
With a rapid growth in the number of loans in the country over the last few years, cases of defaulters have increased as well. So, risk management is important for lenders. Thus, they evaluate several factors to quantify the credit risk.
A good credit score of 720 to 790 is enough to convince the lender that an individual is responsible with credit. It helps to qualify for a higher credit amount at a lower interest rate and other favourable loan terms. A CIBIL score of 700 to 750 is a fairly good score required for loan eligibility but improving it further may be helpful, especially if borrowers plan to take future loans.
IIFL Finance loans are designed to fulfil capital requirements for personal and business purposes. Before applying, you can check your CIBIL score online and get a personalized credit report by downloading the IIFL Loans App. IIFL Finance offers loans with the most competitive interest rates and flexible repayment options to borrowers with high CIBIL scores.