Difference Between Credit Score and CIBIL
Lenders use credit score or CIBIL score of the person to evaluate a loan application. Read on to know the difference between credit score & CIBIL score at IIFL Finance.
14 Nov,2022
10:59 IST
14 views
2 Likes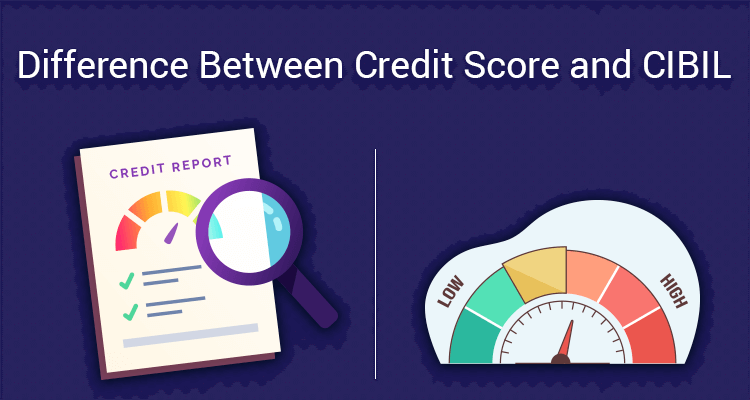 A borrower has multiple options to get access to additional cash over and above their savings and incomes. This can be to meet personal or family needs or for one's small business venture. Whether it is for a personal exigency or a business requirement, borrowings can be of two types: secured or unsecured.
Secured loans are advanced against some valuable assets that the borrower pledges with the lender. In the case of a personal finance product like a gold loan, this is a gold jewellery that is owned by a person or the household. In the case of an auto loan the vehicle being purchased and in the case of a new house loan, the ownership of the property itself is pledged till the borrower pays back the entire sum availed along with interest and other charges.
Similarly, in the case of a secured business loan, the office or factory premises could be pledged as a collateral.
Unsecured loans, as the name suggests, refers to debts that are advanced without any collateral. In the case of personal borrowing this could be a personal loan and in the case of an enterprise this could be a small business loan.
Such unsecured loans are dependent on the lenders' assessment of the creditworthiness of the borrower. For this, lenders use credit score of the person or the business owner to evaluate a loan application for a personal loan or a small unsecured business loan.
Credit Score
One's creditworthiness is captured via a credit score. This is a three-digit number that varies between 300 and 900. If the score is on the higher side it is considered that the person is more creditworthy than a person with a low score.
Typically, 750 is seen as a benchmark and if one has a score above this level one is almost pre-approved for a loan. That said, even if a person has a lower score there are lenders who would advance a loan. However, it becomes next to impossible for someone with a score under 500 to get a loan.
The credit score essentially captures the outstanding loans and past credit behaviour of the person and the repayment record. If one has few outstanding credit or loan accounts and has been meeting the scheduled timeline for paying equated monthly instalments (EMIs) then one gets a high score. Notably, even if one has never taken a loan but uses or has used a credit card then also he or she gets a score.
The score takes into account the behaviour of the person, especially over the last 36 months. It is generated by a bunch of credit information agencies such as TransUnion CIBIL, Experian and others.
The score can be improved over a period by repaying loans on time, reducing the number and quantum of amount borrower via unsecured loan products and not maxing out the credit card's upper spend limit.
CIBIL
CIBIL, or what was originally known as Credit Information Bureau (India) Limited, was incorporated in 2000, based on recommendations made by the RBI Siddiqui Committee. Four years later credit bureau services were launched in India for consumers and in 2006 it started commercial bureau operations. A year later, CIBIL Score, India's first generic risk scoring model for banks and financial institutions, was introduced.
In 2011, CIBIL Score was made available to individual consumers. In 2017, US-based TransUnion acquired a 92.1% stake in CIBIL, thereby leading to change of its ownership and provided its new name TransUnion CIBIL.
Since CIBIL was the first agency to generate credit information data in the country, it has become synonymous with credit scores. Indeed, the term is now interchangeably used as credit score or CIBIL score even when there are others who generate the same number with a similar process and inputs.
CIBIL also comes up with a rank for company credit report, just like the score they generate for a person. These ranks vary between 1 and 10. The closer the number is towards 1, the better. Just like 750 is considered a threshold for a good creditworthiness of a person, 1-4 ranks are considered good for a company. However, CIBIL ranks come into play when the enterprise is a bit bigger. For smaller companies, lenders essentially look at the credit score of the business owner.
Conclusion
CIBIL, the acronym for what was previously known as Credit Information Bureau (India) Limited, was the first credit information bureau in the country. Due to this it has become synonymous with credit scores, which are also known as CIBIL score. This is despite other private firms like Experian and Equifax providing the same service. These agencies generate the credit scores, which are then used by lenders to assess the creditworthiness of a borrower. This comes in handy for evaluating a loan application, especially in the case of unsecured or collateral-free debts.
IIFL Finance, one of the most prominent non-banking finance companies in India, provides a suite of loan products both secured and unsecured. Whether it is a gold loan, personal loan or a business loan, it promises quick sanction via a digital loan application process and swift disbursal directly to the bank account of the borrower within a few hours to up to two days.