Assets vs experiences: How millennial spending differs from their parents
Millennials are remarkably different in their spending habits from their parents. They are more focused on short-term goals and experiences as opposed to their parents' affinity to long-term goals and assets.
8 May,2020
07:30 IST
788 Views
776 Likes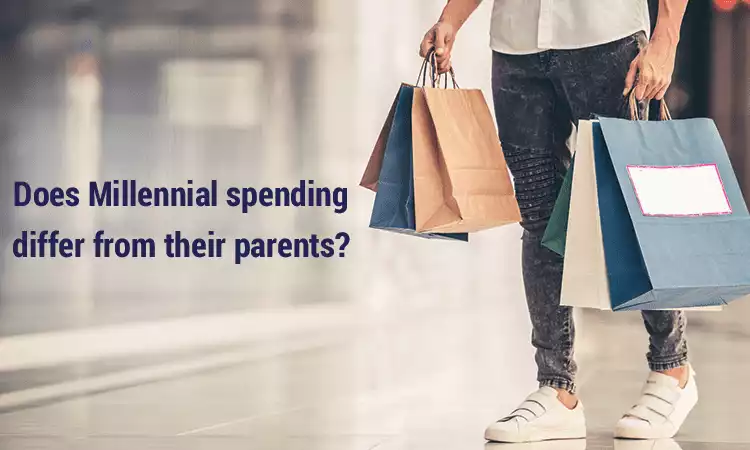 A succeeding generation is always different in some ways from the preceding generation. Agreed! But never was a new generation so different from its previous one in such a remarkable way than millennials. Millennials, also called Generation Y or just Gen Y are those born between 1981 and 1996.
One of the areas where millennials are entirely different in their approach from their predecessors is their spending habits. And remember millennial spending habits make a significant impact on the economy, especially in a country like India where they comprise 47% of the workforce. Millennials are also the largest demographic group in India and globally.[1]
The fundamental way in which millennials differ from Gen X (those born between 1966 and 1976) in their spending habit is their approach. While Gen X spent more on building assets, Gen Y is spending more on experiences. So, let's understand how millennial spending habits differ from those of their parents in some key areas.
Homeownership
Parents of millennials worked hard and saved every penny to purchase a home of their own. It was considered one of the biggest achievements in life after starting a family. Millennials, on the other hand, would rather rent a home than buy one. They prefer to change jobs more often and don't want to remain confined to a particular city or region, hence for them renting is a better option.
Another factor is the higher home loan EMIs that one has to pay in comparison to rent in Indian cities. Also, millennials hate long commutes and traffic snarls; therefore they prefer staying close to their workplaces. The only option is to rent because property rates are out of reach for most in prominent locations.[2] Thus, we find that millennials are keener on spending for better experiences and quality of life and work compared to the previous generation.
Investments and savings
When it comes to investments and savings, millennials are more likely to invest in mutual funds and equities while their parents stuck too traditional investment instruments. Gen X had long-term goals hence their investment horizon and instruments were long-term as well. Parents of millennials started financial planning for a house, children's education and retirement as soon as they started working.
Millennials, however, prefer to delay getting married and start a family. They would rather focus on short term spends on cars, vacations, electronic gadgets and smartphones.[3] However, millennials are financial savvy, partake in comprehensive financial planning, and they ask questions before investing their money. That is the reason why they prefer investing in stocks and mutual funds. Majority of people who open Demat accounts in India are also within the millennial age group of 25-35 years.[4]
Spending on food
Millennials are the ones responsible for this sudden spurt of food delivery start-ups across the world as they love the convenience and spend less time in cooking. It is also said that Gen Y loves to dine out at restaurants more than any other generation.[5]
Online shopping
A Deloitte India report in 2018 revealed that millennials spend more than 50% of their disposable income on apparel, accessories and entertainment.[6] Most of these purchases are done online.
Millennials love to shop online because they hate spending an entire day to buy a pair of jeans. In metro cities, you have to jostle through traffic, stand in long queues at the checkout counter just to make a few purchases at a mall.[7]
Education
As millennials require new skill sets to survive and succeed in the new workplace, they spend a significant amount of money on vocational and technical courses to enhance their skills. This is in sharp contrast to the previous generation that mostly studied to become a doctor, engineer, CA or a government officer. Millennials spend a considerable portion of their disposable income to enhance and upgrade their knowledge and skills.
The above distinctions between millennial spending habits and those of their parents show us that while the previous generation focused more on building assets, Gen Y is more geared towards building experiences.
Take advantage of India's booming capital markets now with IIFL Demat and Trading Account that comes with the industry's best trading platforms and personalized portfolio analysis. IIFL is among the select few brokers that offer Demat accounts in India of both NSDL and CDSL.
Sources: