Affordable Housing – The global impact on the environment and society
Affordable housing supports sustainable living and has a positive global impact on environment and society.
4 Feb,2019
06:30 IST
43 Views
368 Likes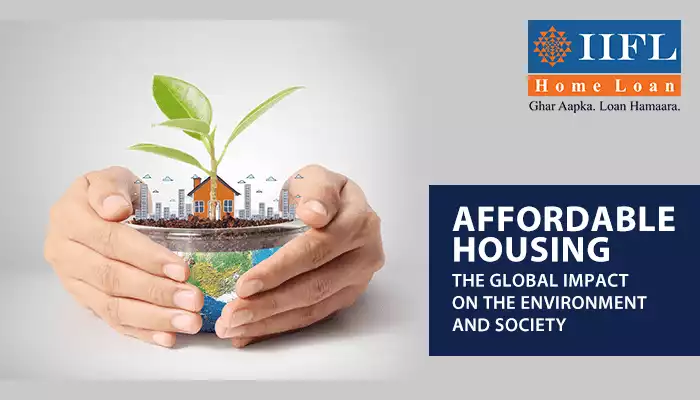 Written by Amor Kool- Amor Kool is a Panel Member of National Building Code of India and Technical Committee Member to Bureau of Indian Standards and BEE ECBC. He's currently working as Environmental and Social Governance Lead at IIFL Home Finance Ltd.
We are living in extraordinary times, the population in the world is currently growing at an estimated 83 million[1] people per year. Approximately 7.7 billion people are inhabiting our earth and sharing the resources available to them. At the current rate, we need 1.7 earth to support humanity's demand on current eco-system[2]. Global population has increased has increased by 104% since 1970[3], and so has the disparity amongst it. "More than 70% of the world's adults own under $10000 in wealth. This 70% of the world holds only 3% of global wealth. The world's wealthiest individuals, those owning over $100,000 in assets, total only 8.6% of the global population but own 85.6% of the global wealth"[4]. This disparity is already creating a divide through our shared and dwindling resources. We are already experiencing the pressure on resources through skyrocketing fuel prices. The cascade effect to these is not even identified or quantified. One of the major sectors getting impacted by this resource insufficiency and the high cost of fuel is the real estate.
The ever increasing population and the requirement for development is creating a different challenge altogether. Further the economic disparity among population selectively segregating the economically weaker section into oblivion. The land and construction costs are putting tremendous pressure in global housing markets. As the pressure increases on real estate sector which is primarily driven by the engine of economic power, restrictions are further implied on the human right for housing. It is estimated that 330 million[5] urban house-hold worldwide are living in precarious conditions or under the financial stress due to high construction cost. It is further estimated that around 1.6 billion people will live in such conditions by 2025[6]. This gap in housing expected to be equivalent to $650 billion per year, converting to 1% of global GDP. The outlook towards the affordability with had been pessimistic until a few years ago. The developers, investors and financial investors have easily ignored the opportunity to create a society with equal opportunity.
Sources:
[1] www.worldometer.info/worl-population
[2] https://www.overshootday.org/
[3] https://www.overshootday.org/
[4] www.inequality.org/facts/gobal-inequality/
[5] MGI_Affordable_housing_Executive summary_October 2014
[6] MGI_Affordable_housing_Executive summary_October 2014