Advantages to Couples Jointly Owning Property
There are various benefits for couples jointly owning property. They can enjoy tax benefits, reduced stamp duty, discounted loan interest rates and easy succession process.
21 Feb,2018
06:30 IST
30 views
171 Likes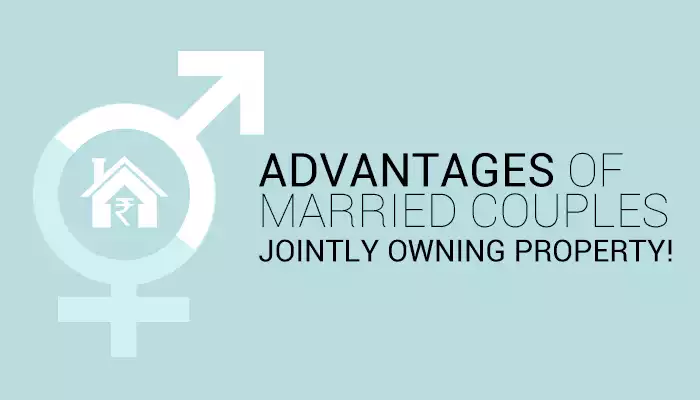 More and more home buyers today especially married couples are opting for joint ownership of property. There are many advantages of registering a property jointly. Not only does this allow you to get a higher loan amount sanctioned but also added tax benefits. So, here is a look at other financial advantages of jointly owning a property.
1. Affordability:
There is no denying the fact that price of properties has shot-up in recent times. Majority of couples today, apply for home loans jointly as combined higher income promises higher loan sanction amount. This is a convenient way of lowering the burden of loan repayment. The pressure to repay the loan is not on just one person, instead the debt amount is shared between the husband and wife. Loan repayment becomes easier and at the time of loan amount sanction, two incomes will be considered thus giving resulting in higher amount sanction.
2. Tax Benefits:
Tax benefits can be claimed while availing home loans. The joint owners of a property can claim a tax deduction of Rs. 1,50,000 on the principal amount under Section 80C. Section 24 allows homeowners a tax deduction limit of Rs.2,00,000 on the interest rate of the home loan. But if a married couple buys a home jointly then they claim two kinds of tax benefits. They can claim separately for tax deductions. So, under Section 80, a couple can claim a tax deduction of Rs. 3 lacs while under Section 24 they can claim it to Rs. 4 lacs. However, tax benefits under Section 80 cannot be claimed for an under-construction property.
3. Stamp Duty:
Having joint ownership of property or having female ownership, reduces stamp duty rate by 1% to 2%. This is a step by the government to empower women in taking ownership of property jointly or as individuals. Stamp duty rates in Delhi are 4% for women as compared to 6% for men. In Haryana, it is 4% for women in rural areas while 6% for men. In Haryana again, the stamp duty for women in urban areas is 6%, on the other hand, men have to pay 8%. A similar trend can be noticed in Rajasthan where the stamp duty on home for women is 4% while it is 6% for men.
4. Discount on Home Loans:
Many banks and Private Lending Institutions (PLIs) give a discount on the interest rate on a home loan to women applicant. Lower interest promises more cost- friendly home loan repayment. Low interest rate will also lower down the monthly installment. The usual rate of concession on home loans for women in India is 0.05%.
5.​ Succession:
The process of transferring property in India is a lengthy and time-consuming affair. A major reason for this is the struggle involved in the transfer of property rights when the owner of the property dies. These hassles are reduced if the property is owned jointly and one of the owners is still alive.
So, if you are looking to avail some benefits while buying a new home, then joint ownership is a good option. Not only does this gives owners benefits in tax but also reduces any hassles that may arise in the future.
Written by:
Naman Kishore