7 things about Dhoni we can learn from
Dhoni's retirement marks the end of an era. Here are 7 qualities that made him a legend, and 7 key learnings about personal finance from his innings
18 Aug,2020
07:30 IST
1338 Views
940 Likes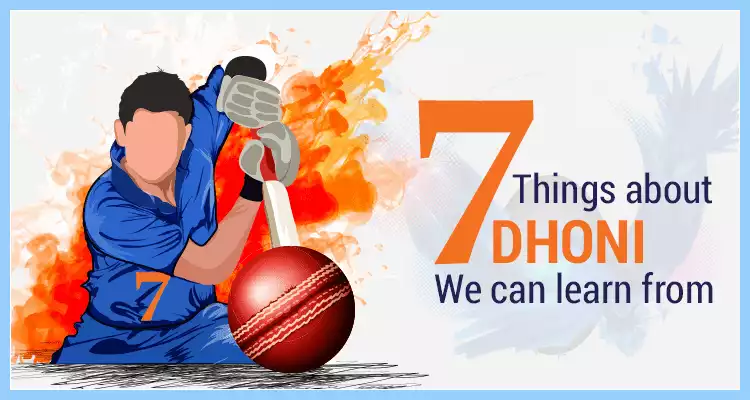 Ganguly. Dravid. Laxman. Sehwag. Harbhajan. Sachin. Zaheer. Yuvraj. And now M. S. Dhoni. For the kids who grew up in 90s watching the Indian cricket team getting battered all around the world and Sachin being the lone warrior, these players are the ones who turned around the fortunes of the team. M. S. Dhoni is the last one to retire and this is basically the end of an era.
Long ago, the legendary Sunil Gavaskar had said this about Dhoni's retirement plans - "If tomorrow he has to say goodbye to all the trappings of fame, Dhoni will calmly get on his motorbike and go away. He is that rarity who treats both those impostors - wins and losses - in the same way. He simply plays the game". And this is exactly what has happened on 15th August 2020.
In his farewell message, current Indian cricket team captain mentioned how Dhoni was "a master in knowing how to build a team".
It is but natural to look back at Dhoni's career, a small town boy, and wonder about all his qualities that made him a respected cricketer, a very successful captain, and a superstar that he is.
Be versatile
Dhoni has been successful in all three formats of the game. There have been few players as devastating as him in T20 and ODI format, and he has been pretty good in Test matches as well. Don't doubt it: the guy's got a double century against Australia.
Diversify your portfolio and put full efforts on researching and monitoring each asset class for better returns.
Stay calm
This has been the standout quality of Dhoni. Whatever be the match situation – tense final moments of 2007 T20 World Cup, or the last over of 2011 ODI World Cup when victory was inevitable – Dhoni knew how to stay focussed on the game. As Dhoni himself used to say: "He who panics last, wins the game."
If your investments are not in the best of health, don't panic. Take a step back and analyse what corrective action to be taken.
Wait for the right moment
Dhoni was like a duck in water; calm on the outside but the mind was always working vigorously. He was always thinking about the strategies which included using the right players at the right moment. Whether it be throwing the ball to Joginder Singh instead of Harbhajan in 2007 World Cup final, or promoting himself before Yuvraj in 2011 World Cup final to negate Muralitharan's offspin, he knew what to do when.
Don't jump into an investment which looks attractive or make an expenditure because there is a promotional offer. Invest and spend according to your needs and means.
Presence of mind
Who can forget Dhoni taking out one glove in the T20 World Cup match in 2016 against Bangladesh and effecting a run-out on the last ball? Who can forget his street-smartness is poking out his leg to stop those jabs into the slip cordon? All these indicate the quality of presence of mind, which most successful cricketers call 'match awareness'. This presence of mind can be the difference between victory and defeat.
Keep monitoring your portfolio and be aware of areas with growth potential and those on the decline.
Endurance
Almost 700 innings across tests, ODIs, T20Is and IPL is no mean feat. What makes this feat exceptional is the added physical stress of wicket-keeping and mental pressure of being captain of national team of a cricket crazy nation and one of the most successful IPL teams around. This is a result and evidence of hard work and dedication to the task.
Personal wealth grows by endurance, by those who have a long-term vision towards wealth creation. Stay financially fit.
Simply play the game
By most accounts of cricketers and commentators, Dhoni is someone who simply enjoys the game. He can easily switch off from a loss and doesn't get carried away by victories. For him, he is there to play cricket and not to make records. That was the biggest reason from switching from being a swashbuckling batsman to a finisher.
Managing your finances is more important than making big hits.
Encourage others
One can see from the tributes paid to Dhoni is that he has always led from the front and encouraged the younger players. He was regularly seen passing on the winning trophies to the younger lot of players to acknowledge their contribution to the victory.
Encourage your friends, family members and colleagues to plan for their future. Financial planning is key to long-term success and prosperity.
One of the biggest beneficiaries of this quality has been Suresh Raina, who retired on the same day as M S Dhoni. Coming from a humble background and becoming one of the biggest stars in Under-19 cricket, men's limited-overs cricket and the IPL, there are many things to appreciate and thank him for. If there is one thing though that stands out, it is that Raina would celebrate success of every team-player with equal enthusiasm.
Managing personal finance is not just about growing your wealth; it is also about spreading happiness.

Here's hoping that two of the best players the game of cricket has seen, keep inspiring us in many ways.
Author
Vipul Oberoi
*The author of this blog is the Chief Marketing Officer of IIFL Finance and IIFL Securities