5 Things to Consider Before Refinancing a Home Loan
Refinancing home loan is a complicated process and involves a lot of planning. To ease the process it is better to keep a few points in mind before refinancing home loan.
21 Feb,2018
04:30 IST
46 Views
165 Likes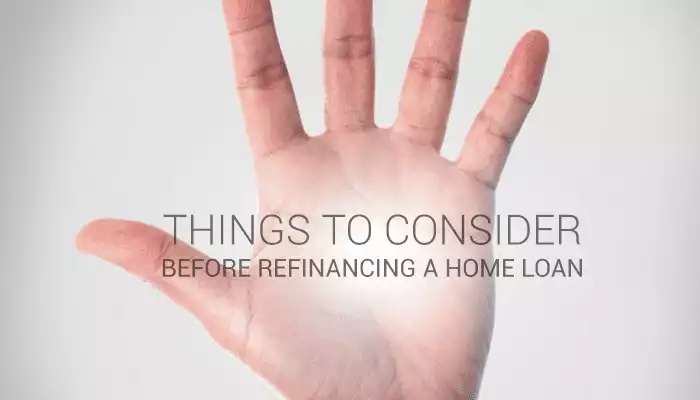 Home loans generally have a long repayment duration. The usual period of repayment is somewhere between 15 to 25 years. In the long run, market conditions tend to influence interest rates. The concept of home loan refinancing comes in when you want to take advantage of decreasing interest rates or decide to change lender due to unsatisfactory services.
Home loan refinancing refers to restructuring your home loan. You get a new tenure and revised interest rate, etc. among other benefits. One example of restructuring would be when you have extra money and want to pay off a part of your home loan. Simultaneously, you may also want to increase the tenure of the loan in order to pay a lower EMI. This is possible when you refinance your home loan.
Here are 5 things to consider before refinancing your home loan:
1. Factor in the costs of refinancing:
When you send an application to refinance your home loan, banks levy application charges, processing fee, legal fees, and even pre-payment penalties. The borrower must calculate these costs accurately so that there are no hidden costs. Also, make sure that you save more money through home loan refinancing than spending on the refinancing process itself.
2. Implications of refinancing on income tax:
The interest payments that you make on home loan are deductible from your income. Paying EMI at a lower interest rate translates to lower interest deductions from your income. You may have to pay higher taxes. The best way to understand this is to consult a financial advisor or a CA, and then plan your refinancing accordingly.
3. Interest rates – fixed v/s floating:
Floating interest rates are highly influenced by market fluctuations, while fixed interest rates rarely fluctuate, and largely remain permanent. Lenders offer borrowers with a choice between fixed rates and floating rates. Before refinancing your home loan, conduct enough research to know which of these benefit you more in the long run, depending on current economic conditions. You can also have a fixed rate of interest for a few years and then shift to floating rates.
4. Interest rates and loan tenure:
Interest rates and loan tenure are two of the major reasons borrowers refinance their home loans. Your refinancing requirements should be based on interest rates and the loan tenure. Interest rates and tenure directly influence the EMI you pay. When refinancing, you can either opt for a shorter tenure and pay higher EMI, or extend your tenure and pay lower EMI, but with more interest.
5. Customer service:
One of the things most borrowers don't pay attention to is the customer service that bank or PLIs offers. Borrowers can gather this information by reading online reviews, or through interactions with existing customers. A good customer support and service is imperative to sort out any issues you may face in the future.
Refinancing a home loan is a decision that has long-term implications. Therefore, such decisions shouldn't be taken in haste. As a borrower looking to refinance a home loan, you must conduct your own research. Consider the five things we've mentioned, before refinancing your home loan and avoid any future hassles.