5 Common Misconceptions About Home Loans
There are many misconceptions about home loans. Borrowers often face difficulty in deciding tenure, type of interest, foreclosure and other aspects of their home loan.
21 Feb,2018
01:45 IST
36 Views
620 Likes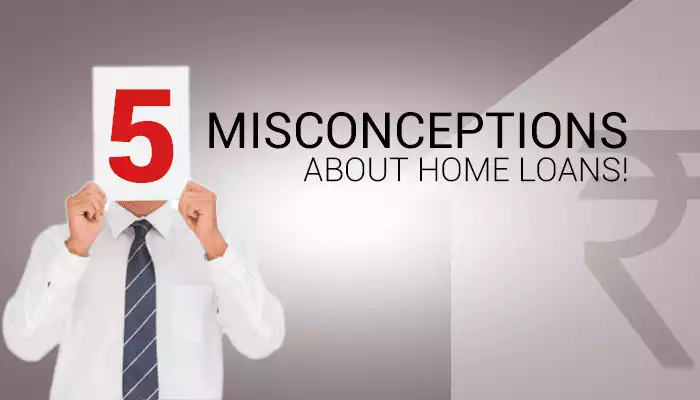 Home loans come as a blessing for those who want to buy their dream house but lack adequate funds. Taking a home loan is a decision that has long-term implications, and should thus be taken after gathering relevant information. Lack of adequate information on home loans gives rise to various misconceptions.
Here are 5 most common misconceptions about home loans, and the truth about them:
1. Shorter tenure is better:
It is generally true that shorter the loan tenure, the better it is for the borrower. However, this concept must not be stretched to the extent of overburdening yourself with high EMI. Loan tenure must be decided according to your repayment ability. This makes EMIs more comfortable and convenient. This also allows you with the option of making investments for future.
2. Focus on paying off the loan:
A lot of home loan borrowers have the misconception of paying off their loan. Many borrowers believe that side-tracking other financial goals and getting rid of loans first is the right thing. Well, this is not always the best strategy. Building up a strong financial profile is very important to live comfortably in later stages of life. Investing is a continuous process that should not be side-lined. Hence, choose an EMI amount that allows you to make regular investments as well.
3. Fixed interest rates are better:
Borrowers are given option by lenders to choose between floating and fixed interest rates. There is a misconception that fixed rate of interest is better. However, type of interest rate for home loan must be decided depending on the economic situations at that time. Floating rate of interest is dependent on factors like SLR, repo rate, etc., while fixed rate of interest remain unaffected by these. If interest rates come down, borrowers with floating rate will have to pay lesser interest while those with fixed rates will have to pay the original amount. The same is true vice versa.
4. You should never refinance a home loan:
Home loan refinancing is something which has many misconceptions attached to it. But the reality of home loan refinancing is that it should be done only after a thorough research of the market. Changing your lender is an important decision and should be taken with proper planning. You can refinance home loan to take advantage of lower interest rates or increasing loan tenure. The difference between money saved by refinancing and that spent on refinancing should always be positive – else it would not make any sense to refinance the loan.
5. Foreclosure or prepayment attracts heavy penalties:
Foreclosure or prepayment is one of the most common misconceptions about home loans. It used to be true in the past when banks levied a 2-5% foreclosure penalty. However, according to recent guidelines issued by RBI, banks cannot levy penalties for prepayment of a floating interest rate home loan. So, if you have got extra money, it makes sense to pay off a part of your home loan to reduce the burden of EMI.
Misconceptions about home loans can cause a lot of discomfort in later stages. While applying for home loans, make sure to understand all terms and policies. For first time home buyers it is important to stay clear of any misconceptions that might rise in mind. Here, we mentioned the most common misconceptions about home loans and the truth about them.