PMAY(U): Your Dream Home Just Got Bigger by 33%
Government has increased carpet area eligible for PMAY CLSS subsidy for MIG- I from 120 sq meters to 160 sq meters and MIG-II from 150 sq meters to 200 sq meters
13 Jun,2018
04:30 IST
20 Views
484 Likes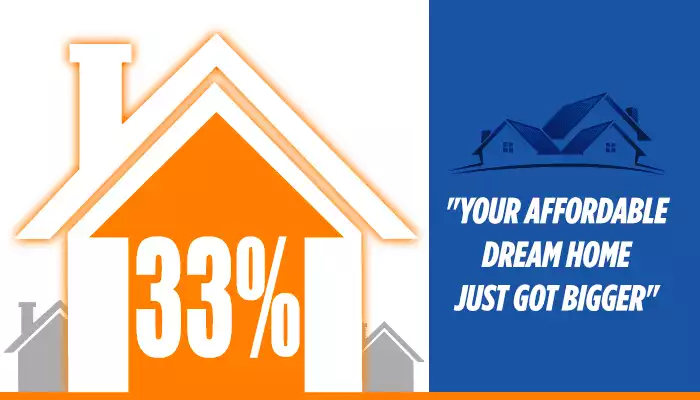 The Ministry of Housing and Urban Affairs on Tuesday brought joy to home buyers in the affordable housing segment by increasing carpet area of MIG houses eligible for CLSS Subsidy by 33% under PMAY(U).
Currently, carpet area eligible for CLSS subsidy for MIG- I is up to 120 sq meters and MIG-II is up to 150 sq meters. But now, government has increased this to up to 160 sq meters for MIG-I and 200 sq meters for MIG-II. According to a statement released by the ministry, the decision to increase carpet area will be effective from January 1, 2017.
Households with annual income of Rs. 6 lacs to Rs. 12 lacs are categorized under MIG-I while those with an annual income of Rs. 12 lacs to Rs. 18 lacs come under MIG-II. The decision to increase eligible carpet area for CLSS subsidy aims to expand affordable housing initiatives in tier III & IV cities where the cost of the house is less than tier I & II cities.
Particular
MIG1
MIG2
Annual HouseHold Income (INR)
6-12 lacs
12-18 lacs
Interest Subsidy (% pa)
4%
3%
Loan Tenure
20 yrs
20 yrs
Amount eligible for interest Subsidy(INR)
9 lacs
12 lacs
upfront subsidy amount (INR)
2.35 lacs
2.3 lacs
Carpet Area
old:120 sqm, new:160sqm
old: 150 sqm, new: 200sqm
The Ministry of Housing and Urban Affairs decided to review rates after receiving representations from real estate developers and home buyers in tier 3 and tier 4 cities. Many home buyers in these smaller cities and towns missed out on interest subsidy due to the size of their flat or plot.
The government has for the second time revised carpet area rates of MIG homes to enable home buyers in getting interest rate subsidy. More than 1.68 lac MIG beneficiaries have collectively availed CLSS subsidy of approximately Rs 737 crore.
The decision to revise CLSS subsidy eligible carpet area comes almost a week after RBI revised home loan limit for priority sector lending (PSL) eligibility.