The Initiatives and Solutions of Future
To achieve sustainability lies in addressing the problem with different aspects of design, construction, sustainability, and financing.
1 Feb,2019
02:30 IST
64 Views
470 Likes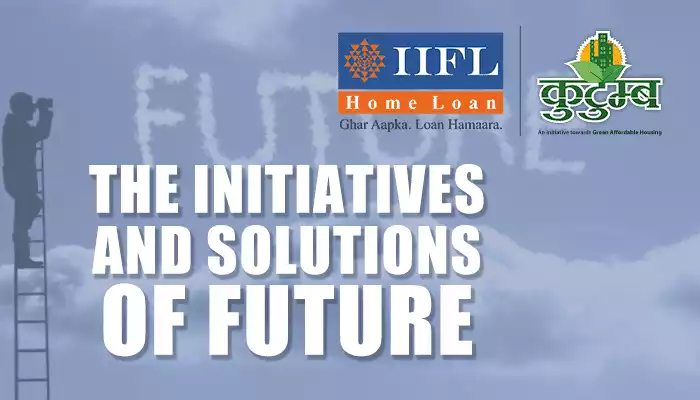 Written by Amor Kool:
Amor Kool is a Panel Member of National Building Code of India and Technical Committee Member to Bureau of Indian Standards and BEE ECBC. He's currently working as Environmental and Social Governance Lead at IIFL Home Finance Ltd.
"The engine of life is linkage", everything is linked, the economy, environment, and equality. In India, we've learned to analyse and set our goals towards sustainable economy through various tools of energy and water efficiency, however, the social equity or the fabric of its people are ignored. The access to sustainability is available to the premium class of developers and their subsequent buyers.
The IIFL Home Finance Ltd. has created a multi-modal approach to tackle the issue through support in financing model based on detailed evaluation of the project. The disbursement is linked with the construction progress for an affordable housing project with tenure up to 60 months. IIFL HFL's efforts are not limited to the construction financing but also using technology to quickly disburse the amount to the beneficiary. The 'JHATPAT' tablet application is an express customer on boarding solution for home loans. This process critically reduces the time for a soft sanction from day to an hour. The step forward in alignment with the country's and the company's vision of digitization.
Further, the IIFL HFL's approach towards the solution to this problem is an integration of different aspects of design, construction, sustainability, and financing. Initiatives i.e. 'KUTUMB' by IIFL Home Finance Ltd., is one of the attempt to address this gap in green affordable housing segment. The sustainability of an affordable housing segment should not only address the environmental aspects but also, the social, cultural and financial. 'KUTUMB' is a platform where IIFL HFL is bringing architectural and construction industry experts, government representatives, green building certification institutes and developers together to create synergies. It is a stage blending benefit of green homes within the affordable housing segment in India.
The solutions are available, it is upon us, "the greatest threat to our planet is the belief that someone else will save it."[1]
[1] Robert Swan