How Union Budget 2017-18 Benefits India's Middle Class Population
Union Budget 2017 - 18 had something for everyone be it salaried, self-employed, those dreaming of a home, office, or starting business.
30 Mar,2017
01:30 IST
23 Views
591 Likes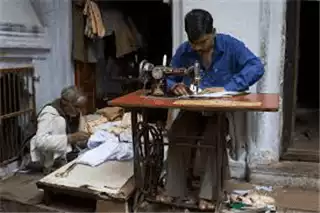 Name: Atul Prasad
Age: 30
Occupation: Self employed Tailor at own premise since 2011
Family Members: 5
Description - working as a tailor in Delhi, and interested in purchasing a property in Delhi/NCR with the help of a home loan.
Mr. Atul Prasad, working as a tailor in Delhi, is interested in purchasing a property. He is looking for booking a flat in an affordable housing project. His family consists of 5 members, including his wife, 2 children, and mother. He wants to own a home in Delhi but the usual delays from builders end, tax complications, and small sized apartments raise many questions in his mind. Is this Union budget bringing a transformational change in his life? Let's find out -
Atul is going in a dilemma with many questions -
How can I accommodate my 5 member family in small size affordable housing apartment?
Can I get the keys to my dream home in promised time? If not, how can I pay the home loan EMI and rent simultaneously?
How tax rebate will help me?
'Infrastructure Status' – what is it?
How will it impact the lives of average0 Indian middle-class people?
What will be worth of my own house after 2 years?
Like Atul, these questions are arising in the minds of many aspiring home buyers across the country. Right. Let's see how Union budget 2017-18 is a dream budget, especially for the affordable segment.
30% Big House

Mr. Atul will get a bigger house because there is an increase in the size of the homes under 'affordable housing'. What would be more convenient for him than owning a house 30% bigger in size rather than the same sized house? Again, the change in size will bring more flats into eligibility under affordable housing. Owing to this, there will be more transparency and accountability.
Before the month of February, he was in a dilemma about how he can accommodate 5 members of his family in 30 Sq. mt. built up area flat. Before we continue further, let's comprehend the built up and carper areas. A built-up area includes carpet area, a thickness of walls, and areas of terraces, lawns, and balconies. Whereas, a carpeted area is an area enclosed within the walls of the house; it excludes the external walls of the house.
Initially, 30 Sq. mt and 60 Sq. mt built up areas were considered for apartment in metro and non-metro places. Generally, 1 Sq. mt. = 11 Sq. Feet. 30 Sq. mt. = 330 Sq. Ft. Now, the built up area has been changed into carpet area that means the area of the flat will be calculated on the basis of carpet area
Now, Atul will get a big house. Let's have a glance on the 2 BHK flat instead of 1 BHK flat-
When the calculation was based on built up area, Mr. Atul was eligible for 1 BHK flat. But with a change of dimension from built up to carpet area, Mr. Atul is now eligible for 2 BHK flat. With 2 bedrooms and 1 drawing room, he can accommodate his family in an easy manner. That' where the budget plays an instrumental role in improving the lives of millions and millions of average Indian middle class people like Mr. Atul in an unprecedented way.
Then, what would be more convenient for him than owning a house 30% bigger in size rather than the same sized house? Again, the change in size will bring more flats into eligibility under affordable housing. These below mentioned lines go well with Mr. Atul -
ज़िन्दगी भर इंतज़ार किया मैंने जिस लम्हे का,
आज तक़दीर ने मुझे वो लम्हा नसीब किया है,
जिन सपनो को मैं रोज रातों में देखा करता था,
आज उसे ही खुदा ने मुझे तोफहे में दिया है|
More Savings with Tax Rebate
Income Tax Rebate Remaining Amount Taxable Income Tax Amount 8 lakh per annum 3,50,000 (Housing Loan Principal +Interest) Rs 4,50,000/- Rs 4,50,000- 2,50,000 (free) = Rs 2,00,000 5% of 2,00,000 =Rs 10,000
There is good news. Income tax slab slashed to 5% for Rs 2.5 to Rs 5 lakh earners. Mr. Atul annual gross income is Rs 6 lakh. As he will avail home loan, his taxable income will be Rs 1, 75,000 in financial year 17-18. Before the Union budget, he was obliged to pay 10% of the taxable income i.e Rs 17,500. Now with effective 5% interest rate, his tax would be reduced to Rs 8,500. There will be a 50% tax saving with the implementation of the new scheme.

Mr. Atul is happy with the fact that he will enjoy enhanced tax benefit and get a big house (what we saw in the previous blog). But he is fazed by the incidences of delayed possession of flats. What will happen if the builder will not hand over the keys to him at the right time? But now, there is good news for Mr. Atul.
The government has given much demanded 'infrastructure status to affordable housing projects. The housing segment gets pride of place and this will facilitate low cost and long term funds for the sector. As there will be more inflow of funds from investors and lending institutions, the delayed projects will be completed soon at the builder's end and home buyers will get the keys soon. The government has also proposed to built 1 crore houses in rural part of India by 2019 under Pradhan Mantri Awas Yojana. This will see massive participation from the private developers in building a better India. Housing finance companies will get a boost from this. The infrastructure status will open up new avenues to raise money from the market.
Affordable housing will now be given infrastructure status, which will enable these projects to avail the associated benefits," said finance minister Arun Jaitley.
After hearing about this 'infrastructure status', Mr. Atul wants to avail home loans from a reputed housing finance company. He approaches IIFL Home Loans and is interested in taking home loans under Credit Linked Subsidy Scheme of Pradhan Mantri Awas Yojana. Initially the subsidy was upto Rs 2,20,000/- on interest portion of home loan. From 01/01/2017, the maximum interest subsidy is allowed upto Rs 2, 67,280/-on home loans.
Builders & developers are happy with this transformational budget. These lines go well with conditions of developers today –
जीता था जिन बेबस लम्हों को , उन्हें आज यूनियन बजट ने मिटा दिया है,
कहते थे के खुद होता है आसमान में, आज किसी ने उसे ज़मीन में ला दिया है|
For builders, there is a tax relief for 1 year on ready but unsold inventory. The period will be calculated from the completion date of the project. Till date the developers were paying tax on ready yet unsolved inventory in many parts of the country.
The deadline for completion of the projects has been increased to 5 years. Previously, it was 3 years and out of this maximum time was wasted on seeking approvals.
Foreign Direct Investment (FID) plays an instrumental role in the growth of real estate sector. With the abolition of this board, foreign investors will not require any prior approval from FIPB and there will one single window (approval from concerned ministry) for clearance.
Interestingly, the real estate sector contributes about 1/10th of the nation's economy. These positive changes in the real estate will impact the nation's economy.
Dilemma: Will I be able to move to a bigger home?
Mr. Atul is a far sighted person, he is thinking about the life in next 2-3 years. What if my children need more space? There will be a time, when I have to sell my property to get into a bigger home.
What will be then my worth of the property? Does budget has given some tax saving benefits on selling out a property"?
Mr. Atul, unsure about the answer to these questions asks a real estate expert of IIFL Home Loans. The expert told him, "Yes, Mr. Atul, there is a major change in the income tax rules while selling out a property." Let's see what is that change? How much can he save on selling of a property?
Mr. Atul is planning to purchase a property in April 2017. If in case he sells his property after 2 years of the possession date, he will have to pay only 20% tax on profit. Prior the announcement of Union Budget 2017-18, the holding period was 3 years and anyone interested in selling out the property was not qualified for long-term capital gain (LTCG) tax before 3 years.
A capital gain is a gain or profit arising from the transfer of a capital asset and is charged to tax under the head "capital gains". Income from capital gains is classified as "Short Term Capital Gains" and "Long Term Capital gains". (Source: incometaxindia.gov.in)