Best Cities with Affordable Housing in India
An affordable house in best Indian city ensures safe and nurtured life for your loved ones.
23 Jan,2018
05:45 IST
89 Views
814 Likes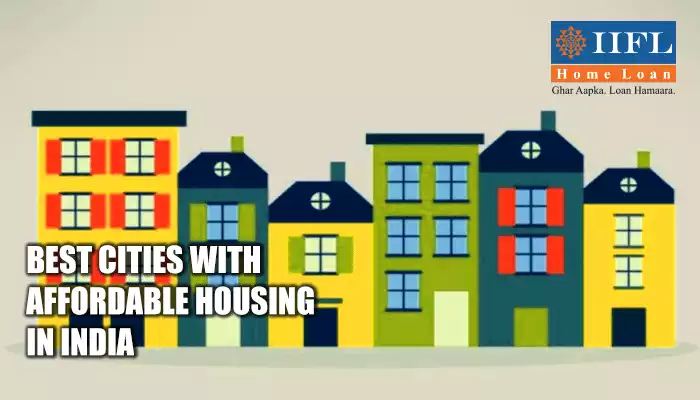 "Affordable" as a concept is relative and dependent on an individual's financial capability, city of consideration, demand-supply dynamics and real estate prices, which makes the definition of "affordable housing" very subjective.
Various socio-economic factors such as household income, location, price, size of dwelling units, employment opportunities, government incentives, etc. play a key role in defining affordable housing. Generally, affordable housing is targeted towards a particular section of society which has an income equivalent or lowers than the median income.
'Housing for All by 2022' is a vision that the central government is pursuing arduously.
In order to accomplish the mission of 'Housing For All by 2022' the government has awarded a status of infrastructure to affordable housing which aims at increasing private participation, focused institutional financing to attract private players, opening of the external commercial borrowing (ECB) route, increase in size of carpet area (from 30 and 60 sqm built-up area to 30 and 60 sqm carpet area), relaxed period of project completion from 3 years to 5 years along with access to more funds at lower costs and other benefits to the segment.
Though, 'Housing for All' is a mission of building affordable homes across India, we have selected three cities offering wide range of affordable housing options that promise future capital appreciation and healthy returns. Though, affordability is a relative term, the price bracket of Rs. 20-40 lac has been considered as an affordable range to assess the cities.
NCR:
NCR is a large territory which encompasses districts of Rajasthan, Haryana and Uttar Pradesh. Due to the vast region under coverage, there are numerous pockets in the entire NCR where affordable houses (priced less than Rs. 40 lac) are available.
NCR's real estate market has appropriately re-oriented to the changing market conditions. As per research, the share of affordable segment launches has risen from 21% in 2012 to 71% in 2017 (as of Q3).
Top 5 affordable markets in NCR would be as follows:


Sohna- Near Gurugram, Harayana


Rajnagar Extension- Ghaziabad, Uttar Pradesh


Bhiwadi- Rajasthan


Greater Noida West- Uttar Pradesh


Yamuna Expressway- Uttar Pradesh



The price of the units in these areas varies from Rs. 2,400 to 3,500 /Sq ft.
There are various proposed infrastructure initiatives such as 1,483 km Delhi-Mumbai Industrial Corridor (DMIC), regional rapid transit system from Delhi to Alwar, extension of 285 km long Agra-Lucknow Expressway, proposed Jewar International Airport, Metro corridor between Noida-Greater Noida, 102-hectare night safari project near Gautam Buddh University in these areas. Due to new initiatives and proximity to them, the above mentioned markets of affordable housing have potential to attract more and more buyers.
Hyderabad:
After a prolonged slump due to political unrest, the real estate sector in Hyderabad is back in the reckoning. The government of Telangana has implemented various pro-active measures to attract domestic as well as international investments to Hyderabad.
The most significant step is fast-paced developments, such as creating infrastructure facilities and better connectivity through the Metro, SRDP, MMTS, etc. that has improved the overall climate of doing business in the state.
Connectivity has been a constant focus of the state government, which has recently pumped in money for the 69-km Warangal Outer Ring Road (ORR).
The state's participation in the creation of aerospace SEZ, bio-parks, financial districts, the Pharma city, IT hubs, and start-up incubators, are acting as powerful growth drivers.
Sound infrastructure, a growing workforce and competitive real estate prices have tipped the scales in favour of the city. The IT/ITeS industry has been the most prominent growth driver for real estate, leading to a consistent demand for residential, commercial and retail spaces.

Hyderabad offers a host of affordable housing options across several micro markets. Established residential localities such as Manikonda, Sainikpuri, Miyapur and Kukatpally offer housing options in the range of Rs. 30-40 lacs.
The improving real estate dynamics indicate a revival of the housing market. The increased pace of construction has infused confidence in homebuyers. With unsold inventory piling up across the city, end users now have more options and bargaining power.
Ahmedabad:
Ahmedabad is one the great upcoming markets for the affordable housing segment in the country. The things are going in the right direction for the city, with bullet train project, huge corporate players investing in the state, stable government and entrepreneurial nature of the population.
The city itself is an affordable city with weighted average prices in Rs. 3,200 per square foot range due to its circular nature and land availability on all sides. Ahmedabad is a very convenient city with good infrastructure and connectivity with two ring roads and one of the first few successfully functional bus rapid transit systems (BRTS). Due to this the peak pricing (even in the city centre) does not go very high. Maximum supply of properties in bracket of Rs 20 to 40 lacs is located in the areas of Nava Naroda, Nana Chiloda, Chandkheda, Gota and Motera. The price of the units varies from Rs. 1,700 to 3,100 / sq ft.
The petro-chemical, oil, gas, energy and auto-mobile industries are some of the major drivers in the city. Other than the local demand and demand due to these industries, the city also witness investor demand due to the flourishing rental market driven by students & staff of various institutions of national importance like IIM, CEPT, Nirma University, Gujarat University, and the like.
Source: Anarock, LiasesForas, IIFL internal research, ET realty