Myth Vs Facts - RBI's COVID-19 Moratorium
Myth Vs Facts - RBI's COVID-19 Moratorium
27 May,2020
03:45 IST
168 Views
807 Likes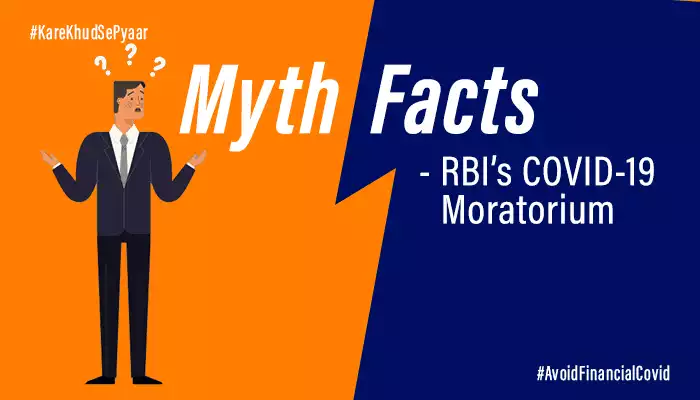 To address this stress in the financial sector caused by COVID-19, several measures have been taken by RBI as a part of its Seventh Bi-monthly Policy. These measures include reduction in repo rate and reverse repo rate, injected liquidity, moratorium on term loans, defer interest payments on working capital and easing of working capital financing.
Objective:
Objective of RBI/2019-20/186 DOR.No.BP.BC.47/21.04.048/2019-20 stating moratorium on EMI payment for term loans/ deferment of interest in working capital facilities is to mitigate the burden of debt servicing brought about by disruptions on account of COVID-19 pandemic and to ensure the continuity of viable businesses.
Myths Vs Fact
The lending institutions have been permitted to allow extending moratorium for another three months. (i.e. from 1st June, 20 till 31st Aug, 20)
This is a relaxation offered by RBI not a compulsion. Neither is it guidance by the RBI to the lenders, nor is it a leeway granted by the RBI to the borrowers to delay or defer the repayment of the loans. Borrower can choose to continue to pay EMIs if income flows can be managed.
Moratorium is a sort of granting of a 'holiday'- it is a repayment holiday where the borrower is granted an option to not pay during the moratorium period.
It is a restructuring of the terms of the loan and impacts the existing loan tenure which is shifted across by another three months after the moratorium period. In certain cases of long tenure loans (say, home loans), the additional burden on the borrower due to the accrued interest (and interest on such interest) would cause the amount to rise so much that paying the accumulated interest in one go may not be feasible. This may require the lender to convert the accrued interest also into instalments and converting such accrued interest into manageable instalments is the lender's prudential call.
For eg:
Principal Outstanding - INR 10,00,000 (as on 1st June'20)
Current Int rate - 9%
Current EMI - INR 10,143
Pending Tenure - 180 months
Int accrued for 3 months - INR 22,669
Principal Outstanding after 3 months - INR 10,22,669 (as on 31st Aug'20)
Moratorium is a benefit offered for another 3 months. Emi Moratorium is not a saving on your interest costs, though, it is a top up on existing loan (as 3 months' interest cost is added) & liability is increased. As explained above, 22500/- is added cost on availing moratorium. However, if same is not availed, the existing loan is not impacted and outflow remains same as earlier.
The moratorium will affect the existing loan tenure and the interest for the 'payment holiday' will accrue. Hence, it is advisable for borrower to pay the instalment henceforth, avoiding the increased loan burden.