Tips To Manage Your Money During A Career Transition
If you're planning to dip your toes into something new related to career, then go no further!. Read these 6 tips you must follow to manage money during career transition!
17 Dec,2022
12:45 IST
21 Views
7 Likes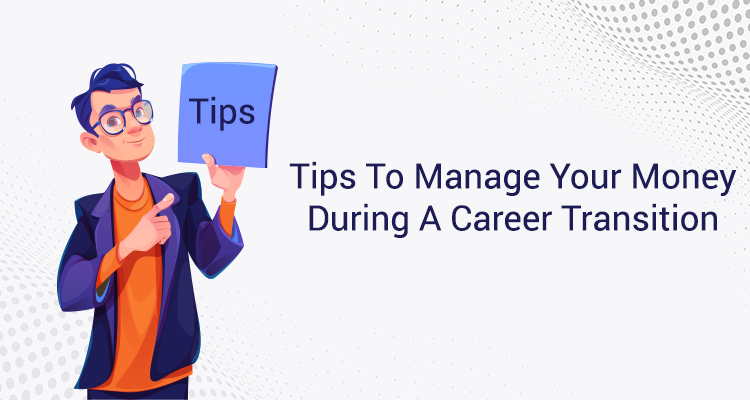 Leaving a coveted job to pursue the dream of working more independently or for a more challenging role can be incredible. It may be a new job or a complete change of role. While some people may be fully aware of the challenges of the new industry they want to work in, many others may not be even aware of the problems that they may possibly encounter.
Whatever be the case, a new career can be intimidating. But one issue which everyone should be prepared for is how to manage their finances.
Given below are a few tips that can help to manage money during a career transition:
• Be Clear About The New Pay Check:
Switching jobs for a better designation is mostly associated with an increase in the pay. But sometimes it may mean a possible pay cut. But then again, life is all about negotiation. It is advisable to do a thorough research on the industry standard to have a fair idea about how much to ask for.
• Adjust Expenses:
If the income in the new job or the business is significantly lesser than the existing job, one should immediately start adjusting one's lifestyle to fit the new budget. Making sudden lifestyle changes can be challenging, but it is a compromise that may help in the long run.
Many companies provide many monetary and non-monetary benefits like pick-up and drop facility, reimbursement of mobile bills, etc. to the employees. All these facilities can help to save money. But if the new employer does not provide some amenities or reimbursements for its employees, it is good to opt for a cheaper data plan or use public transportation instead of costlier cabs. Getting this information before joining the company can help to plan the total monthly expenses.
To have a clear idea about the employee benefits and allowances, it is best to check directly with the company's Human Resource Department.
• Plan A Contingency Fund:
Sometimes during a career transition, there could be a gap of some weeks. The duration can extend to a few months in case the new venture fails. For these uncertain times, it is good to plan an emergency fund well ahead of time. One should double-check to see if one has enough savings in case the new venture takes much longer than expected to get off the ground.
• Build A Network:
To ease the transition, it is wise to line up new prospects in the desired industry. It is important to connect with the right people, even if it is from scratch. One can participate in networking events and conferences to build contacts and reach out to industry leaders.
If the need be, develop online connections. It can open new opportunities. Once the connection is established with someone online or in person, the next step should be to strengthen the connection.
• Get Health Insurance:
Unexpected medical emergencies can dig a deep hole in one's personal pocket. In such a situation, health insurance is unavoidable. Nowadays, most companies provide their employees with corporate health insurance. But usually, these insurance policies offer limited coverage on the basis of the employee's work experience and salary.
Regardless of whether an employer provides insurance or not, getting health insurance cover for oneself and the family can provide the added protection.
• Take A Part-Time Job:
During a career change, it is ideal to join the new position or venture by the earliest. But sometimes, the transition period may take longer than expected. During these times, it is a good idea to go for part-time jobs. Not only it eases the transition, but it also saves one from losing out on income.
Conclusion
Getting stuck into a monotonous routine, with minimal signs of improvement, can be stressful. So, it may be good to switch jobs. Career transition can be a huge leap, but sometimes it may be worth giving it a try. But before making a decision, one should invest some time thinking the consequences of the decision.
Sometimes changing careers may result in taking up a lower-paying position or spending a lot of money relocating. Hence, proper money management is important to avoid economic hardships. One should negotiate with the new employer for a good deal as per the industry standard, especially if one is the sole earning member in the family.
Applying for a part-time job can also be useful. A loan from a bank or a non-banking finance company may be helpful in such situations. IIFL Finance offers several loans, such as personal loans and gold loans, especially curated for its customers that can help them tide over difficult times.
IIFL Finance offers an instant loan application process that makes it easy to avail loans quickly. All a borrower has to do is to fill the application form online and submit the required documents to get approval for a loan within minutes.