Education Program
India is home to millions of 'out of school' children and among those girls are the worst affected, who either drop out of school early in life or are never enrolled due to cultural, economic or geographic issues. IIFL Foundation has made it its mission to change the destinies of young children especially girls through educational programs. IIFL Foundation has implemented several programs to fulfil its mission.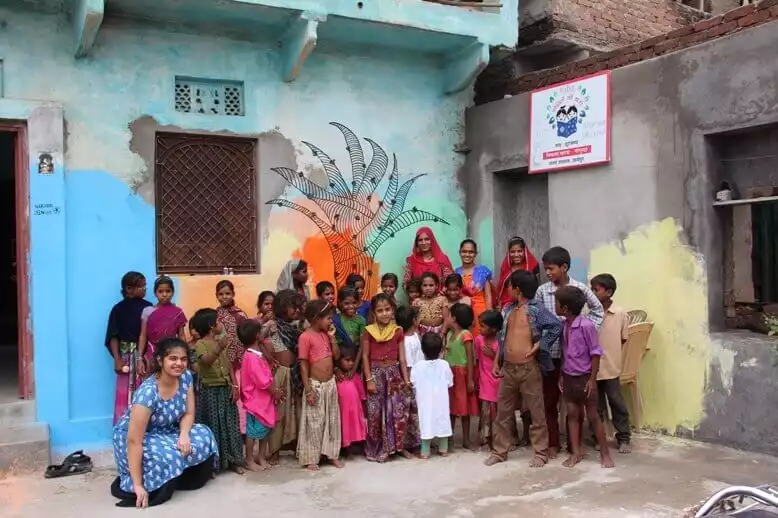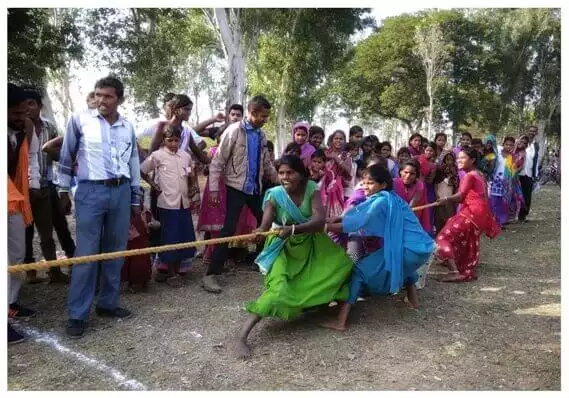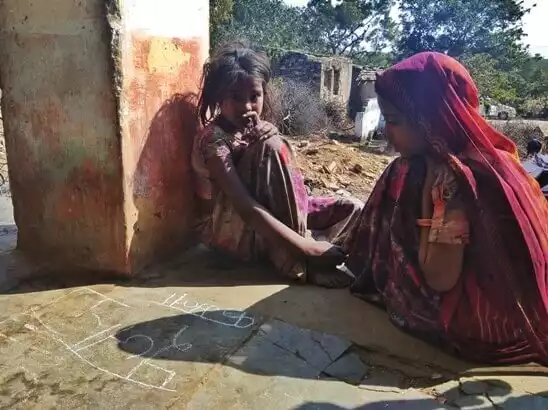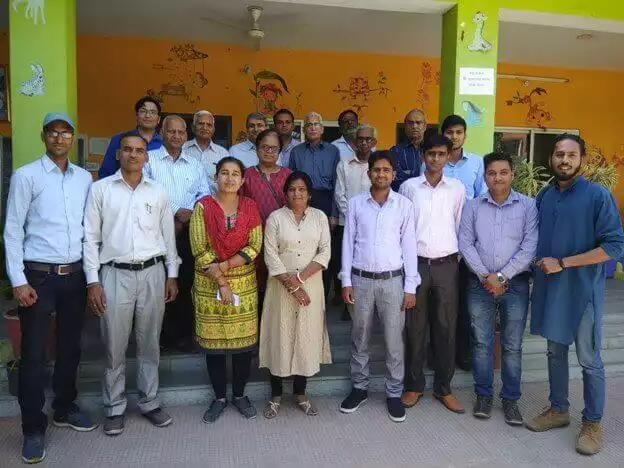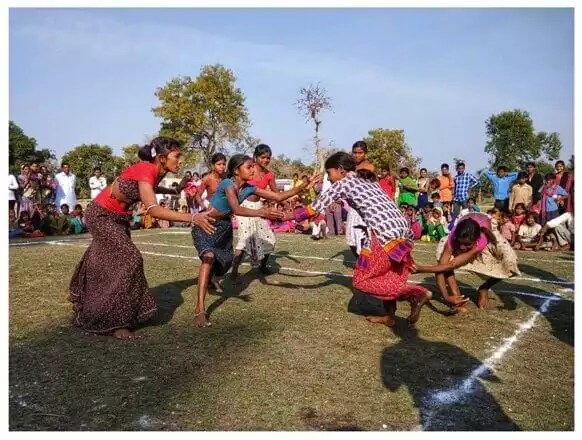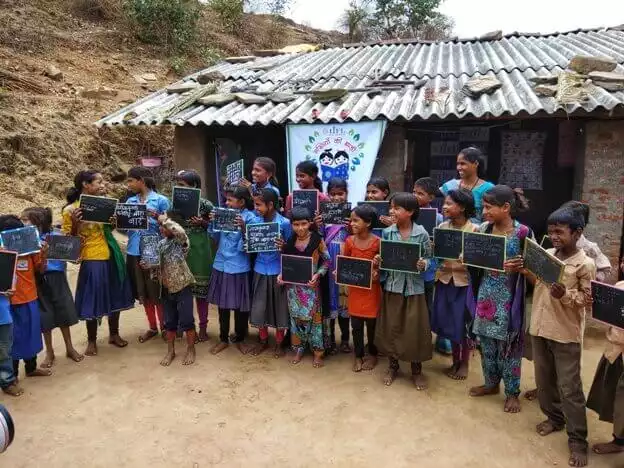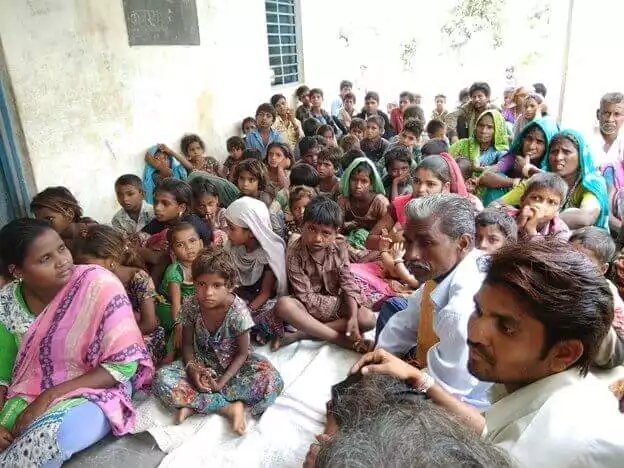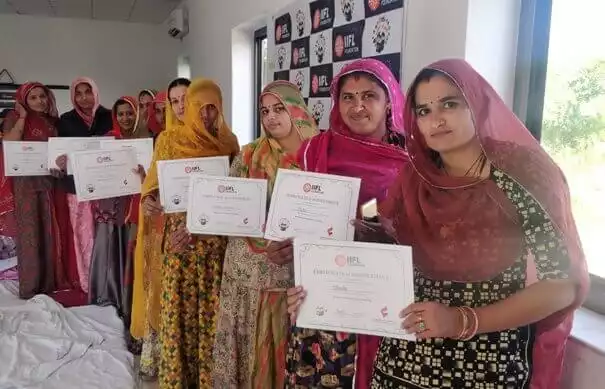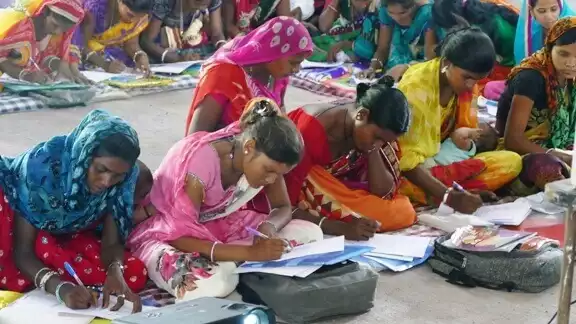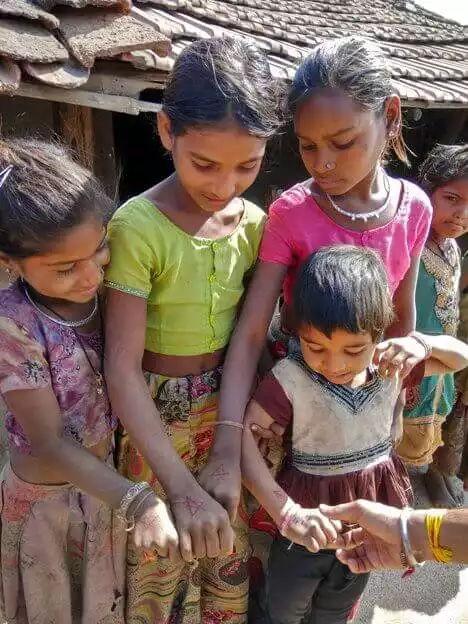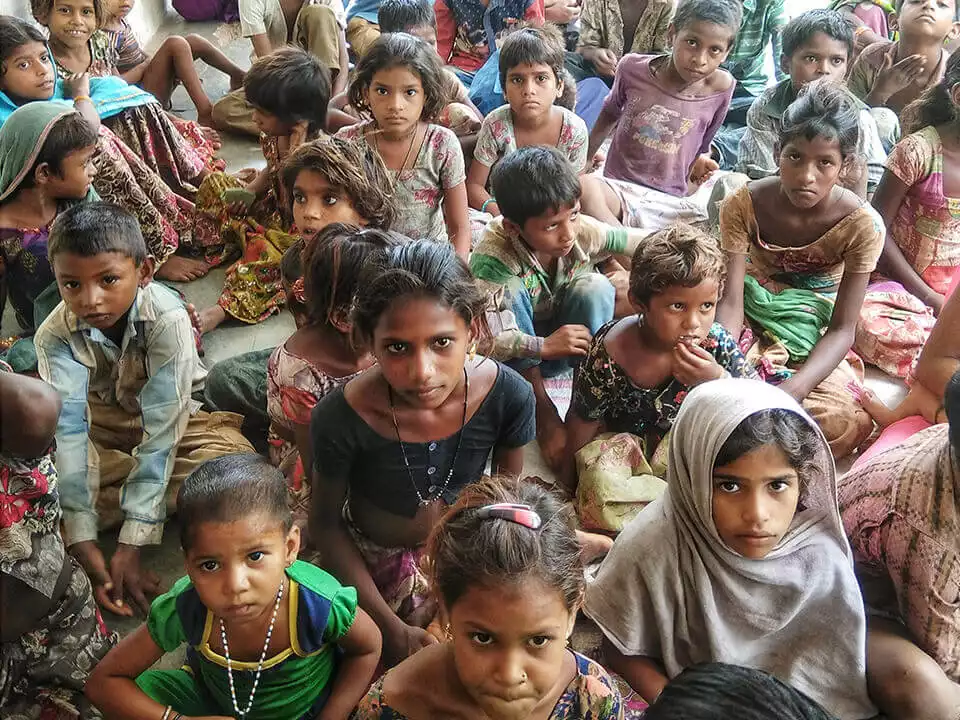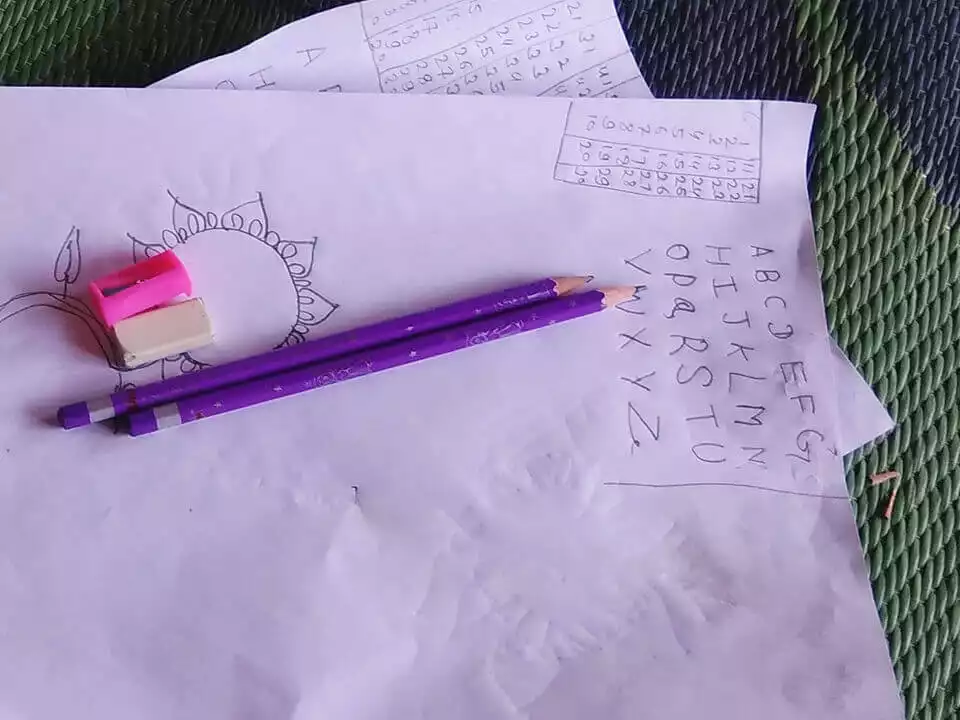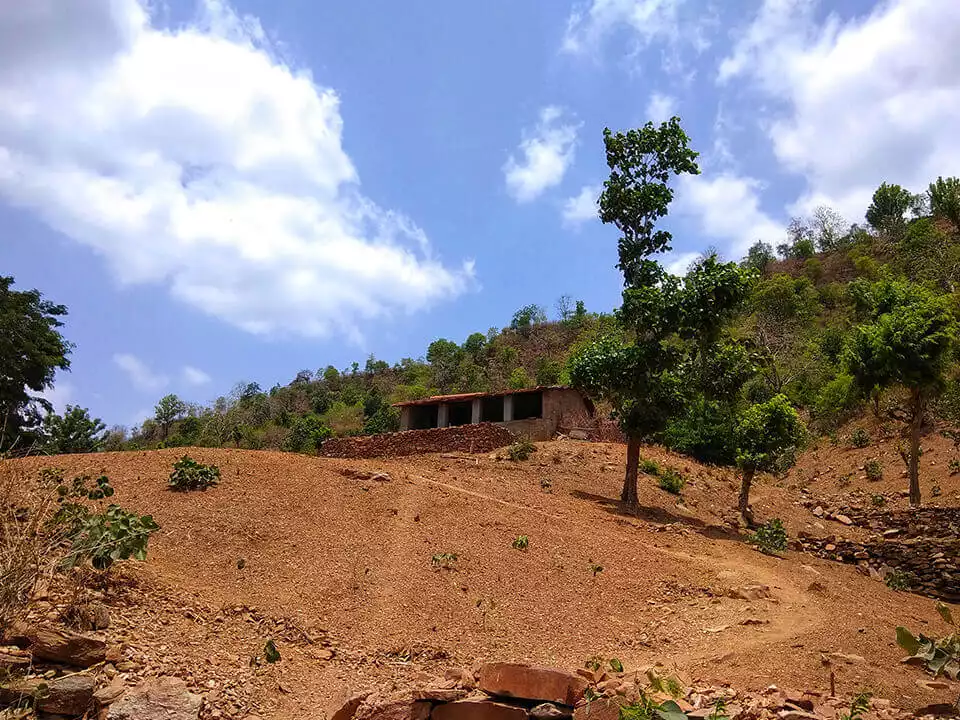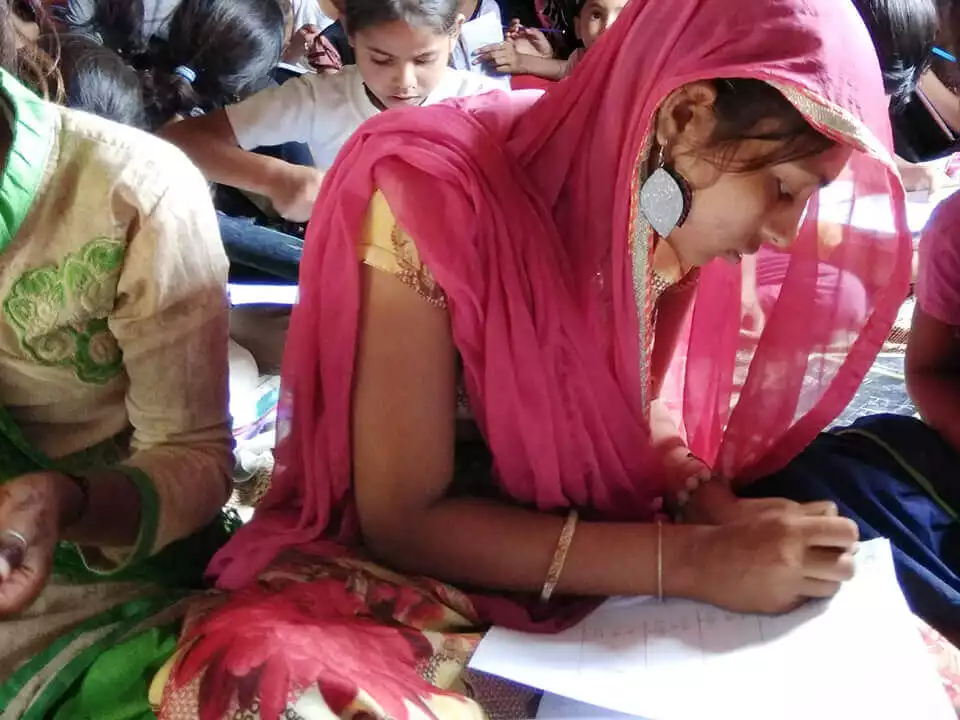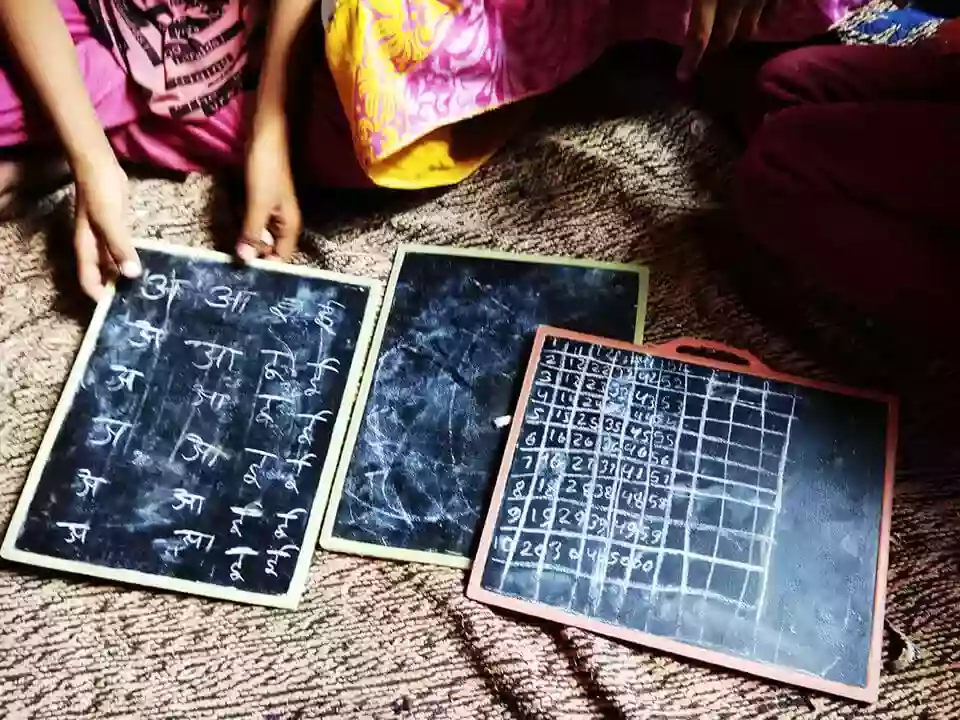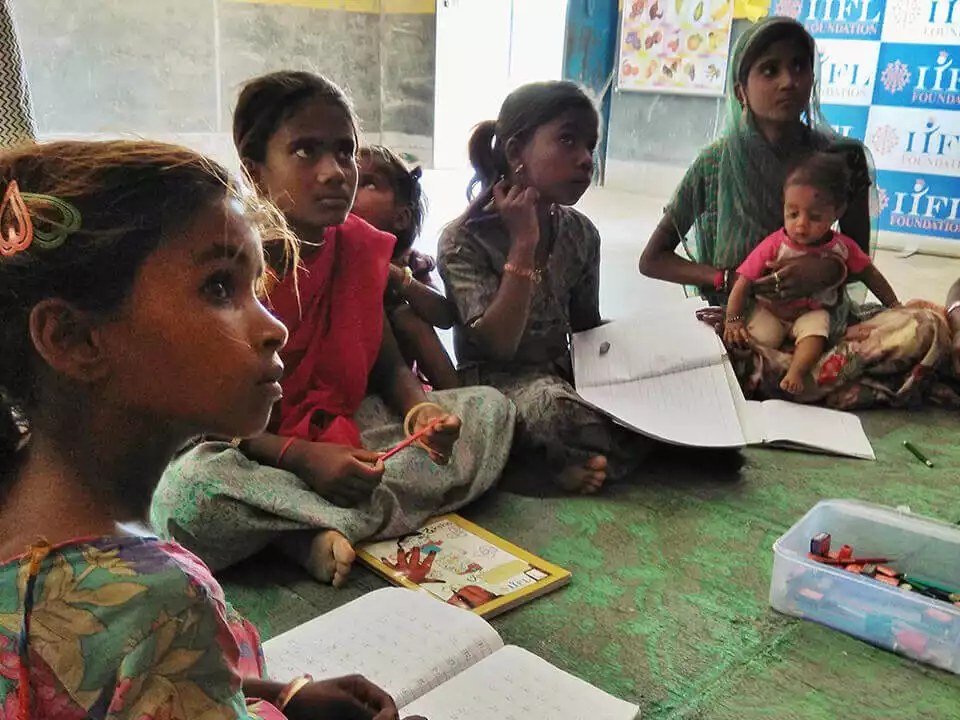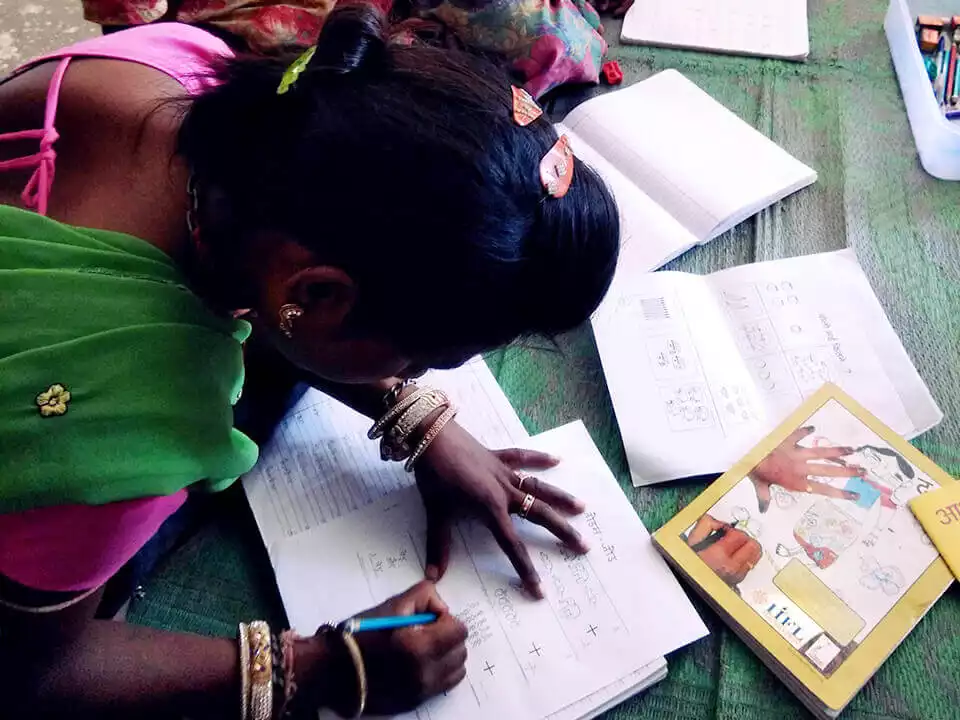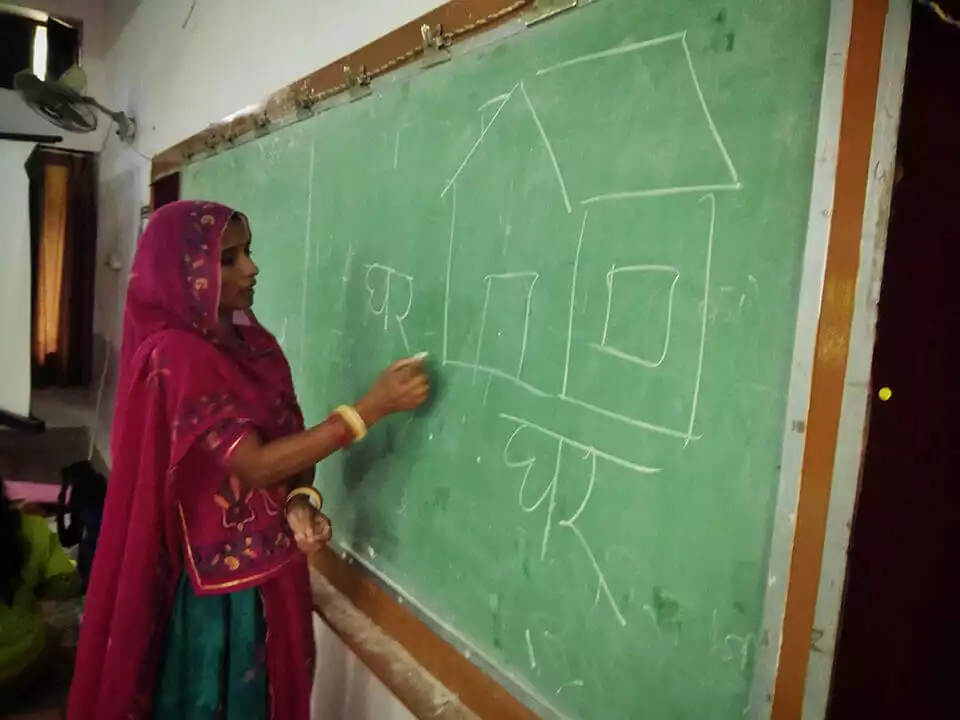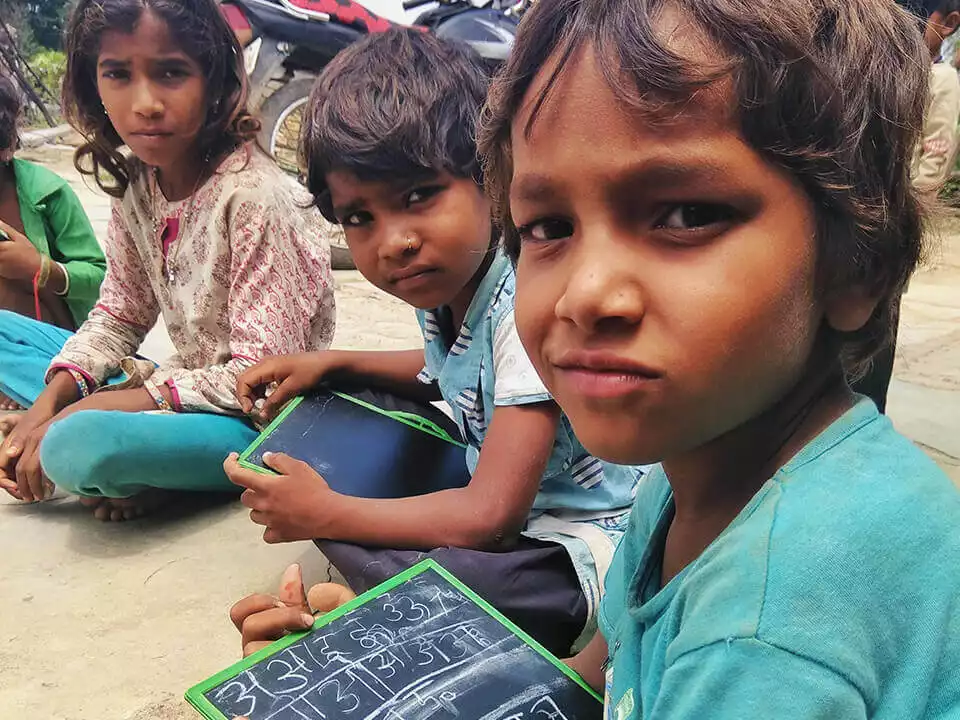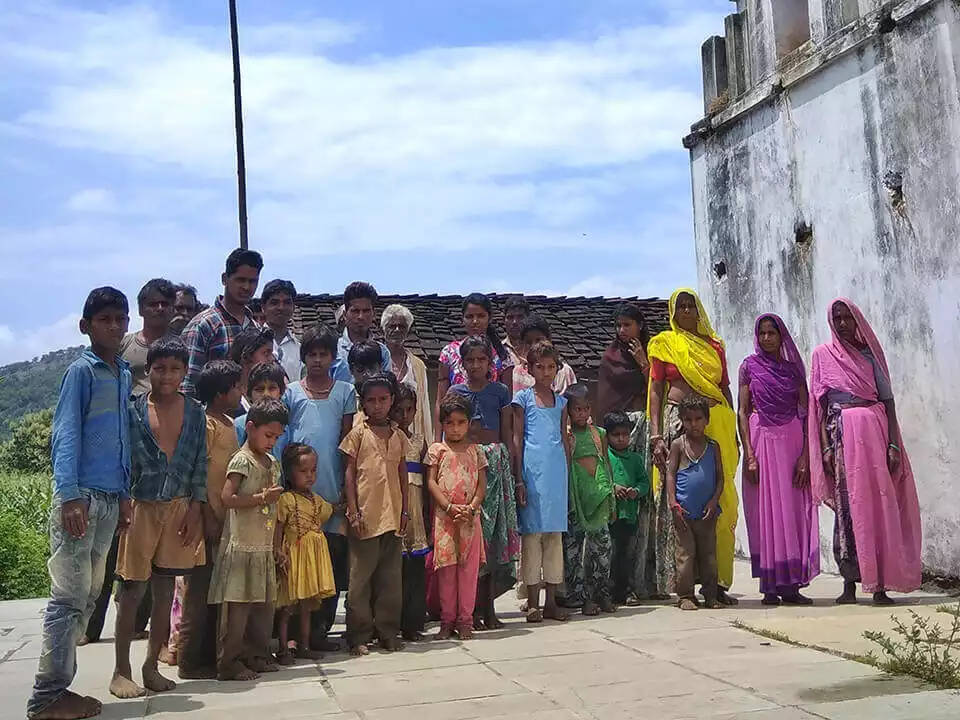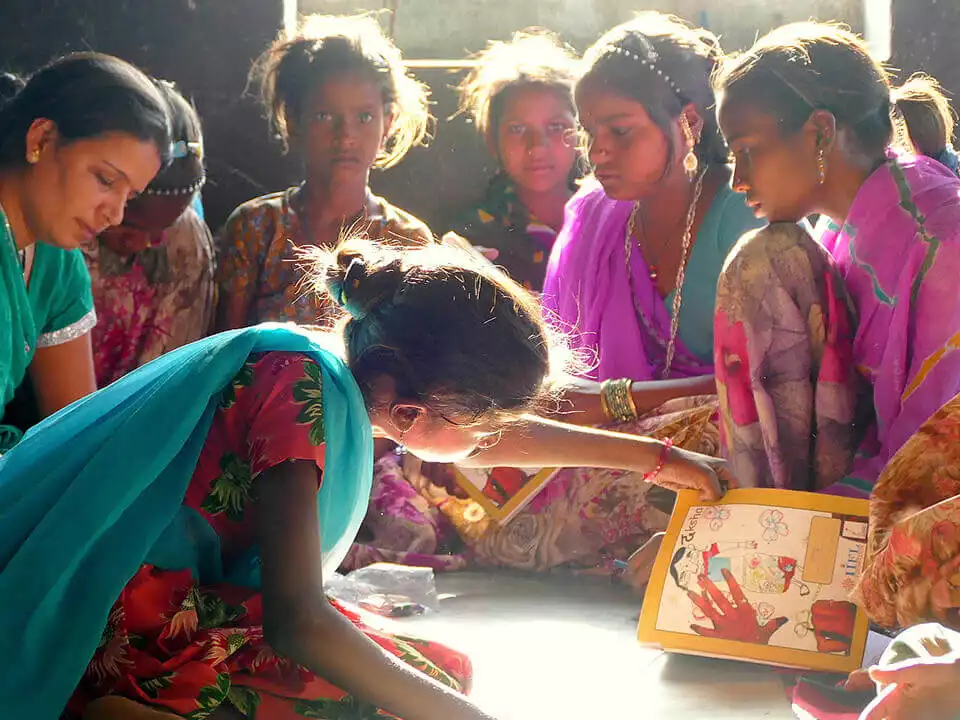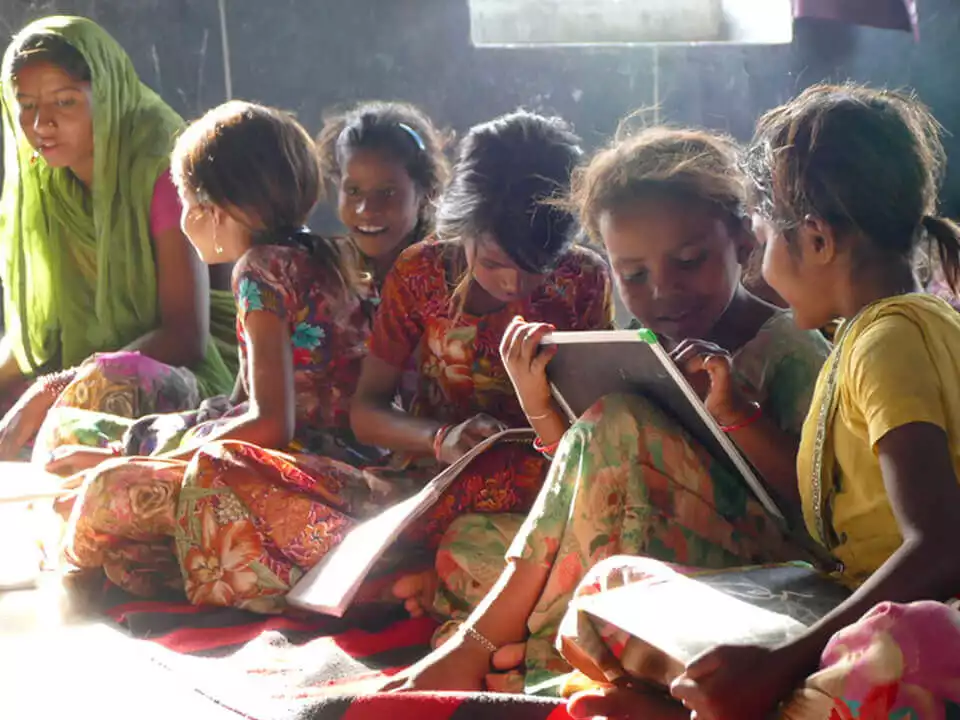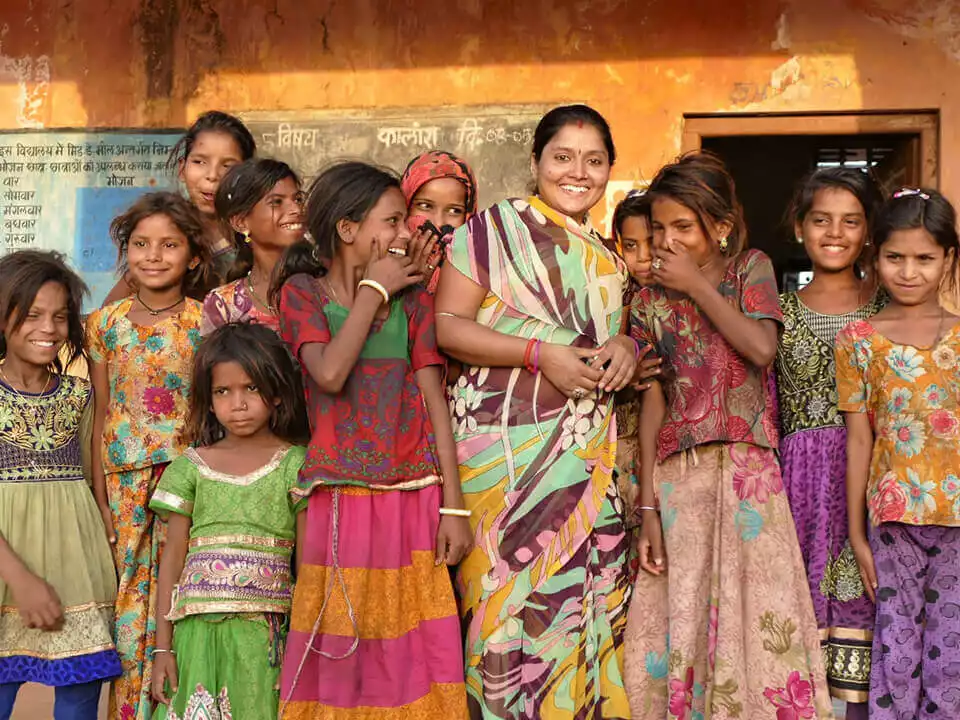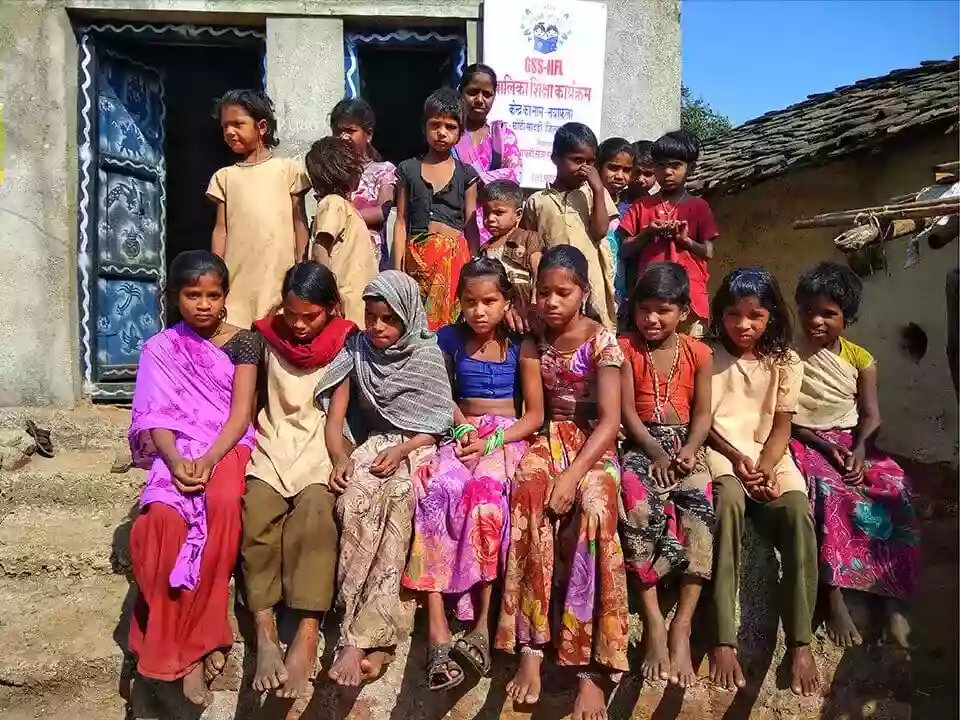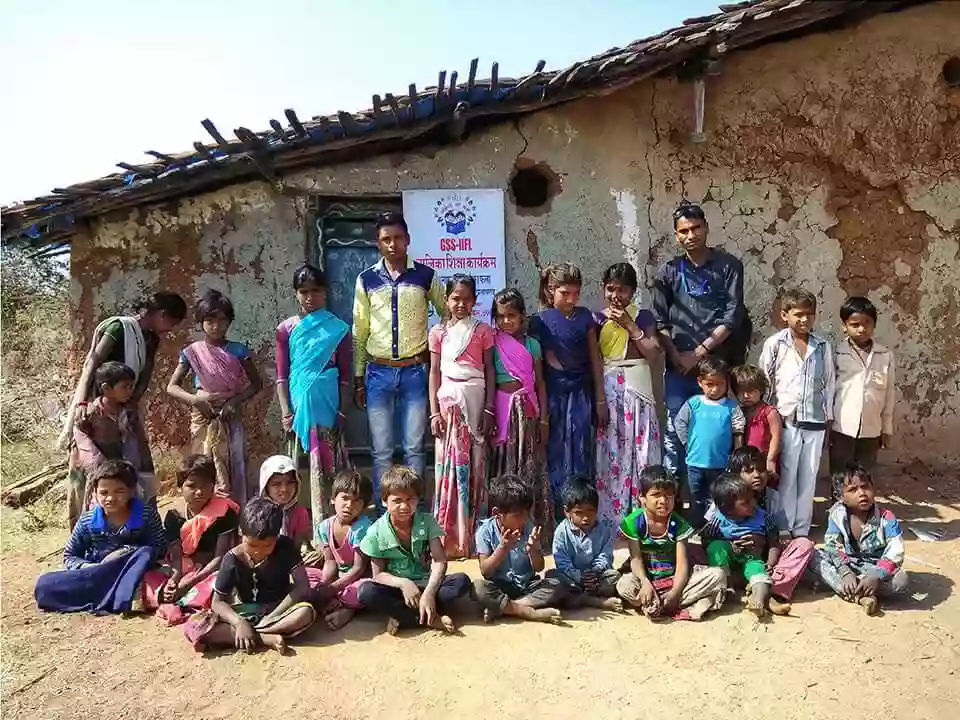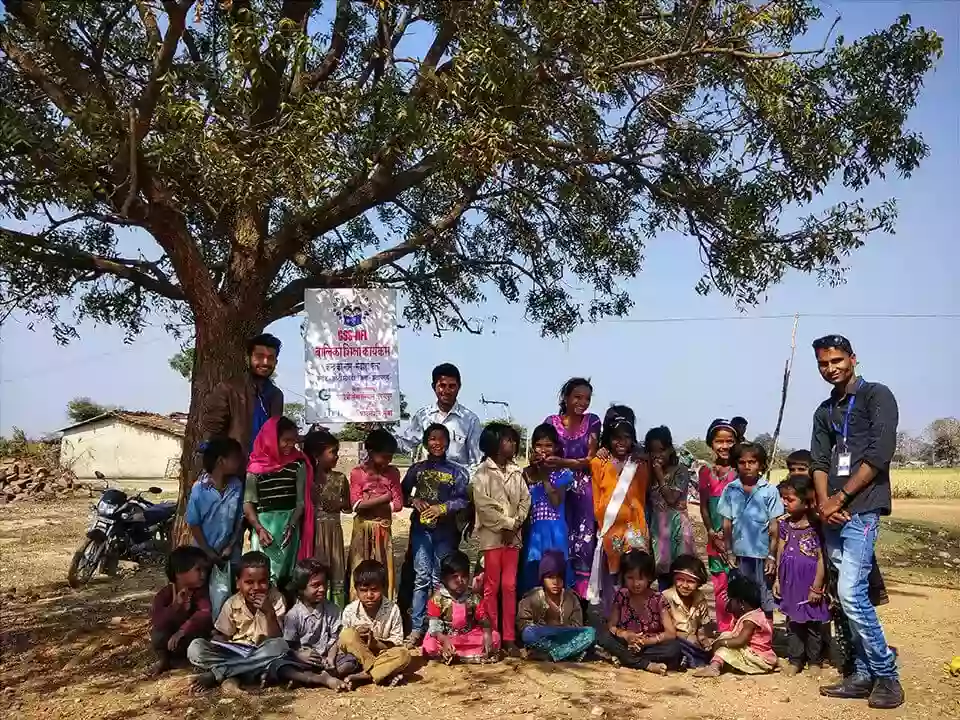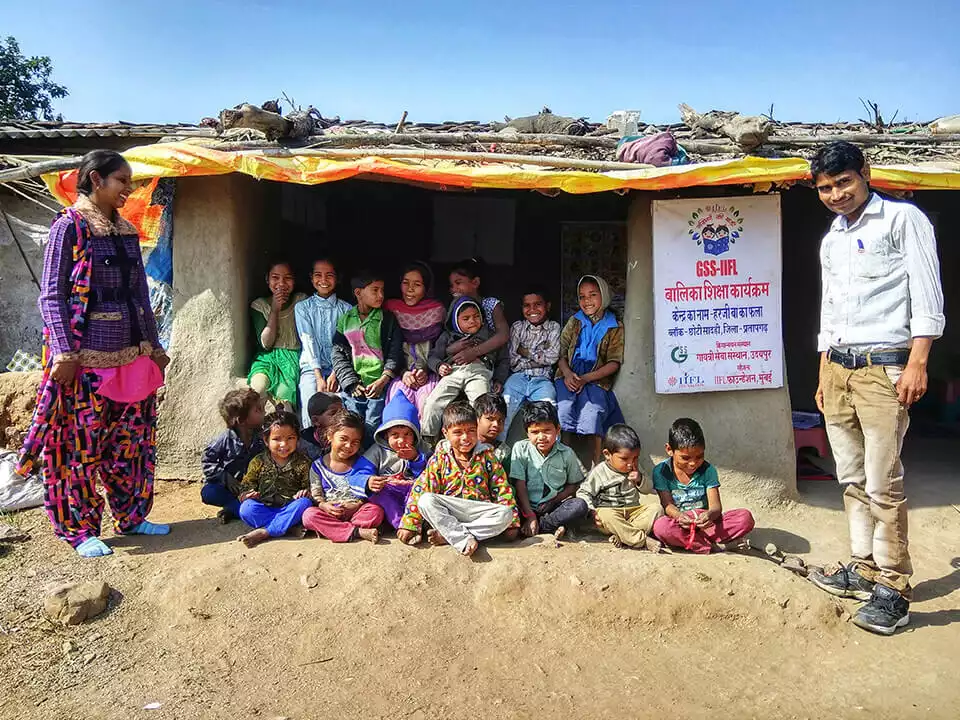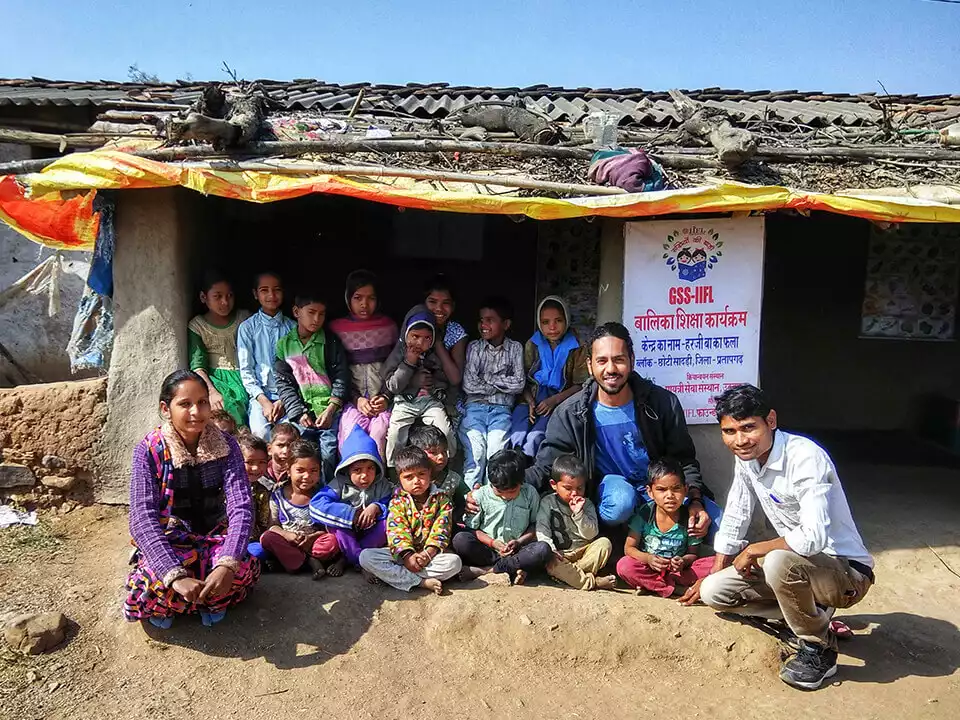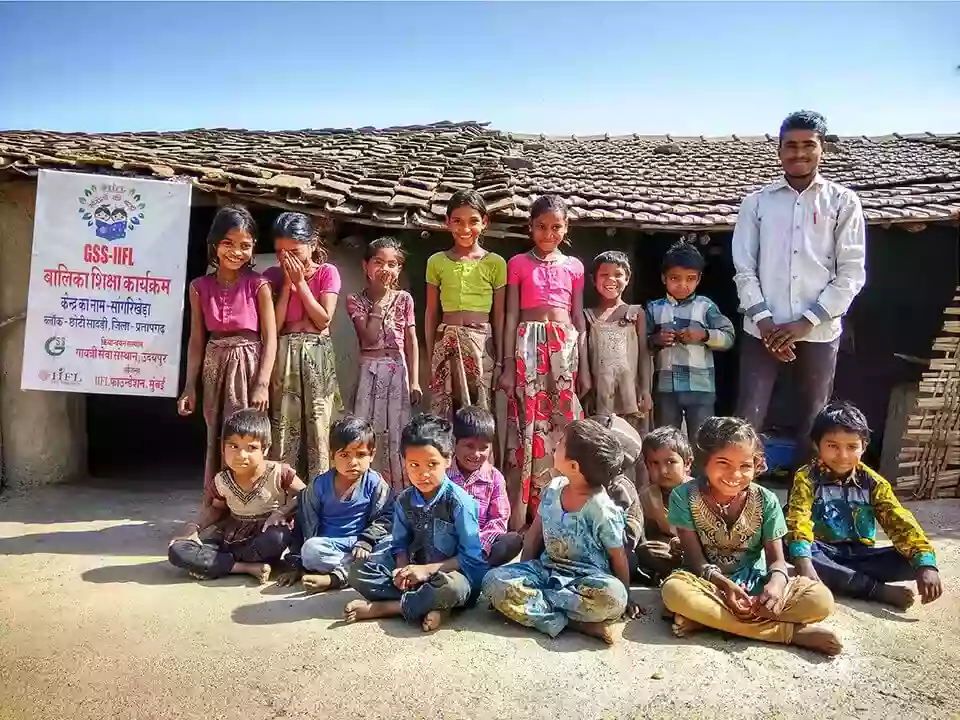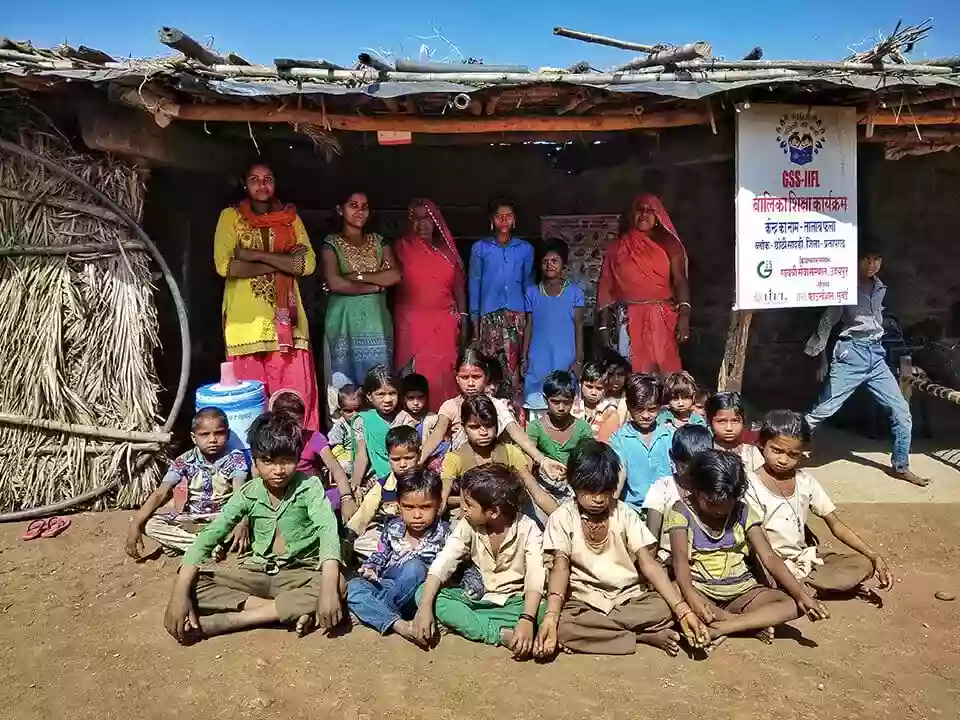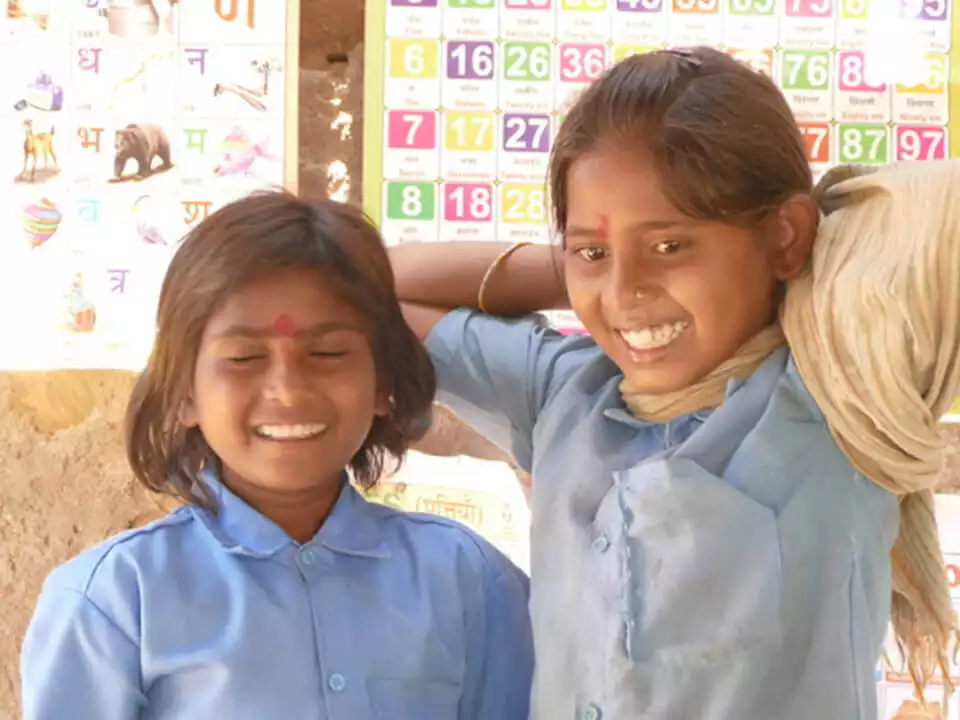 Sakhiyon Ki Baadi (SKB) is a flagship program conceived and implemented by IIFL foundation to address the situation of out of school girls in Rajasthan, the state having the lowest female literacy rate in India. In rural hamlets of Rajasthan, young girls are found to be 'out of school' owing to numerous reasons ranging from poverty, illiteracy among parents, no access to school, cattle and sibling care or simply the pressure of earning money and contributing to family's meagre income. Considering these challenges, it was understood that for these girls to get educated – we needed to reach out to them, right in their village and more importantly with a customized curriculum to simplify their learning process. Thus, we initiated - Sakhiyon Ki Baadi, a community based learning center for girls in the age group of 4 to 14 years. The center serves as a primary connect to education for girls that have dropped out of schools or have never been enrolled at one. A learning facilitator – Daksha, especially a woman is appointed from the village or the neighboring one, to conduct the center. The community members are engaged with the center's activities, to bring a sustainable change. While the long-term objective is to change the narrative around girl child education, the short-term goal is to educate the girls to achieve functional literacy. Learning material is developed in alignment with Rajasthan State board syllabus (RBSE) to conveniently bridge the girls into mainstream education (government schools) in near future. A number of activities, songs and games are introduced by adopting play-way method to lure children towards education.
Starting in 2016 with 100 SKB centers and with 3000 girls enrolled in the program, today we have covered 11 districts of Rajasthan with 1164 SKB learning centers that engage with over 35,964 girls.
IIFL Foundation has partnered with Tribal Area Development Department (TADD), under Tribal Ministry of Rajasthan, to redevelop Maa Baadi centers, in Udaipur and Pali districts of Rajasthan. These centers are the primary source of formal education in remotest locations which do not have any government schools. Maa Baadi learning centers aim to promote education among the children belonging to indigenous tribal communities. This project aims to eradicate illiteracy among children and also provide them with sanitation and proper nutrition. We are taking 30 such schools from 30 Maa Baadis (each Maa Baadi has one school) and each school takes in maximum 30 children.
We are adopting a holistic approach to enhance the efficiency of these centers. Installation of digital learning tools (LED TV with AV learning material), setting up of library and regular training of teachers by subject matter experts are some of the initiatives undertaken by us at these centers. IIFL Foundation is also engaged in enhancing the infrastructural development by installing solar panel facilitating clean electricity, solar-powered water pump to provide water for drinking and sanitation, batteries for storage of electricity, installation of a ceiling fan & water tank, repair of toilets and construction of play-area for children. The Maa Baadi centers are being painted to promote freshness and vibrancy, that shall encourage the children to be regular in attendance.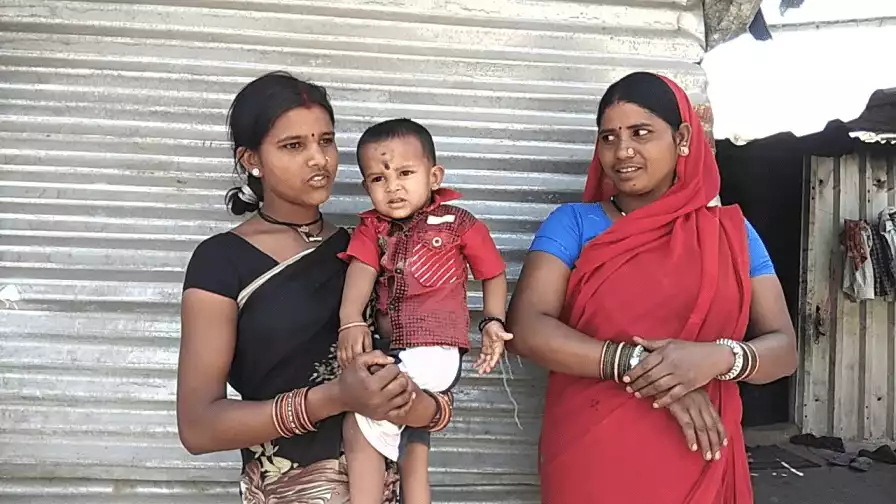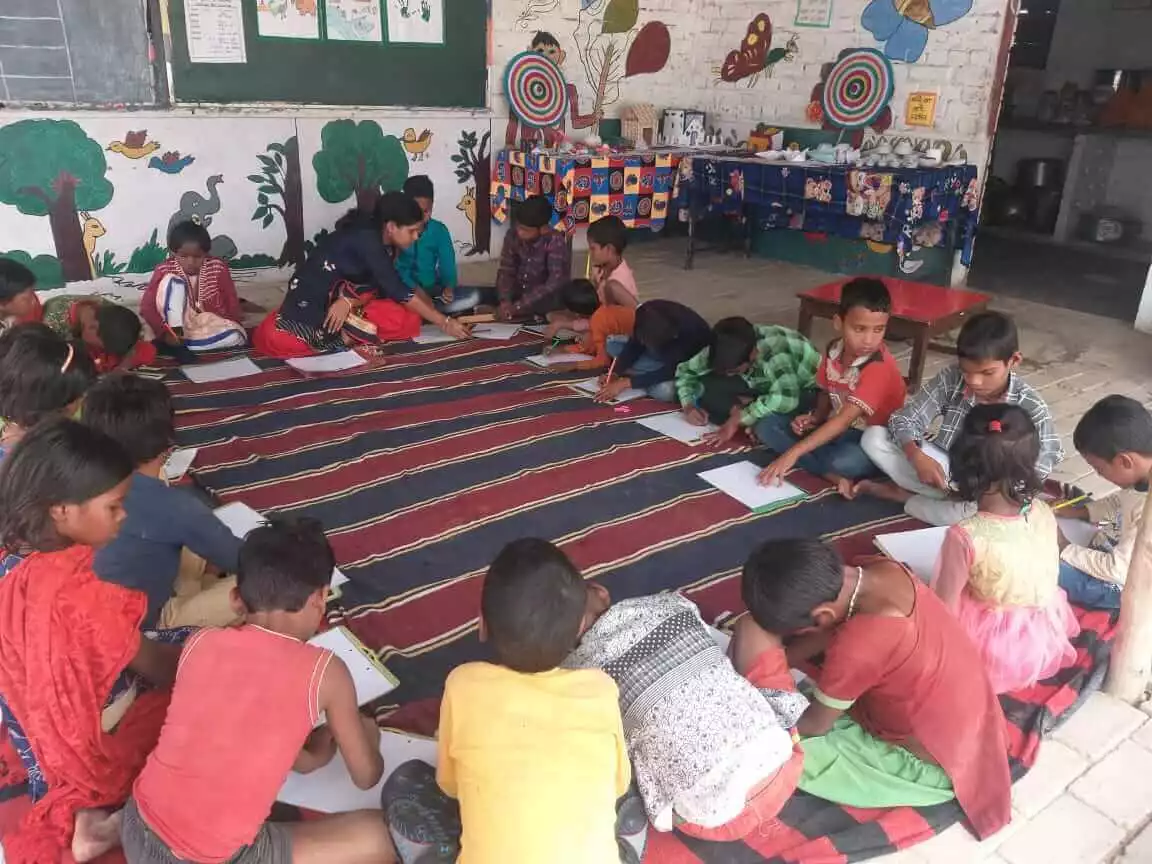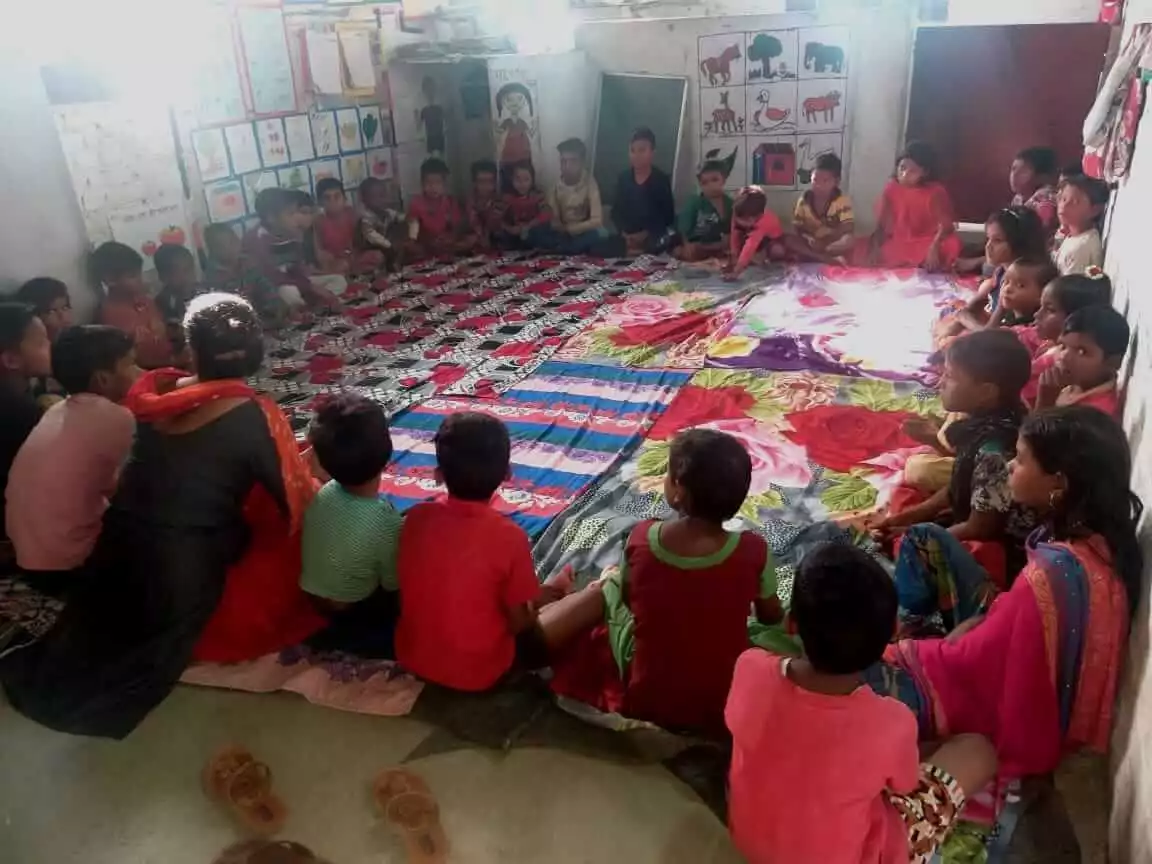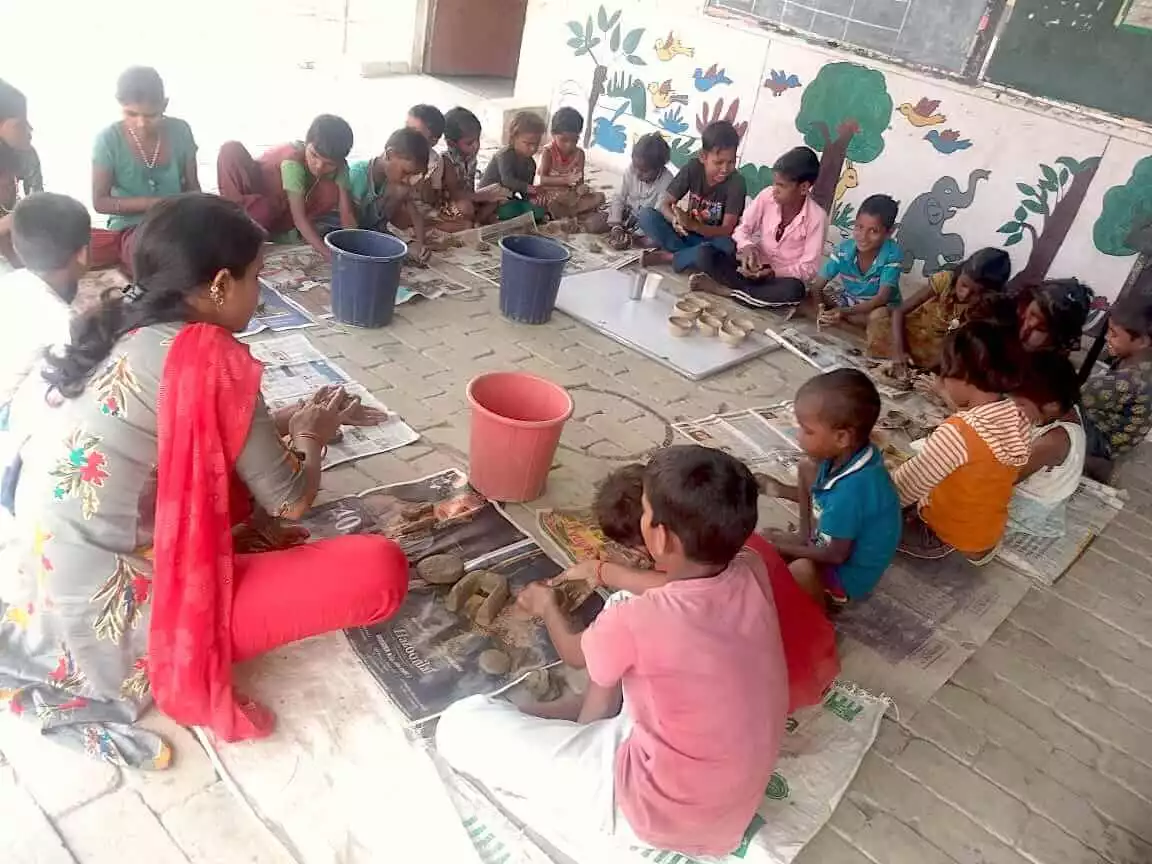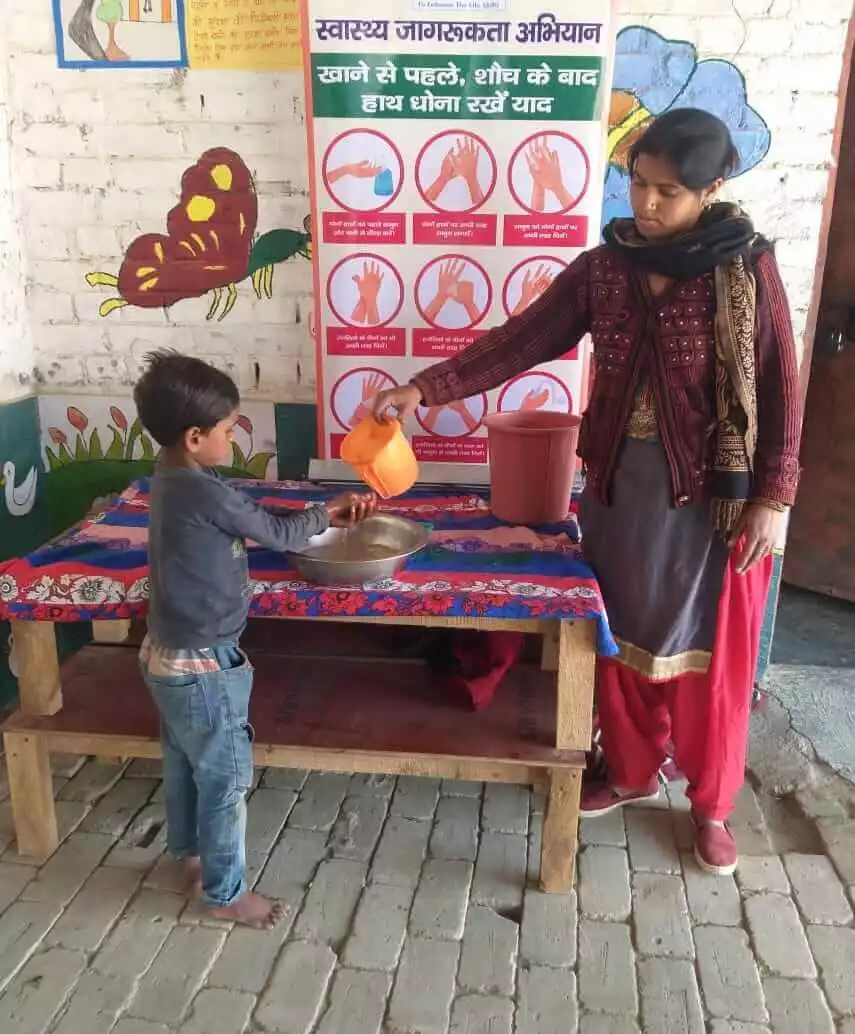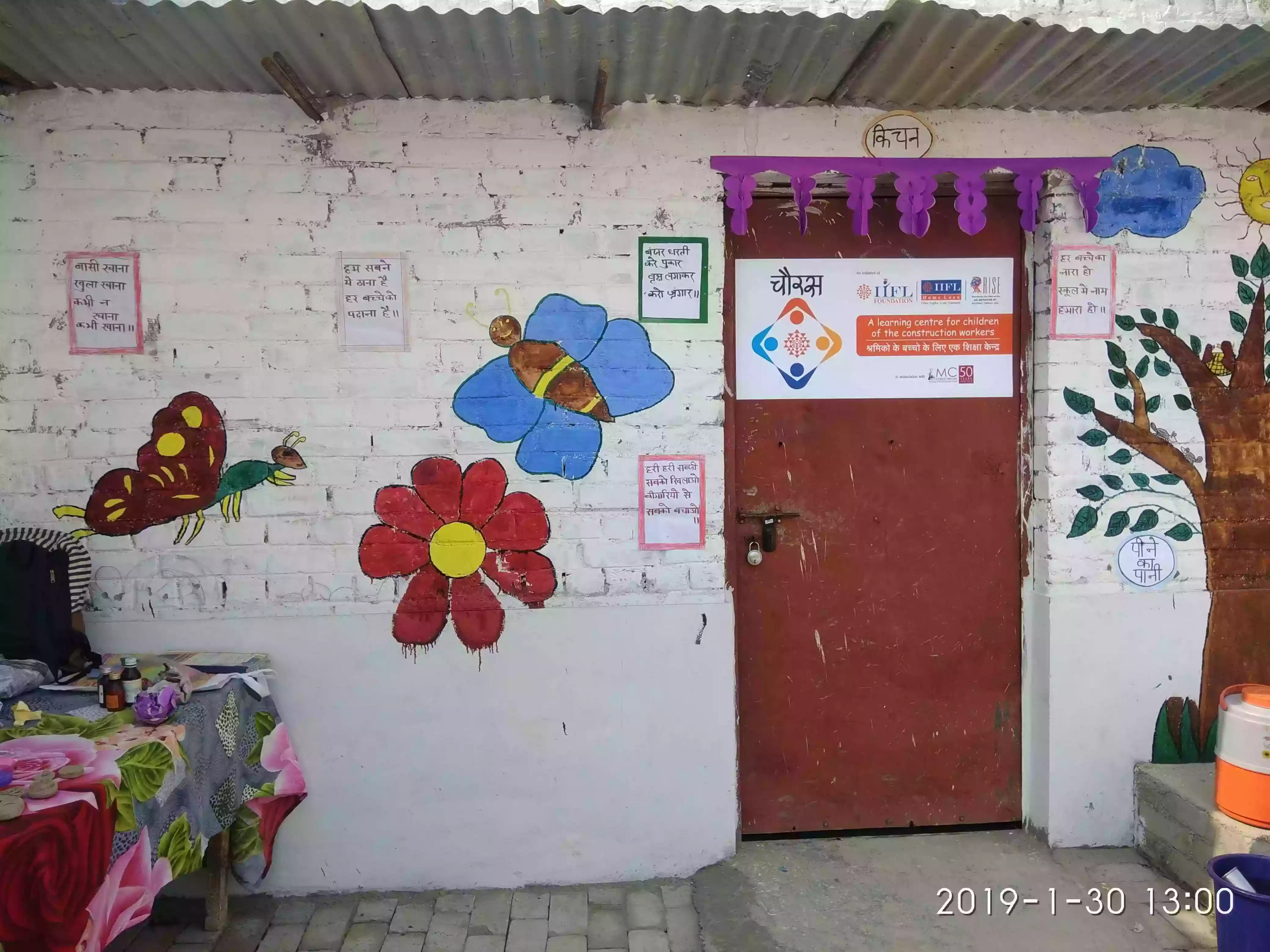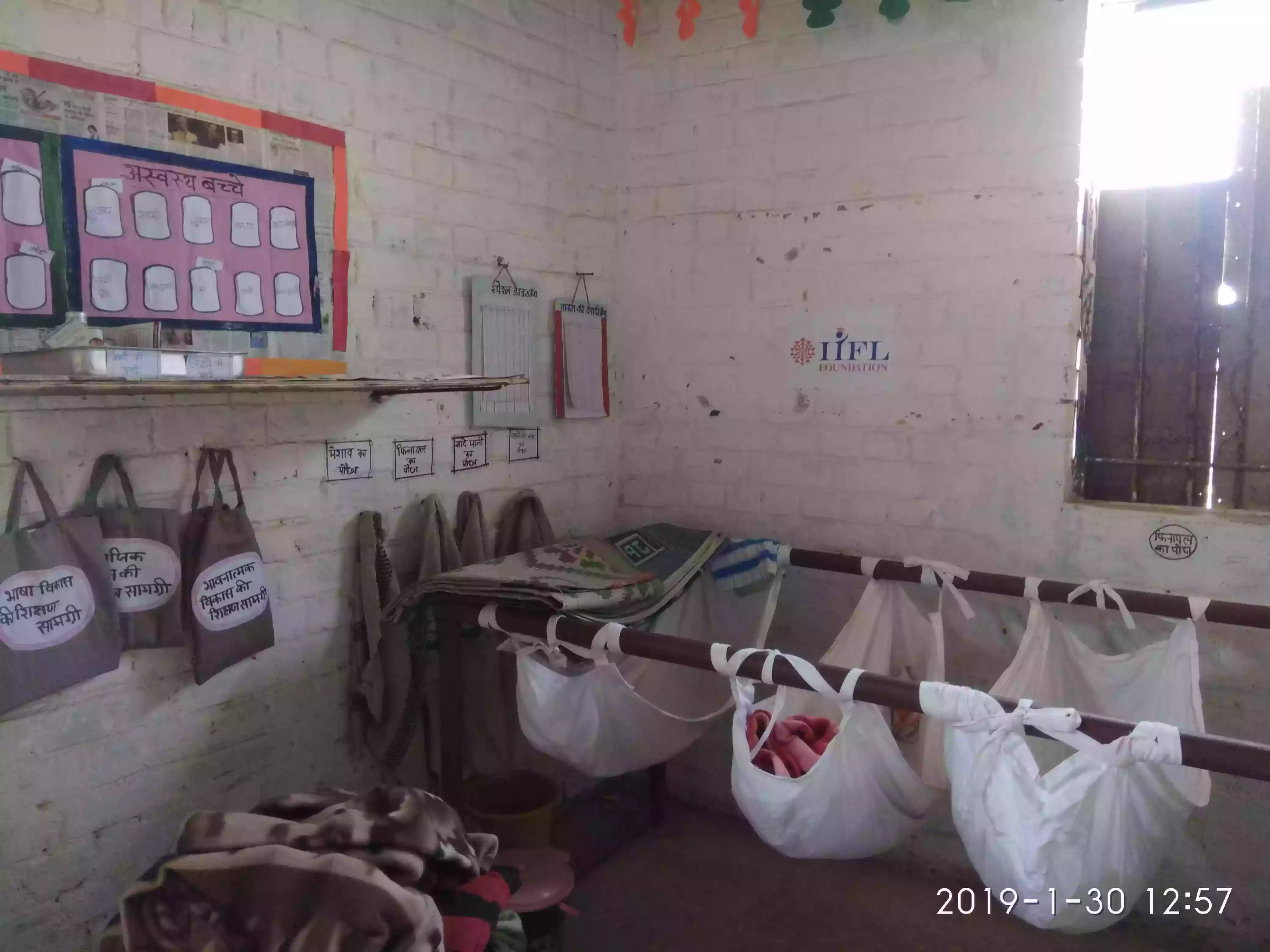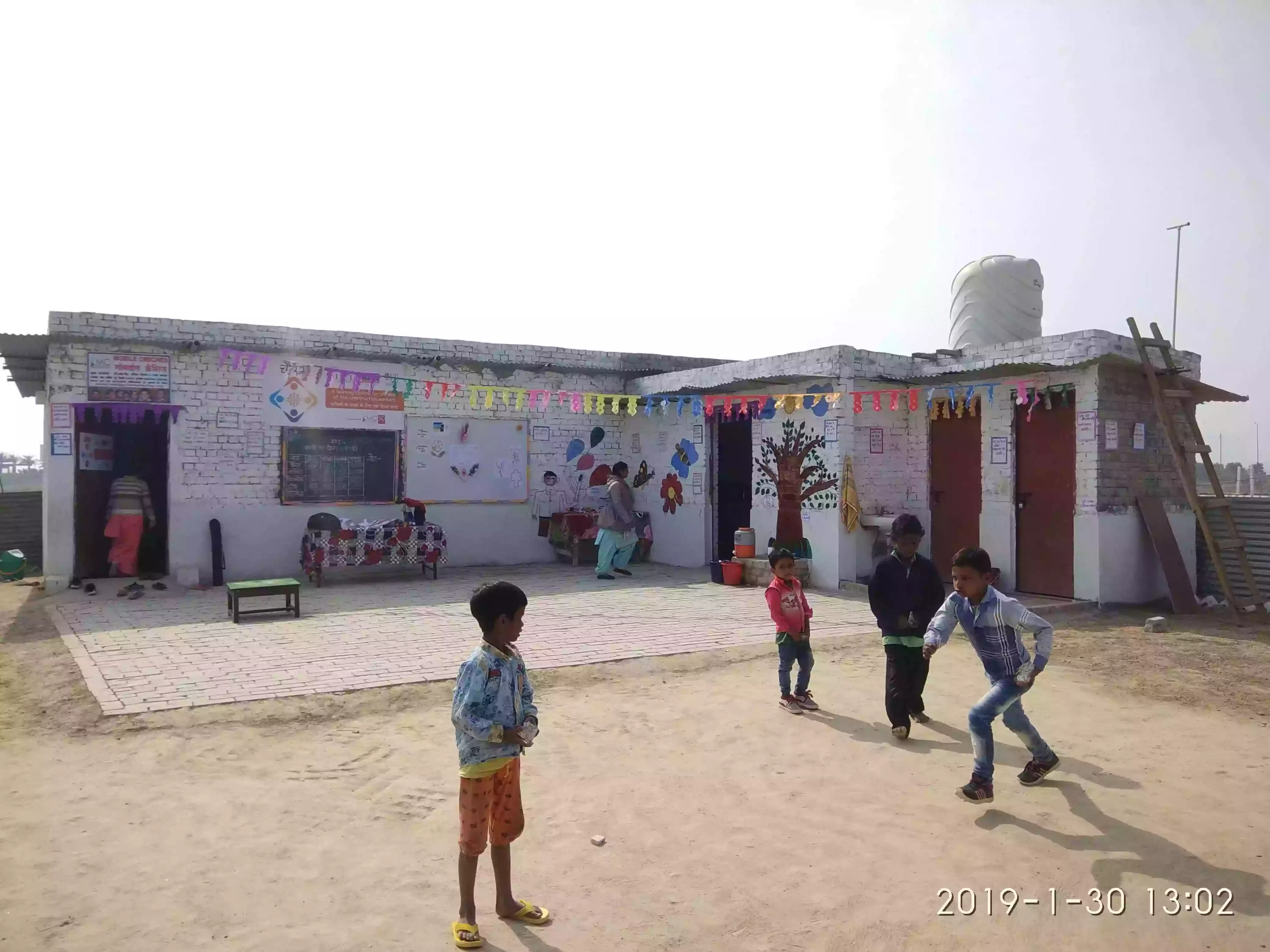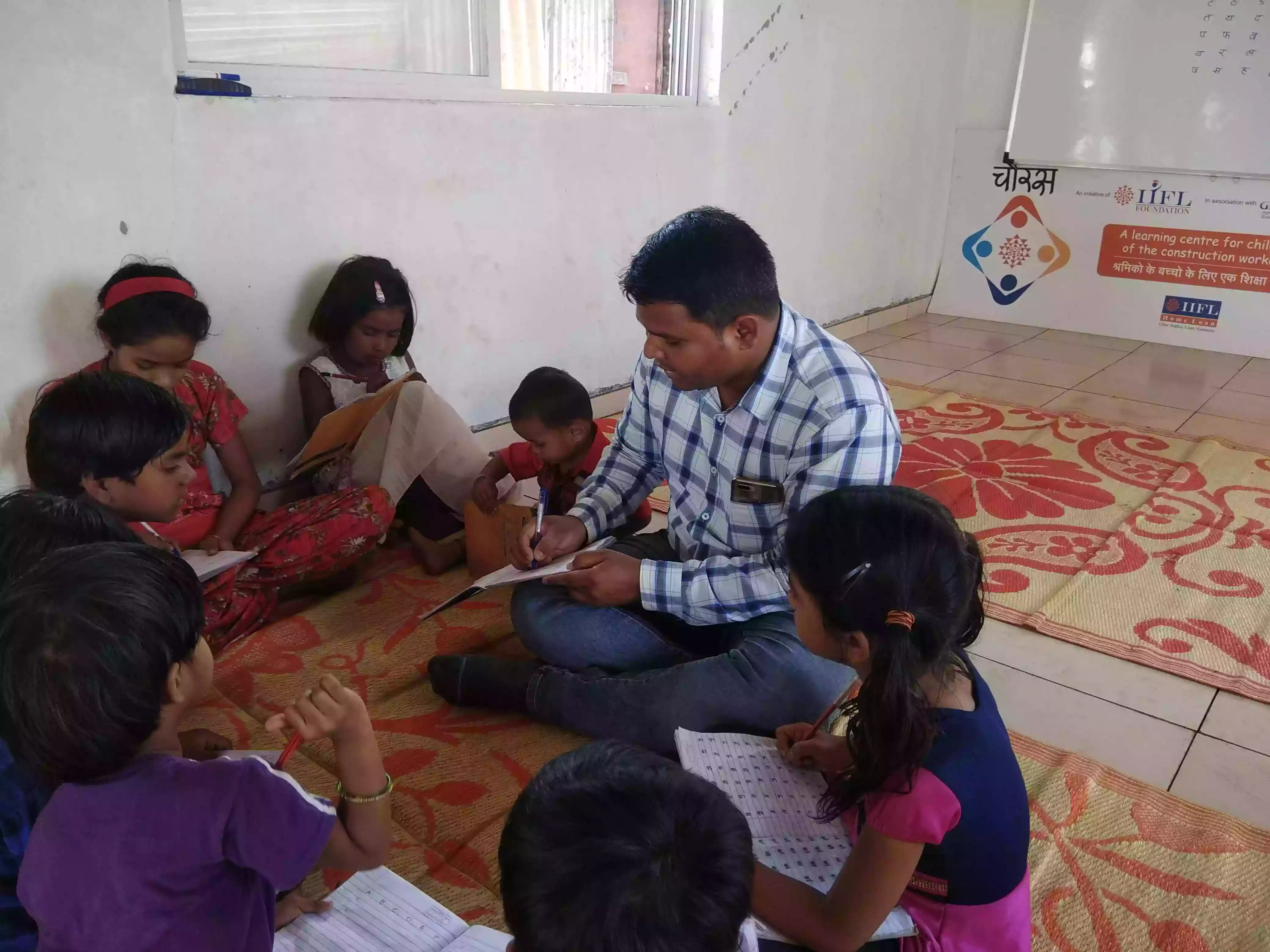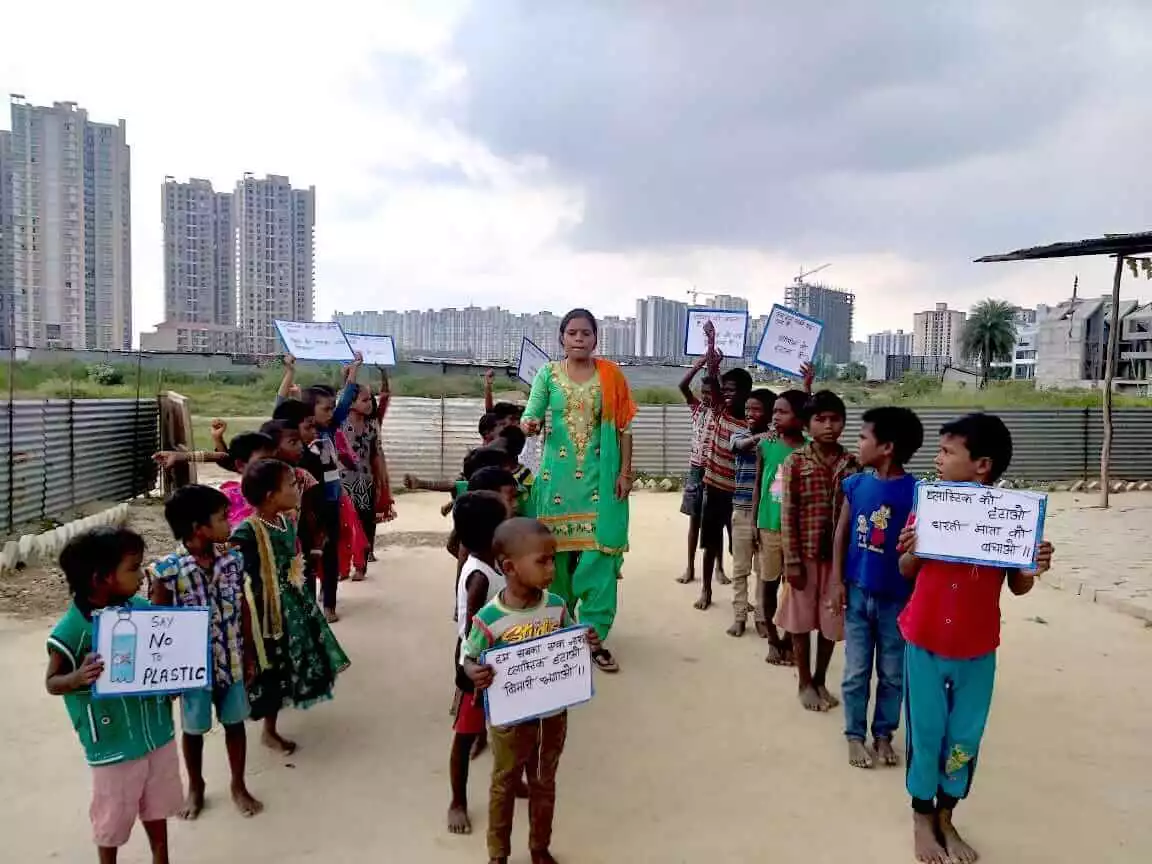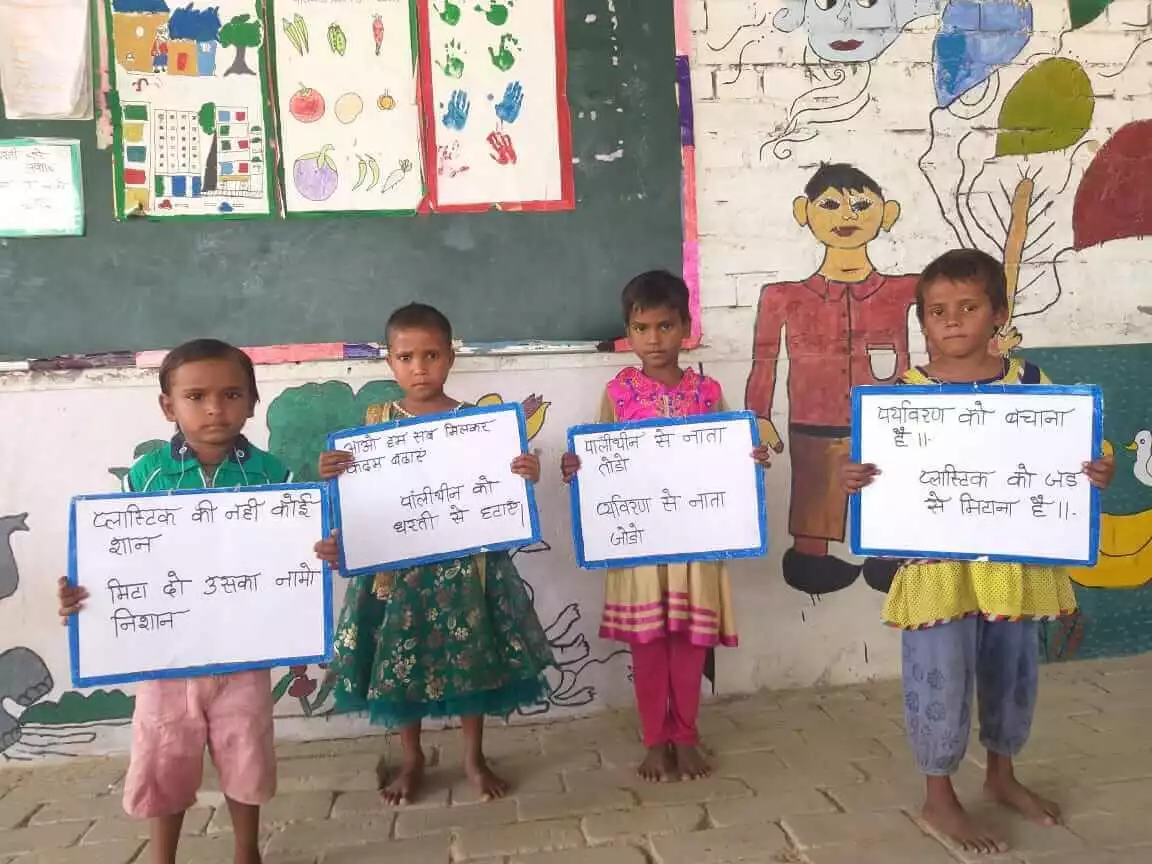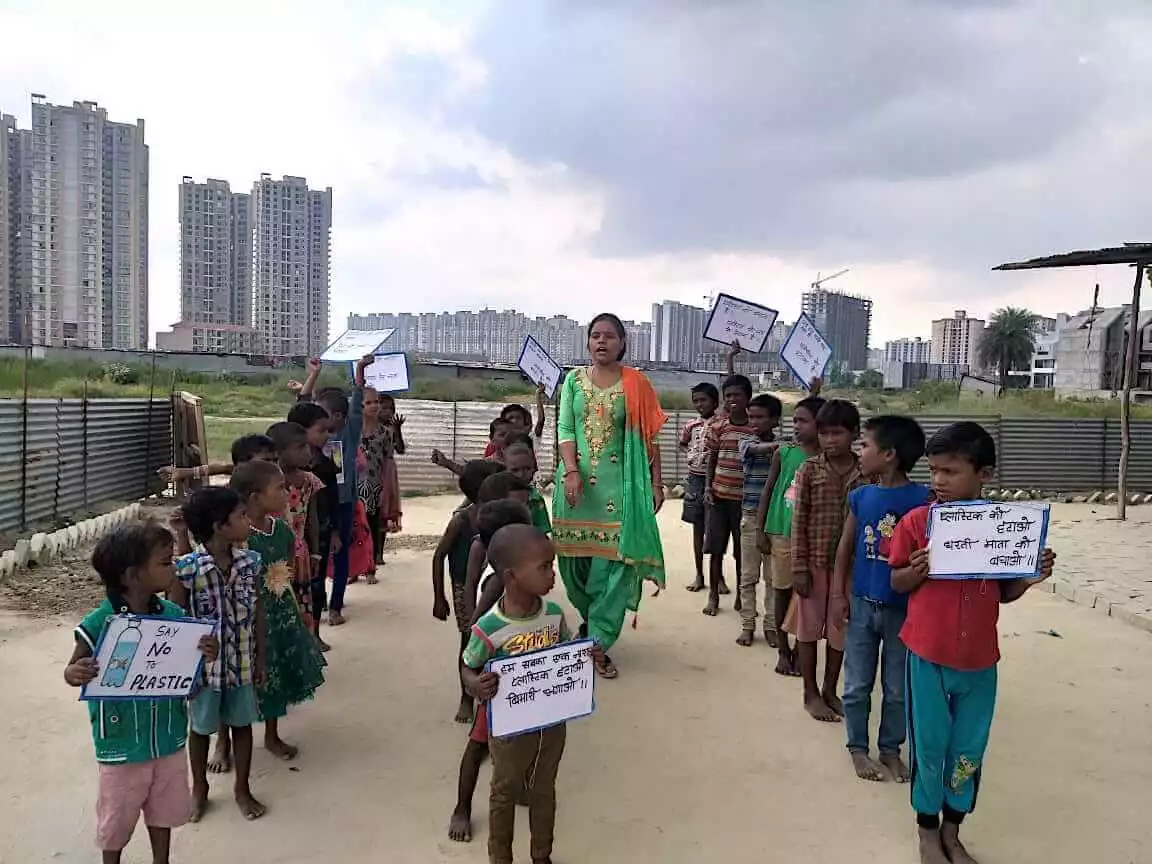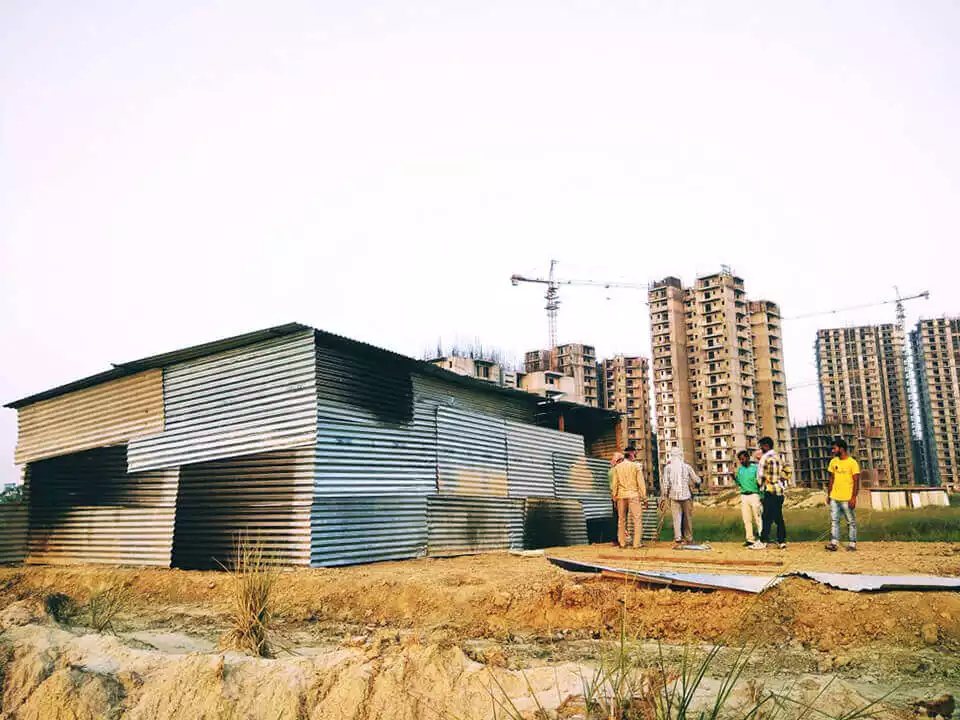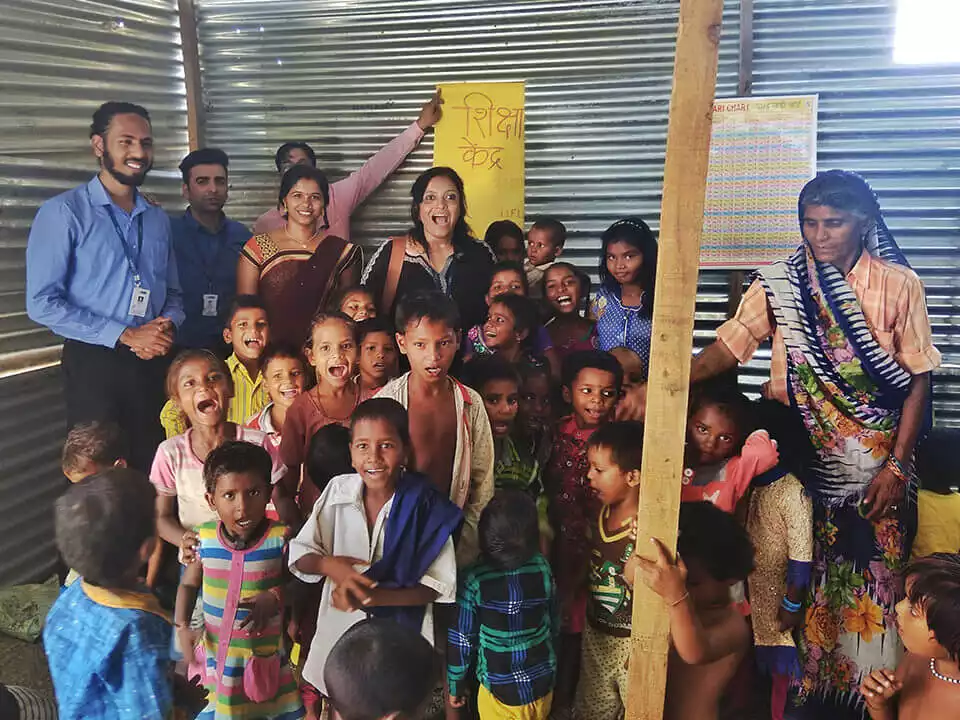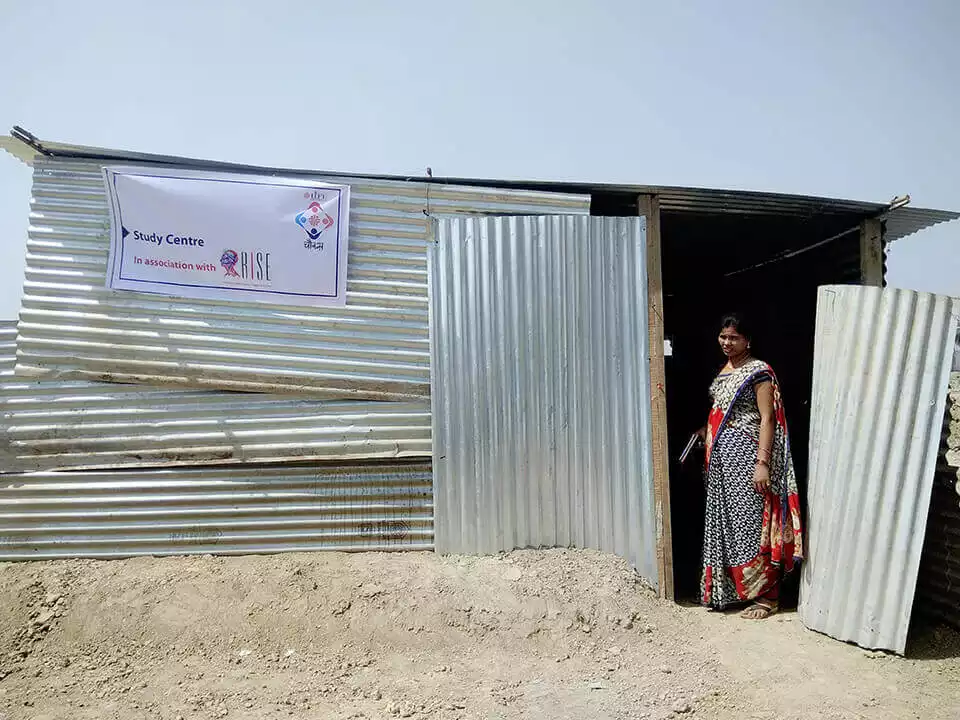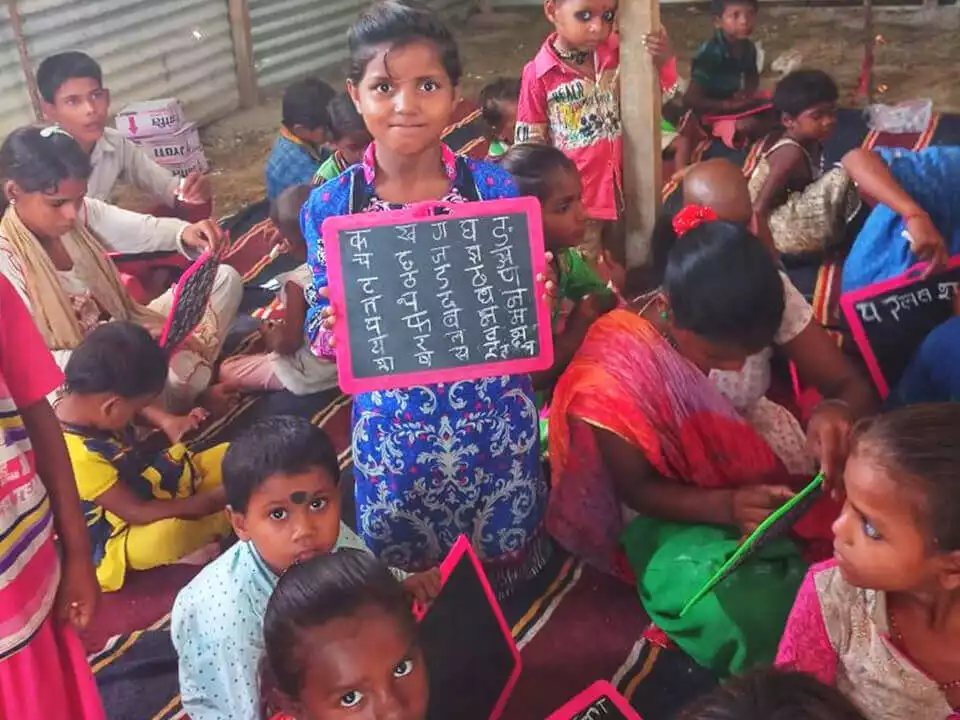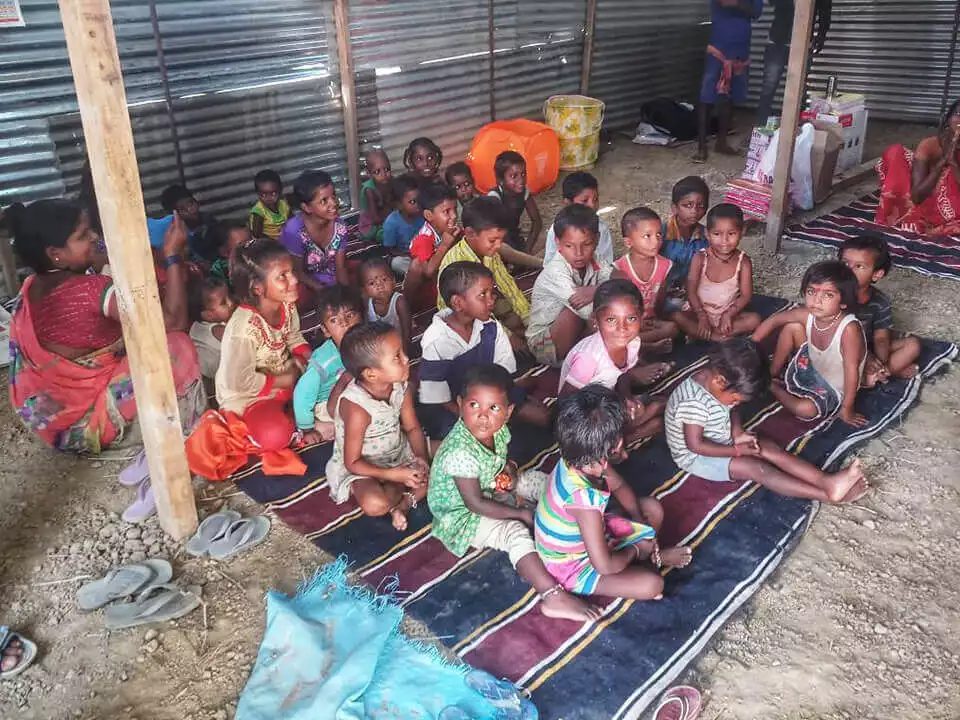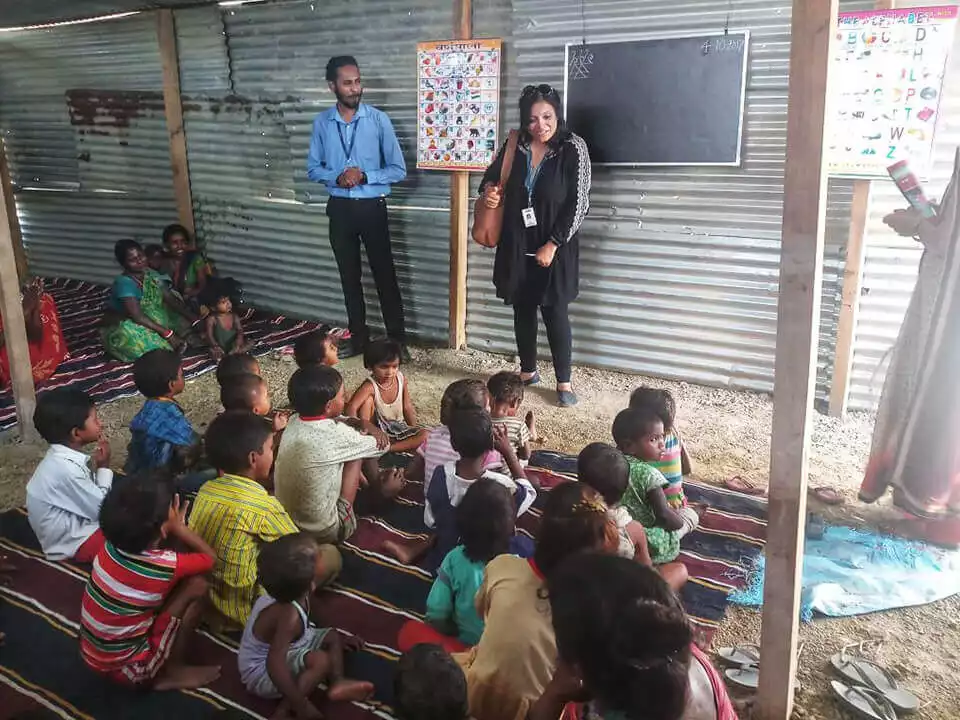 Chauras is a program started by IIFL Foundation to provide access to education and learning for the out of school children of the migrant construction site workers, who migrate from different villages across India to large metropolis to work at construction sites. Generally, the construction site workers are seen to migrate from one worksite to another, with their family in tow. They reside within close perimeter of the construction site and as the construction work completes, they move to the next site, which can literally be anywhere in India. Owing to this uncertain migratory nature of their profession, their children are seldom enrolled at a school or receive formal education. Thus IIFL Foundation ideated Chauras - a learning center and crèche facility for the children of migrant construction site workers. The name literally means a square area, signifying that even a small square foot area is enough to educate a child, enrich their minds with knowledge and widen their opportunities in the wider world.
Our first center was started in November 2017 on a construction site in Noida. Rise builders were kind enough to provide space to IIFL Foundation to start the program for the children of migrant workers, working at their construction site. IIFL Home Finance Limited (our group company) is the financial partner to the construction site and thus is involved in the program as a mentor and supporter. Chauras operates from 9:00 am to 5:30 pm through the week and provides basic functional literacy to children along with nutritional meals through the day. The age group spans from the youngest being 3 months old to an adolescent of 14 years of age. Prior to Chauras, children would spend their day loitering around the construction site, being exposed to heavy duty machinery and hazardous material that posed danger to their well-being. At times their parents carried them along to the site, so they could be assured that the children weren't wandering around in wrong company or picking up ill habits. Chauras has allowed the parents to focus on their work without worrying about their child. Presently, IIFL Foundation operates Chauras at 2 locations in India – Greater Noida (Uttar Pradesh) and Kamshet (Maharashtra). Children attending Chauras are native to the states of Uttar Pradesh, West Bengal, Rajasthan, Orissa, Karnataka and Maharashtra.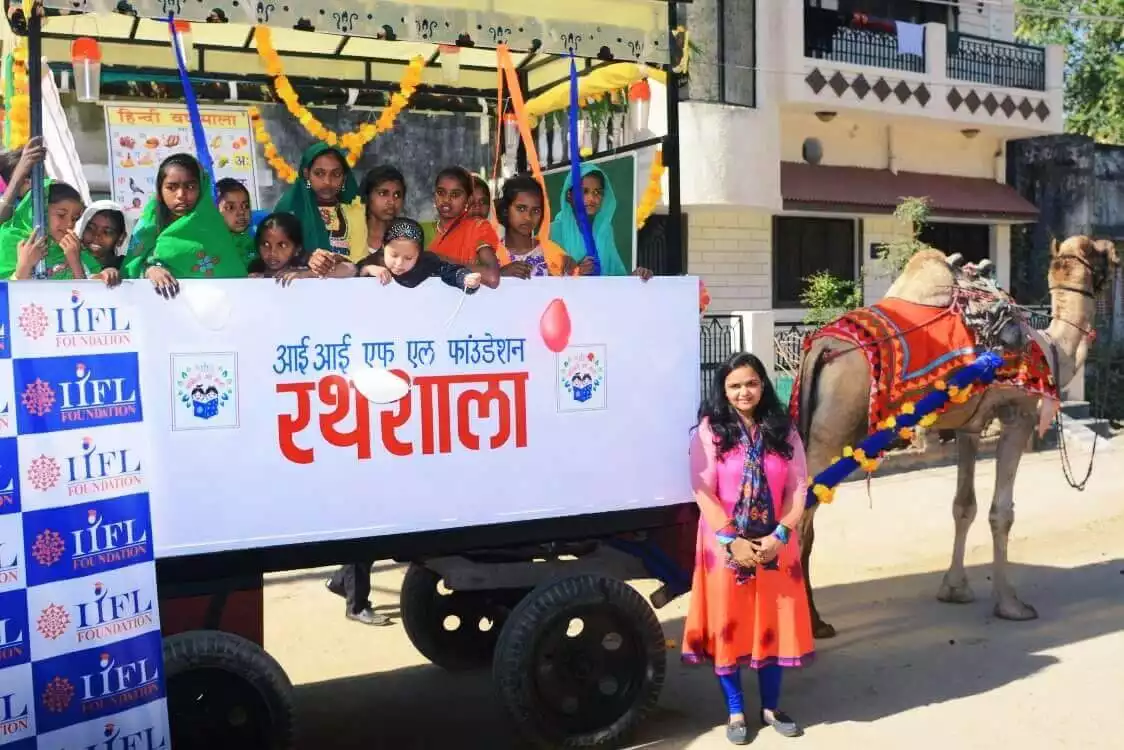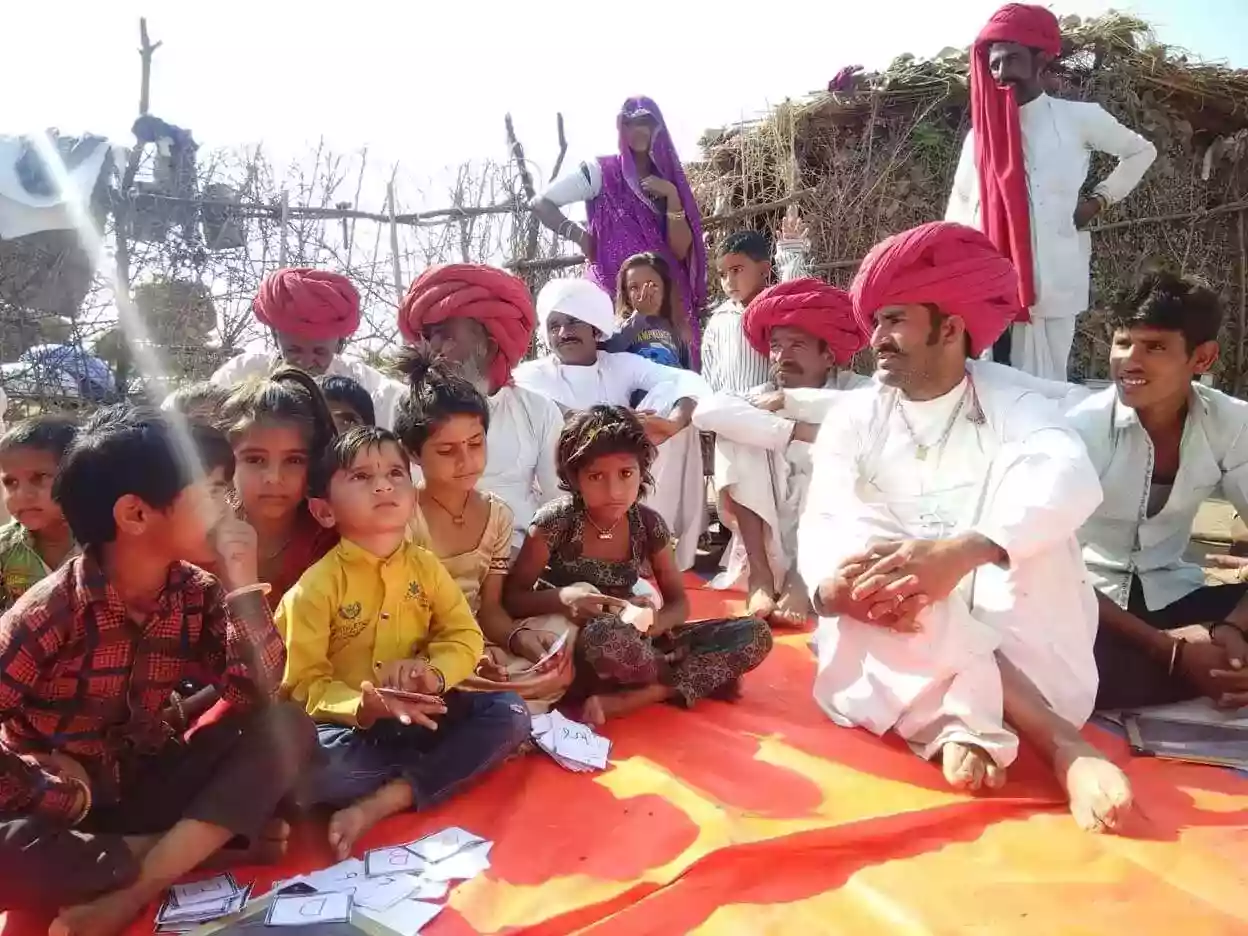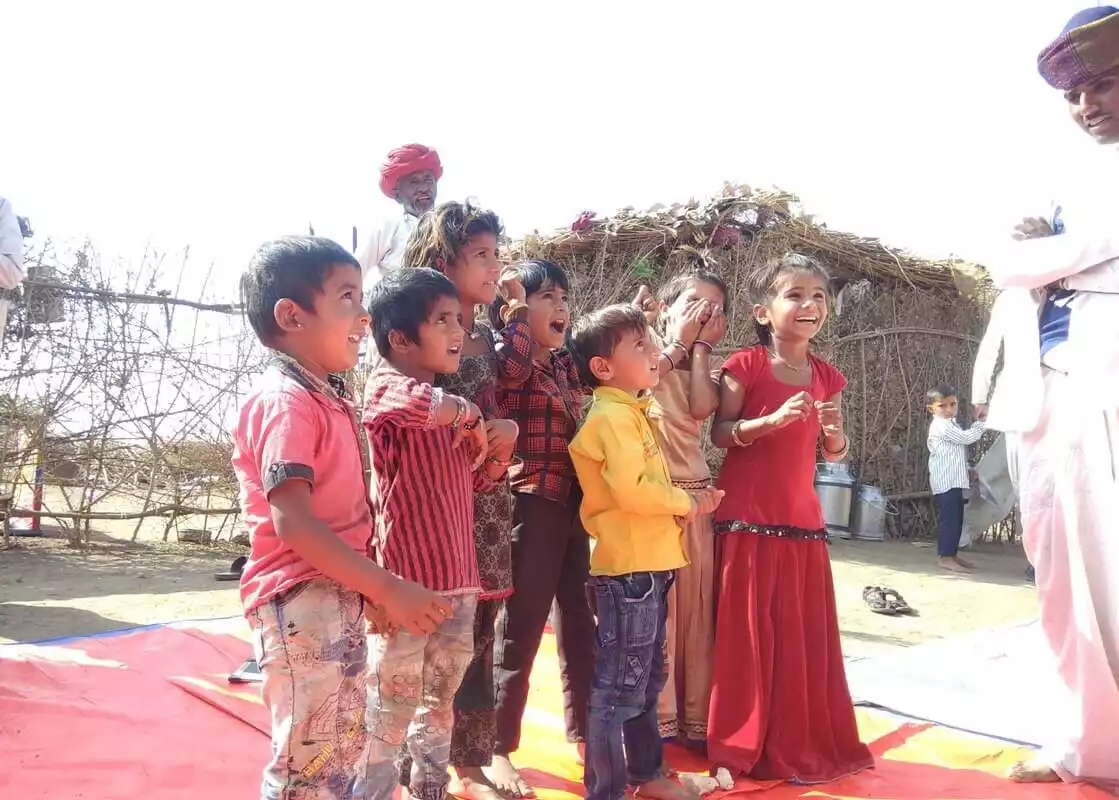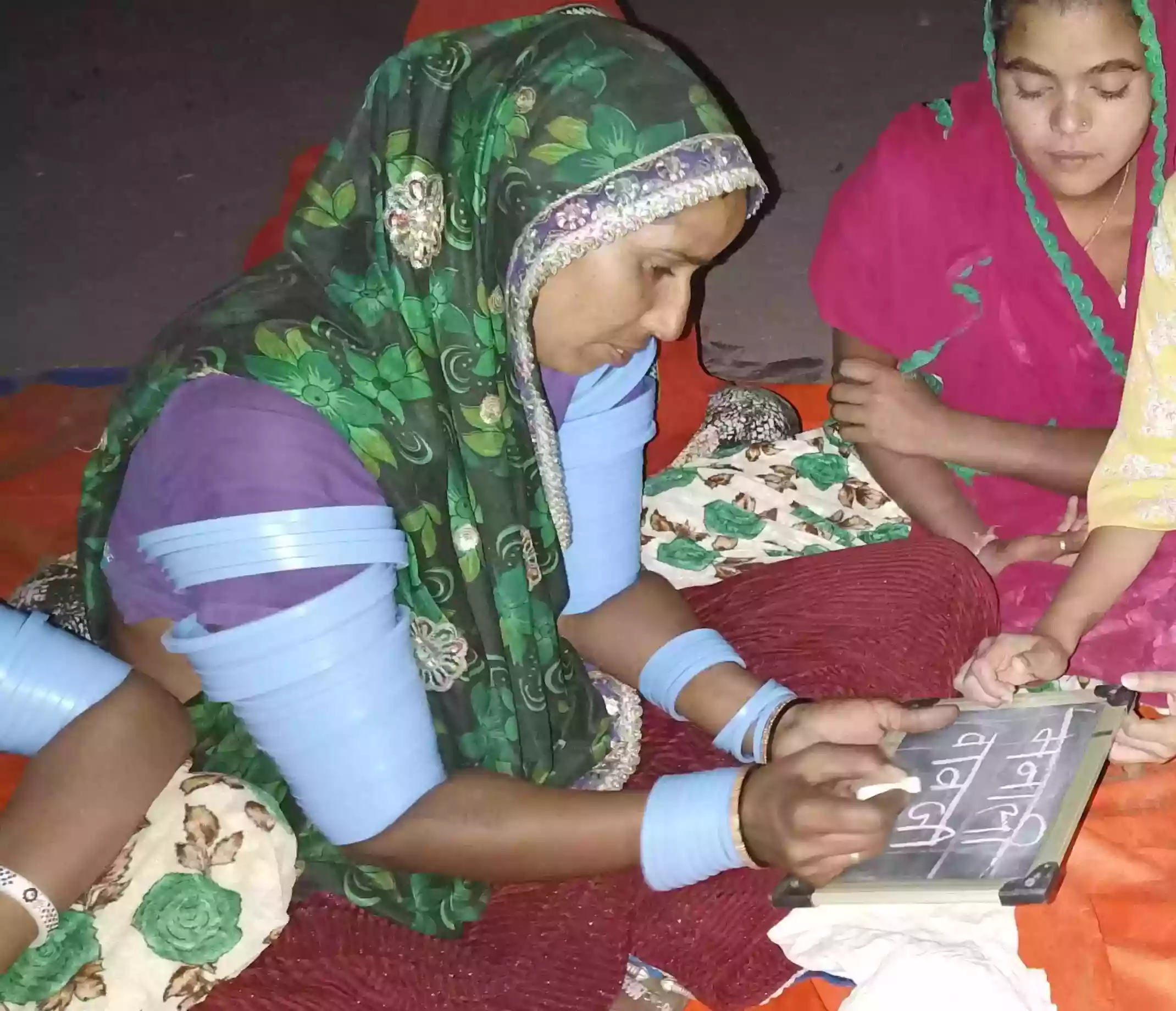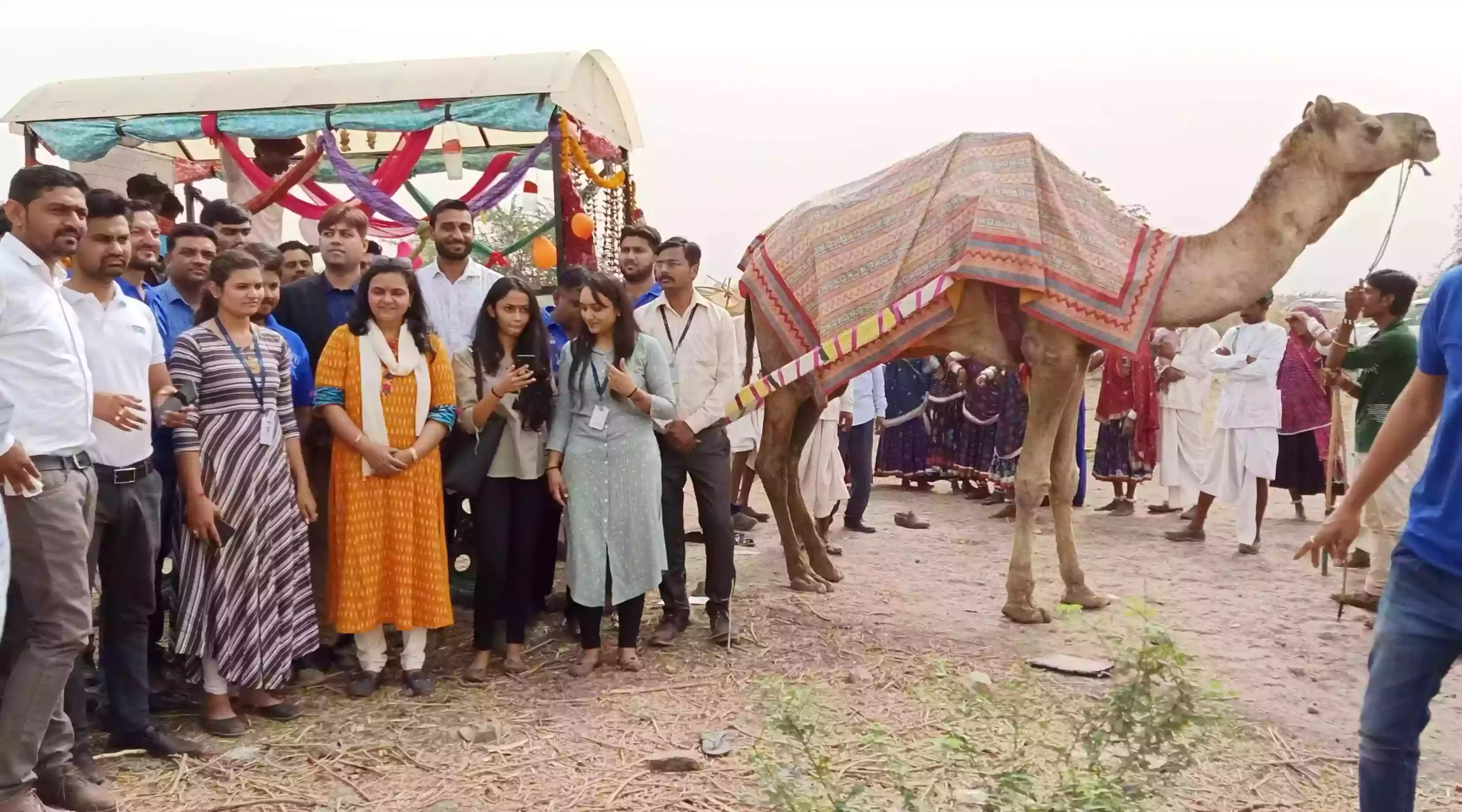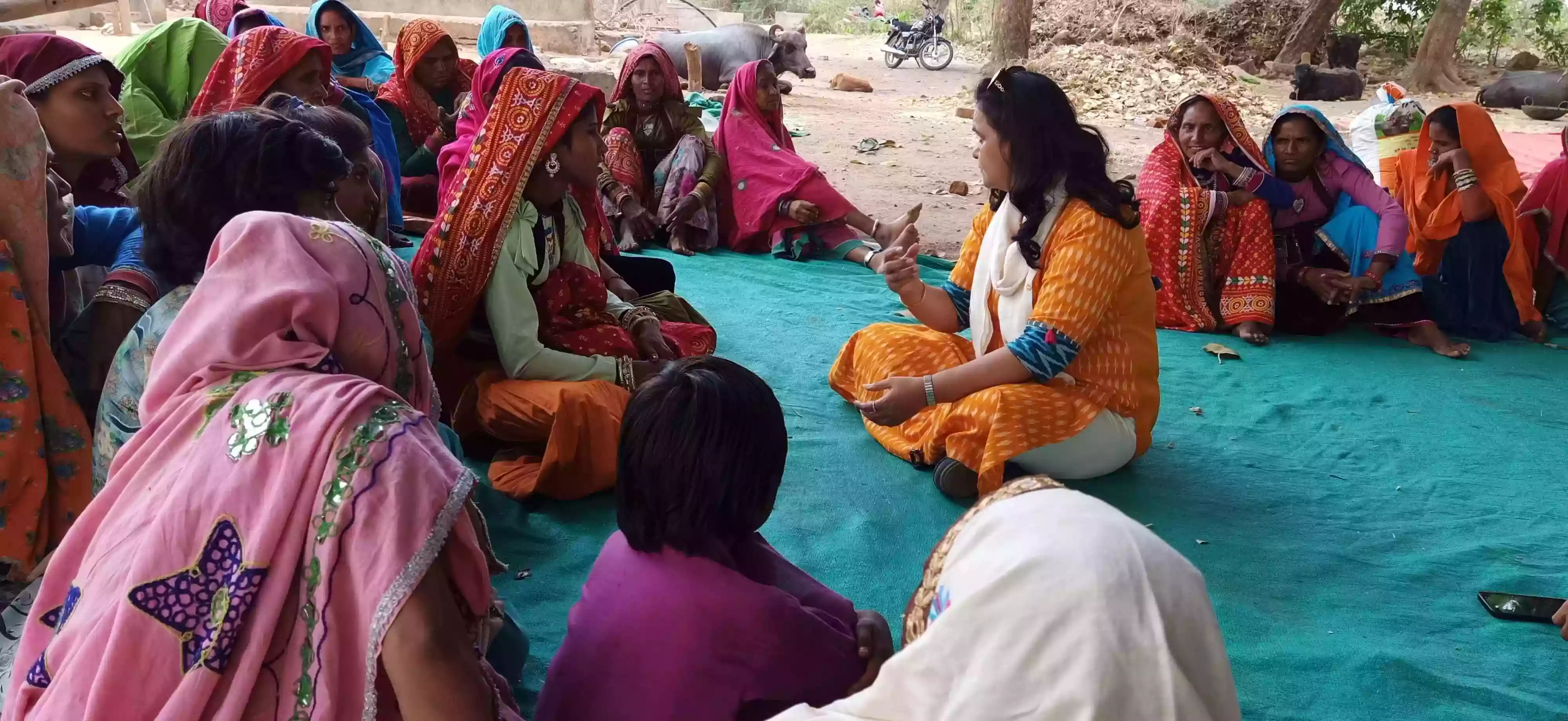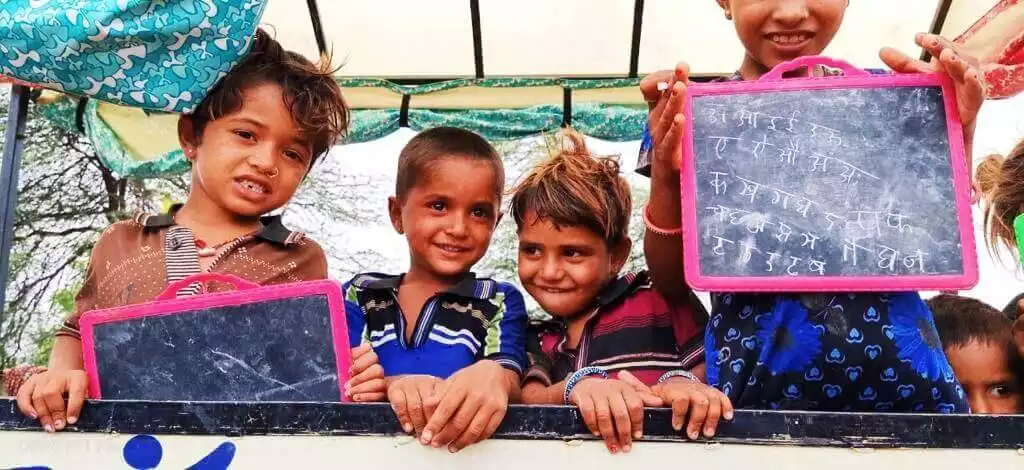 IIFL Foundation's unique initiative Rathshaala helps to educate the upcoming generation of migratory Rebari Tribes, with a thought – Those who cannot reach a school, we will reach them with a school. The migratory pattern of the Rebari community has been consistent since many previous generations. But in past few years, they've felt the need for the children to be 'literate' and 'educated'. However owing to their migratory lifestyle it's impossible for them to enroll their children at a school. Hence when the idea was shared of a mobile school that shall travel along the tribe and teach their children during halts, their joy knew no bounds. That idea gave birth to Rathshaala – a school on a chariot towed by a camel, traveling with the caravan. A significant challenge was of finding an individual who would teach the children and facilitate the learning process. This was overcome by appointing a person from within the tribe to brave the task. This individual – the learning facilitator, is trained at every quarter by experienced tutors and gets supply of learning material for the children. The learning sessions are conducted in 2 parts each day. First session commences in the morning hours following which the children accompany their parents with chores and daily tasks, while the second session initiates during late evenings mostly after dinner, before the children retire to sleep. The children learn from the curriculum based on syllabus followed by primary sections of government schools in Rajasthan and cover basic and intermediate levels of reading, writing and speaking skills along with mix of math. Rathshaala is a unique step to meet the educational need of the Rebari community. The program shall evolve as we learn along the way!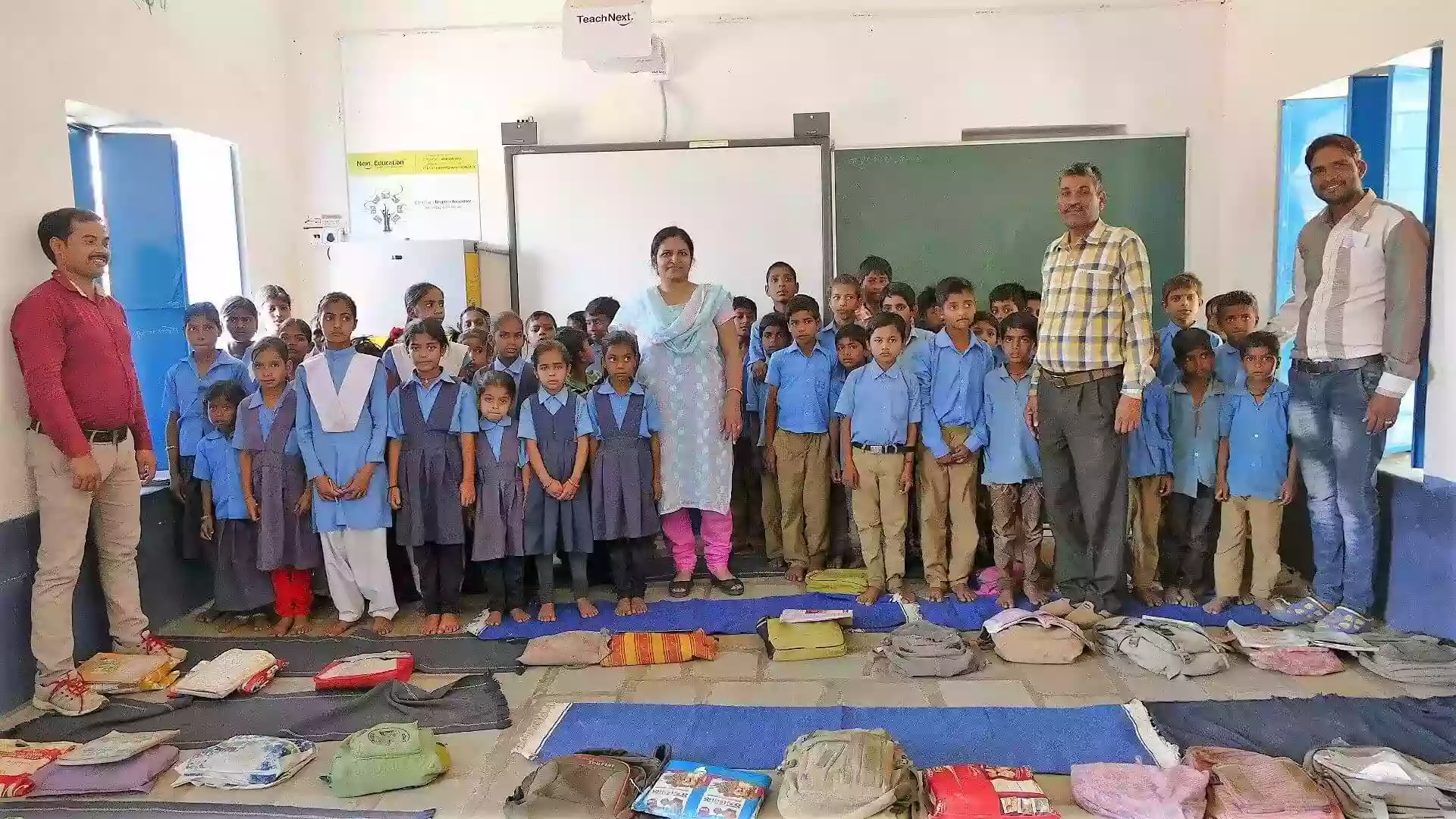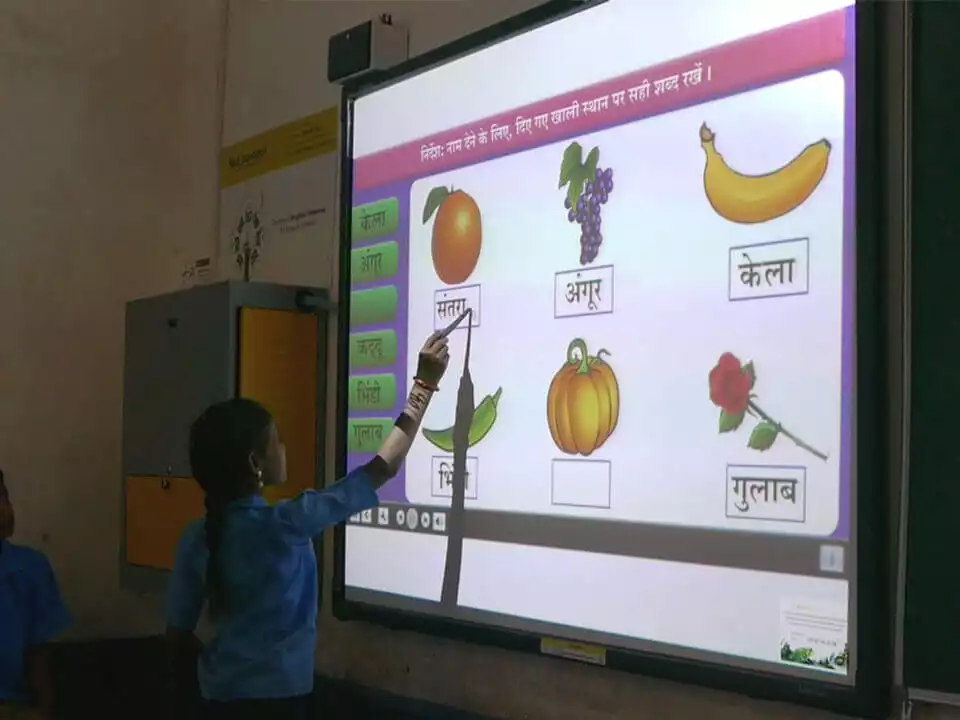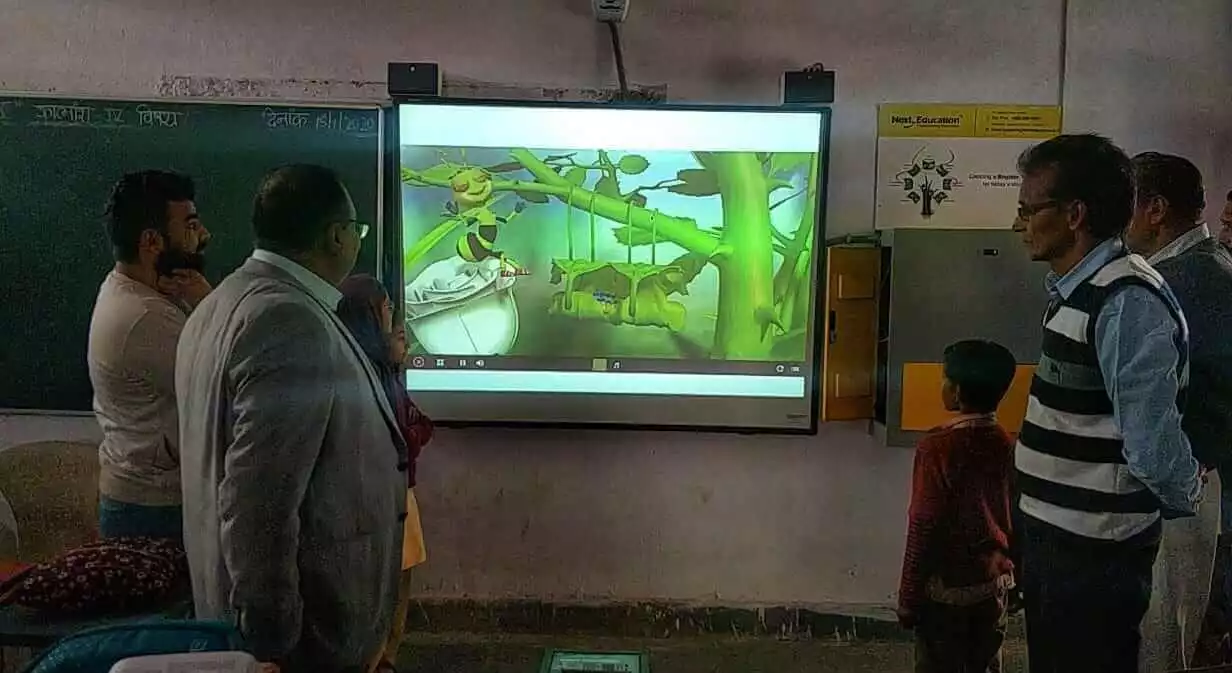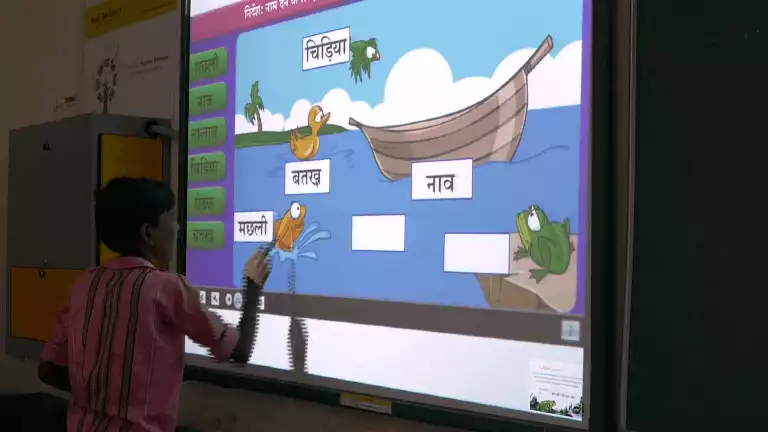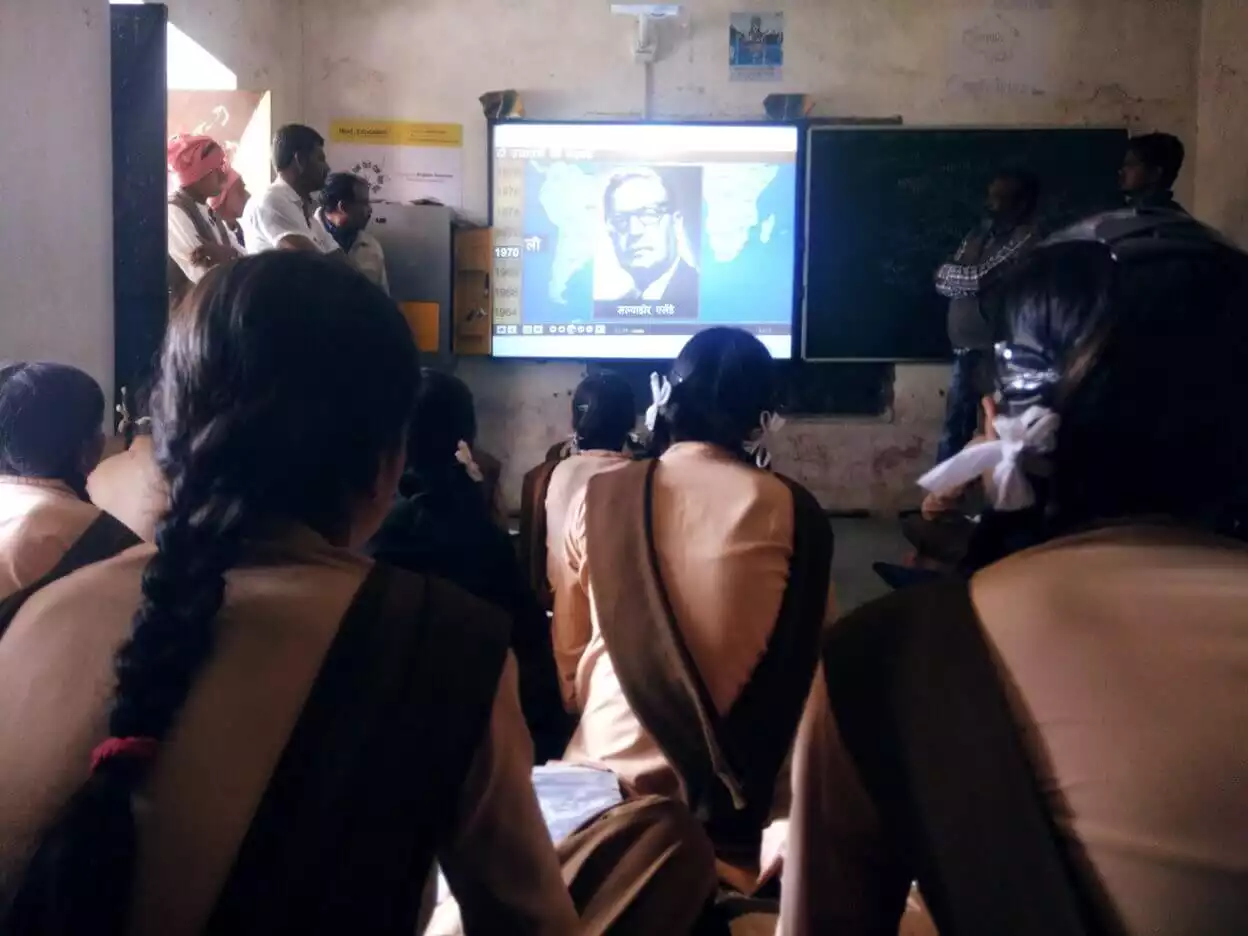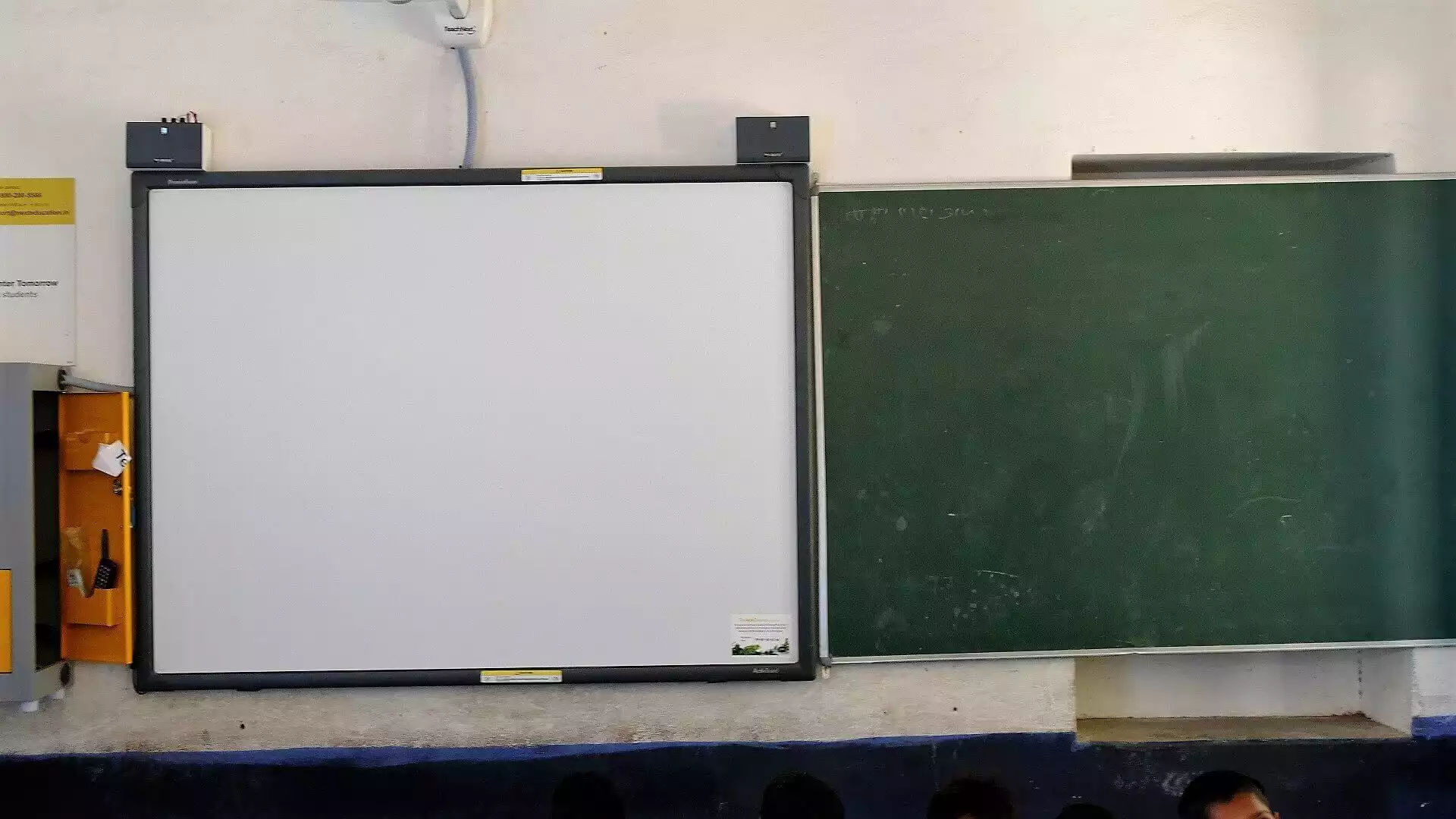 Talking of 'quality education' - the basic need of students and teachers is access to wider and extensive resource material for deeper exploration of topics. This need is all the higher in the government schools located at semi-urban and rural locations where access to library or internet (world wide web) is nearly absent. To meet this requirement, IIFL Foundation explored a range of digital learning products that offered content rich, easy-to-use systems and subsequently chose 'Smart Board' as an ideal tool to shape the minds of the learners. 'Smart Board' is a compact yet powerful system comprising of a CPU coupled with a projected screen and speakers. The content is developed for curriculum prescribed by the Board of Secondary Education, Rajasthan (RBSE). The digital content offers access to archives of images & videos backed with voice overs that cover topics for each subject. The content is upgraded once every few months. Smart Board not only aids the teacher while teaching but is a standalone system that can teach every topic even in absence of a teacher. This is really helpful at locations where the schools fall short to have required number of teaching staff. Also, this self-study feature instigates curiosity and fulfils it with wide range of information material. Currently, IIFL Foundation has powered 9 government schools with 'Smart Boards', offering access to wider knowledge banks.
Location (Districts in Rajasthan)
Udaipur
Rajsamand
Bikaner
Jodhpur
Kota
Jaipur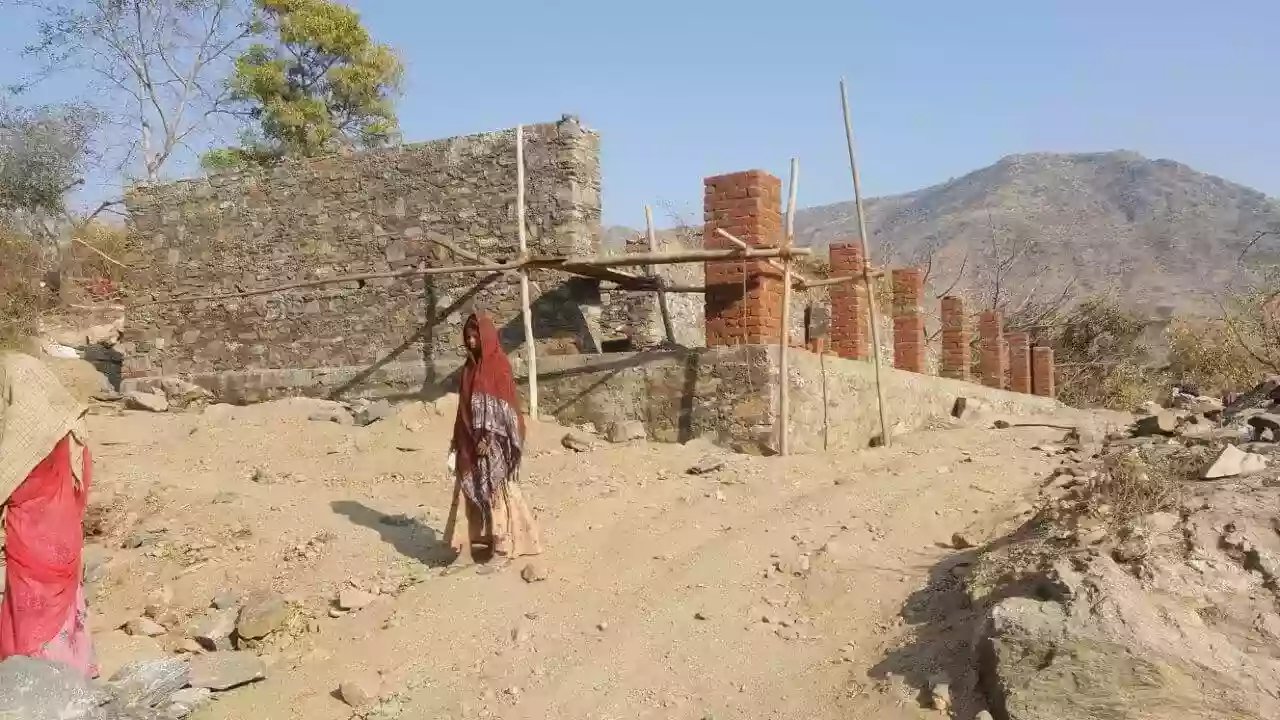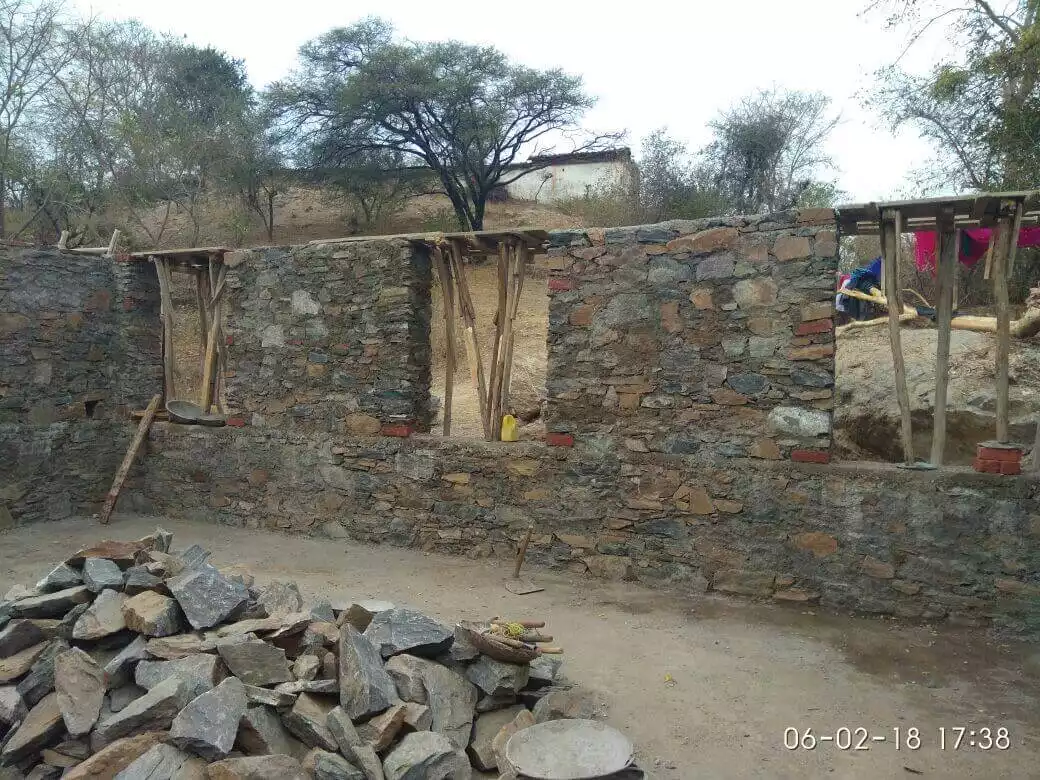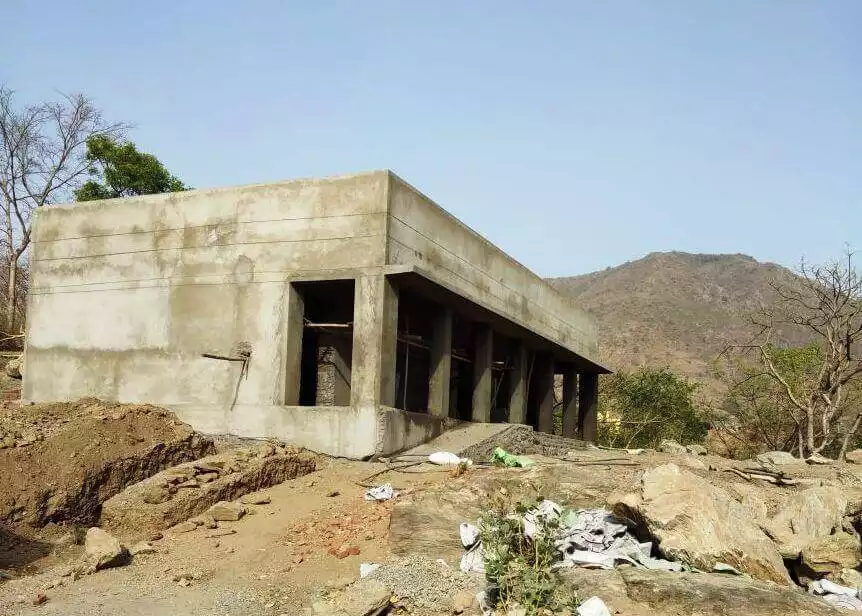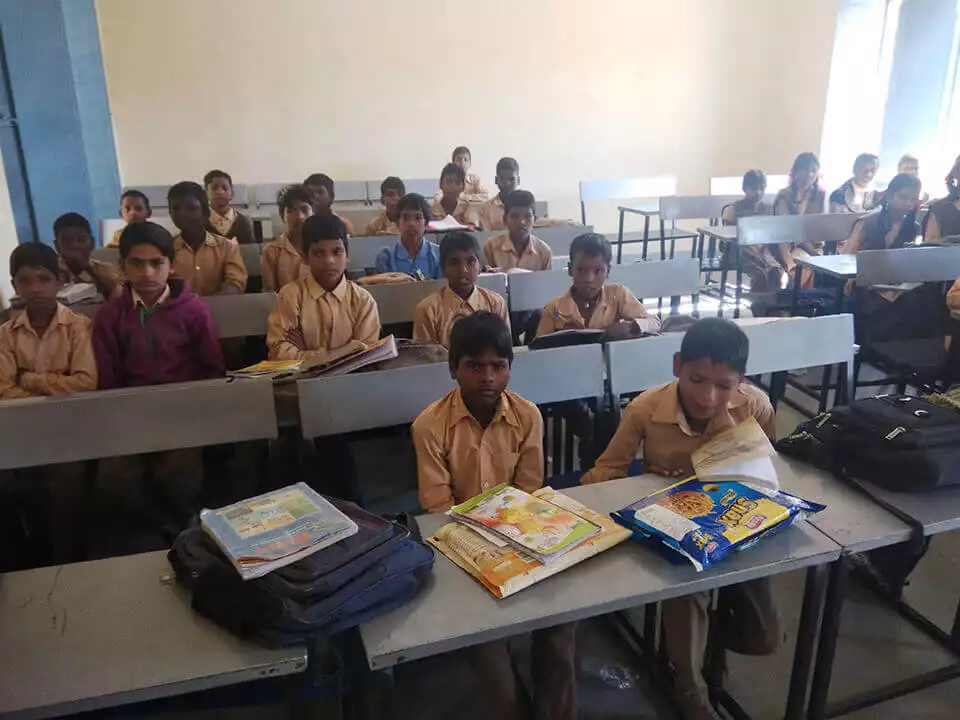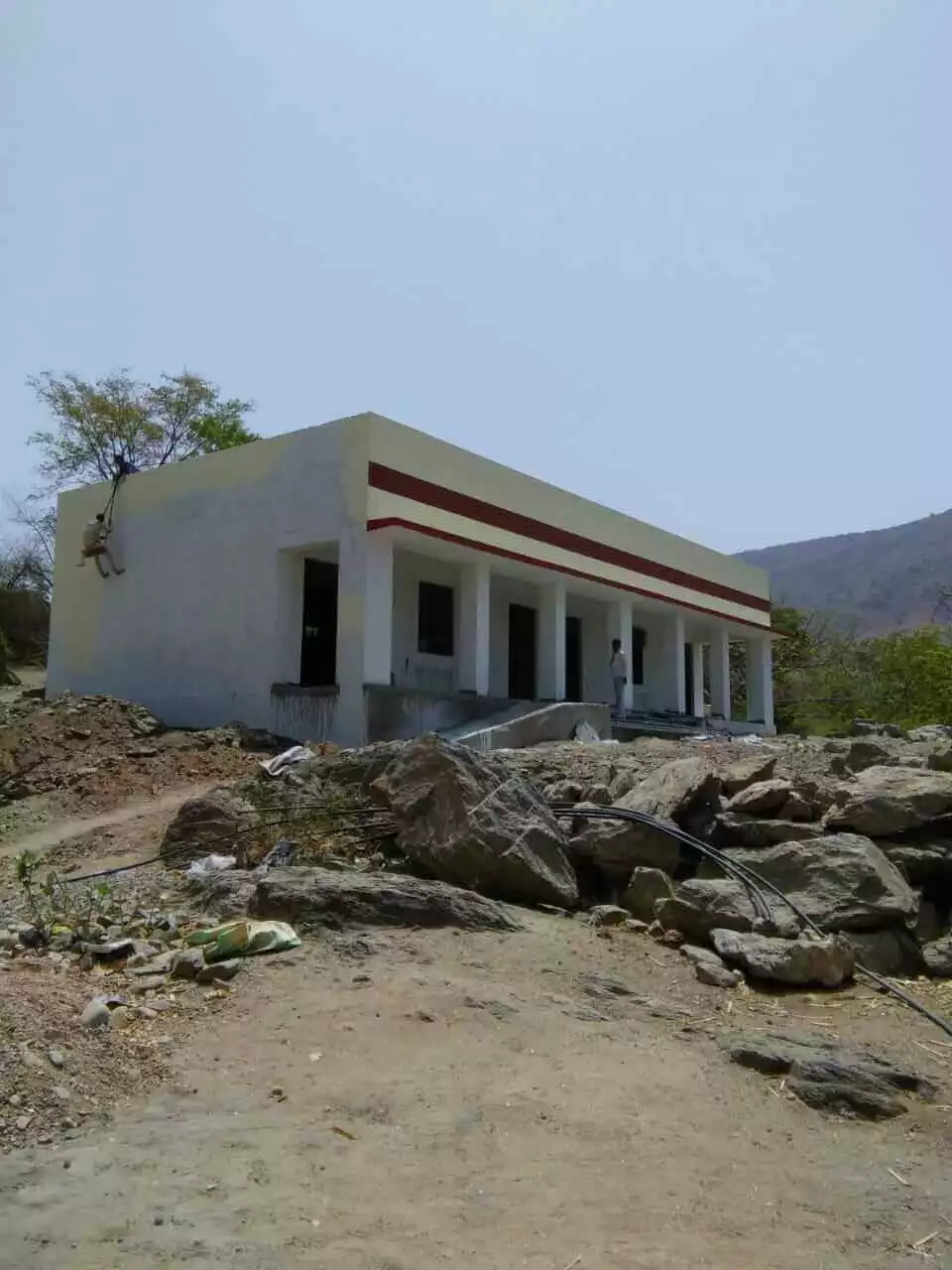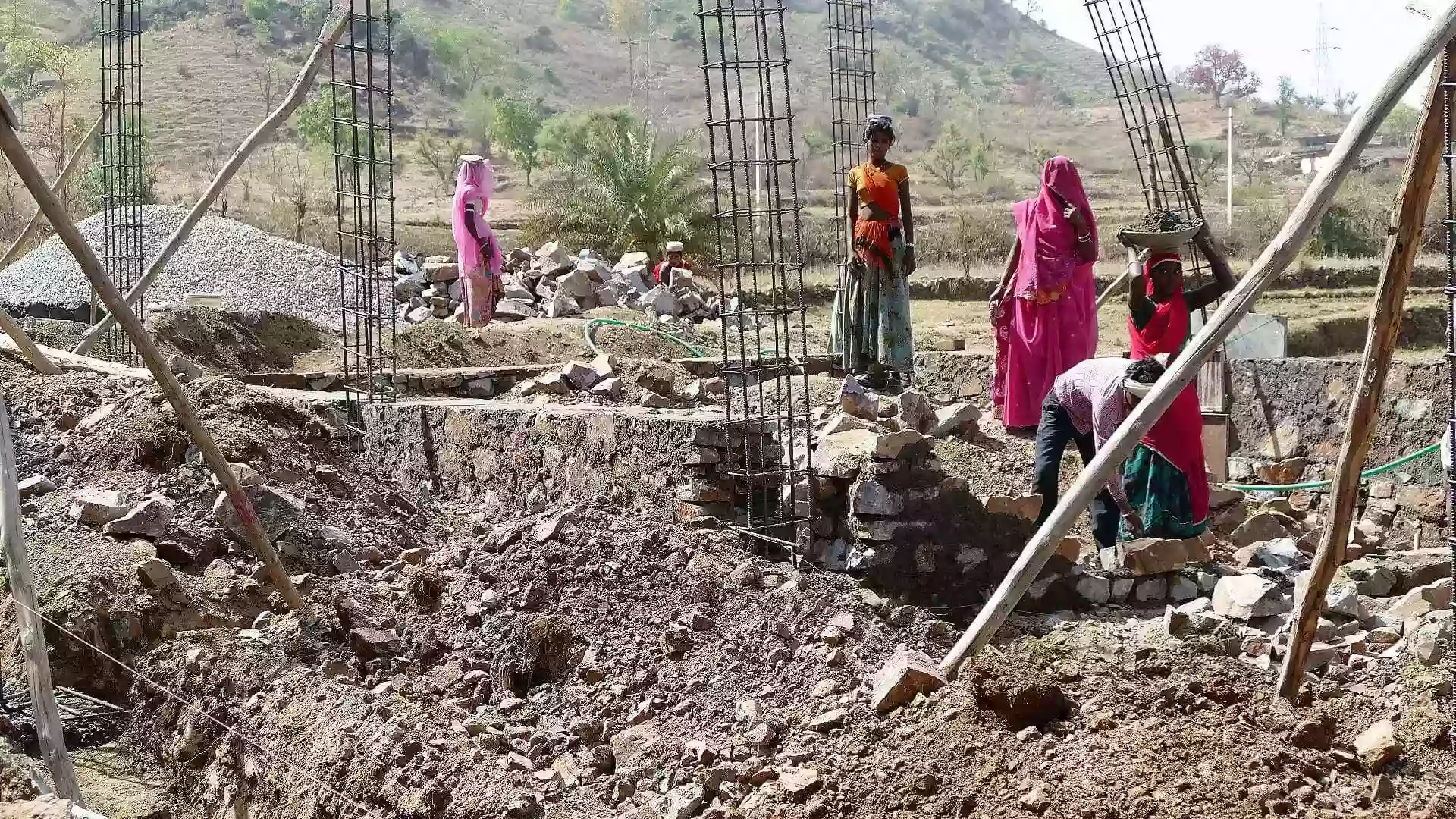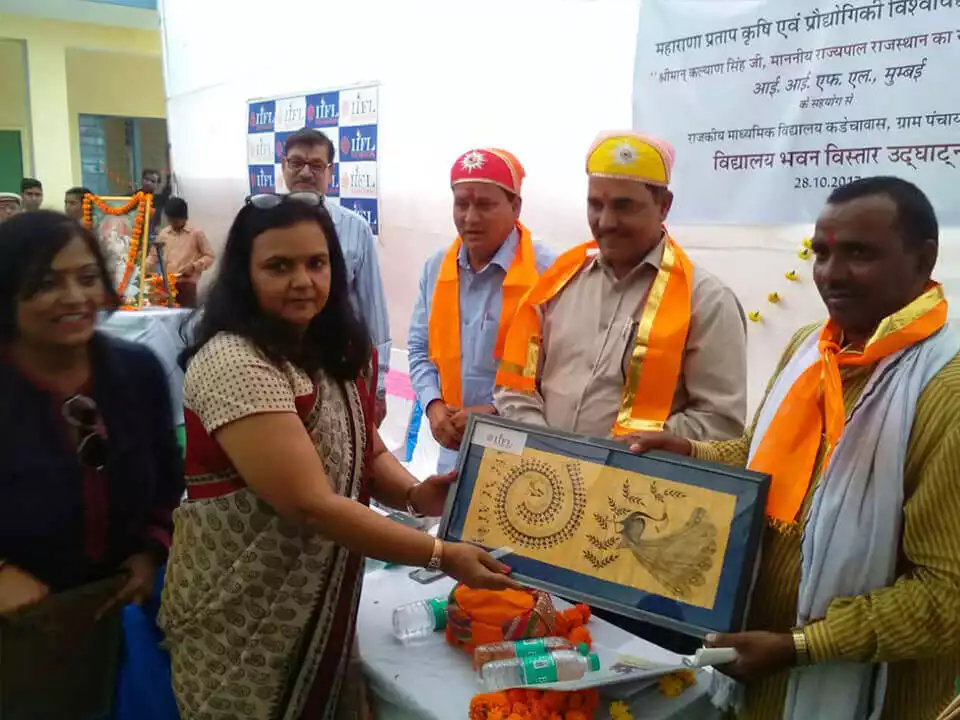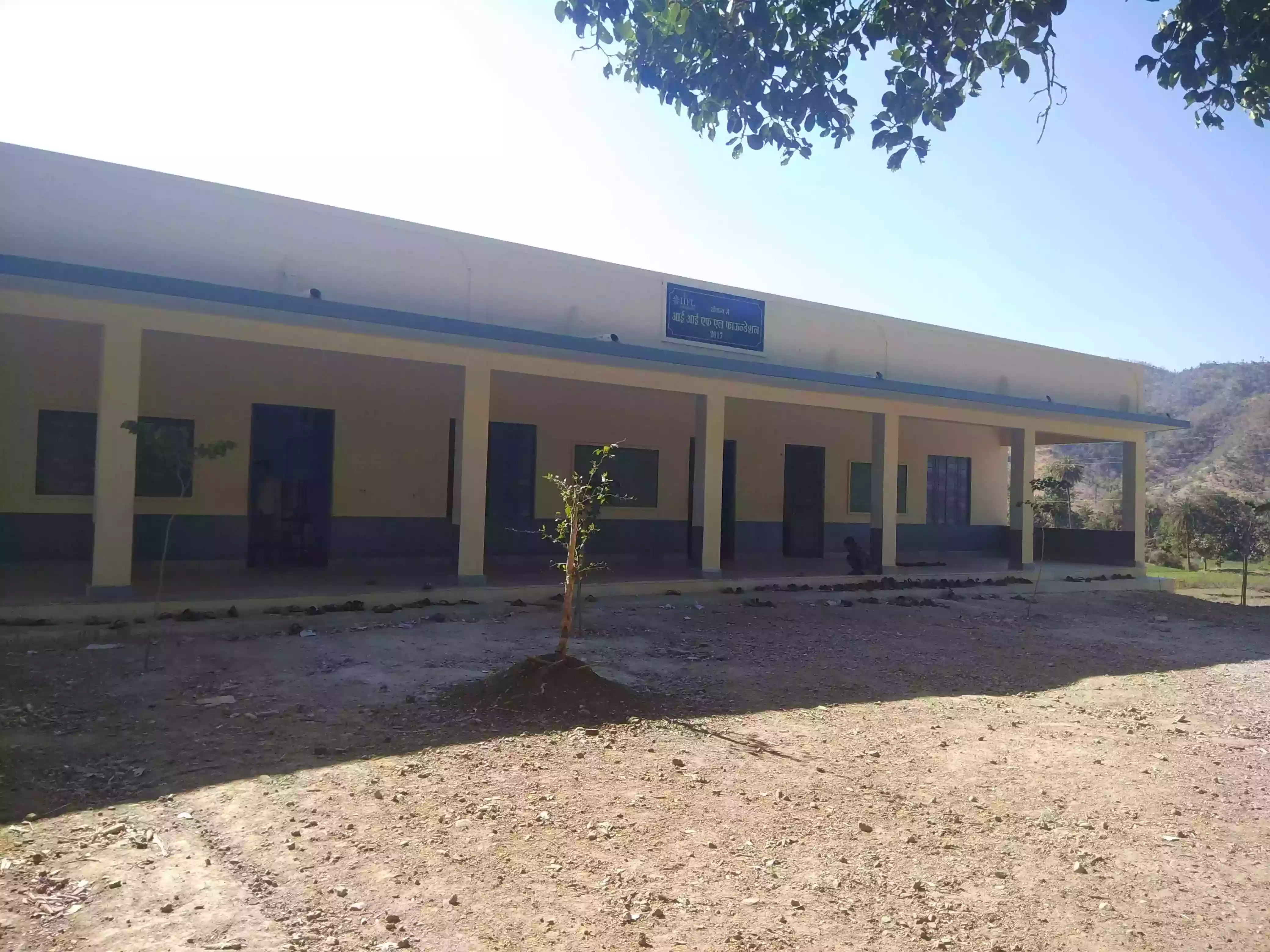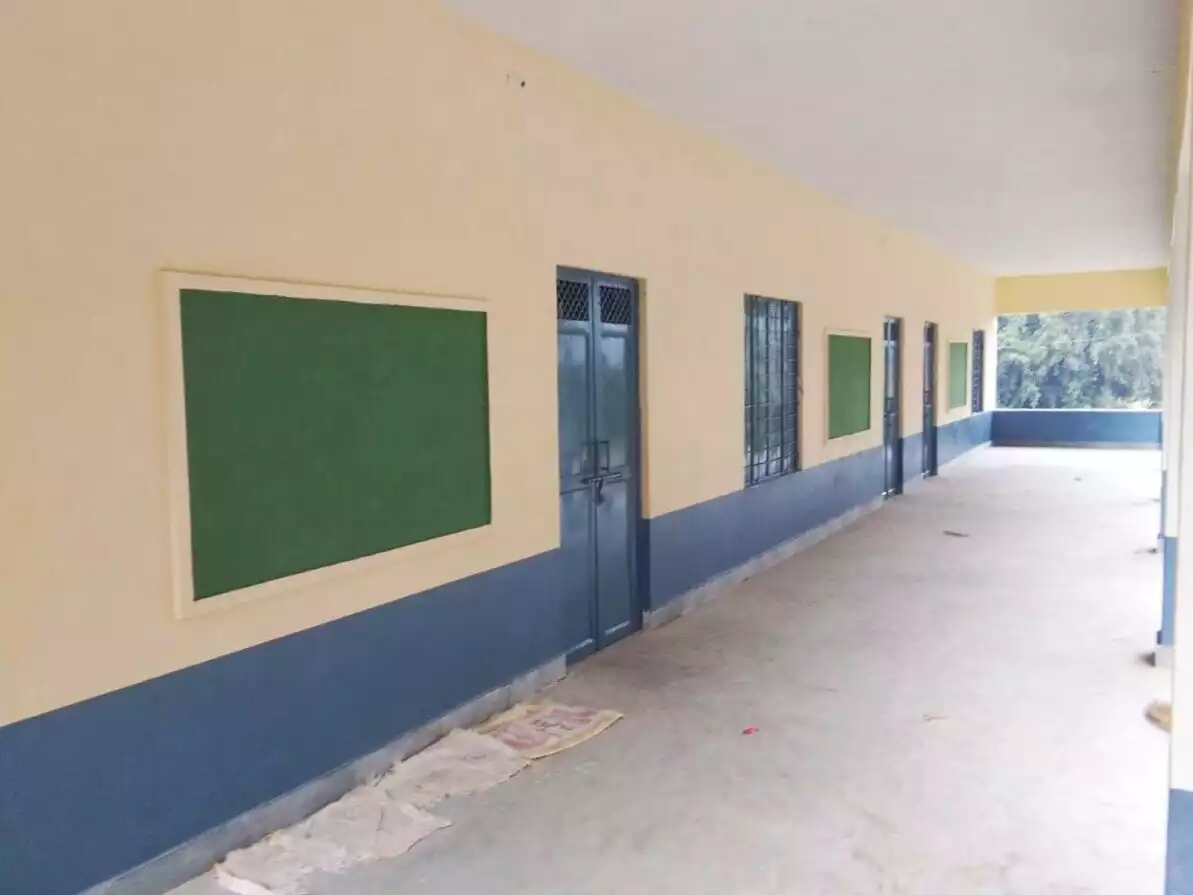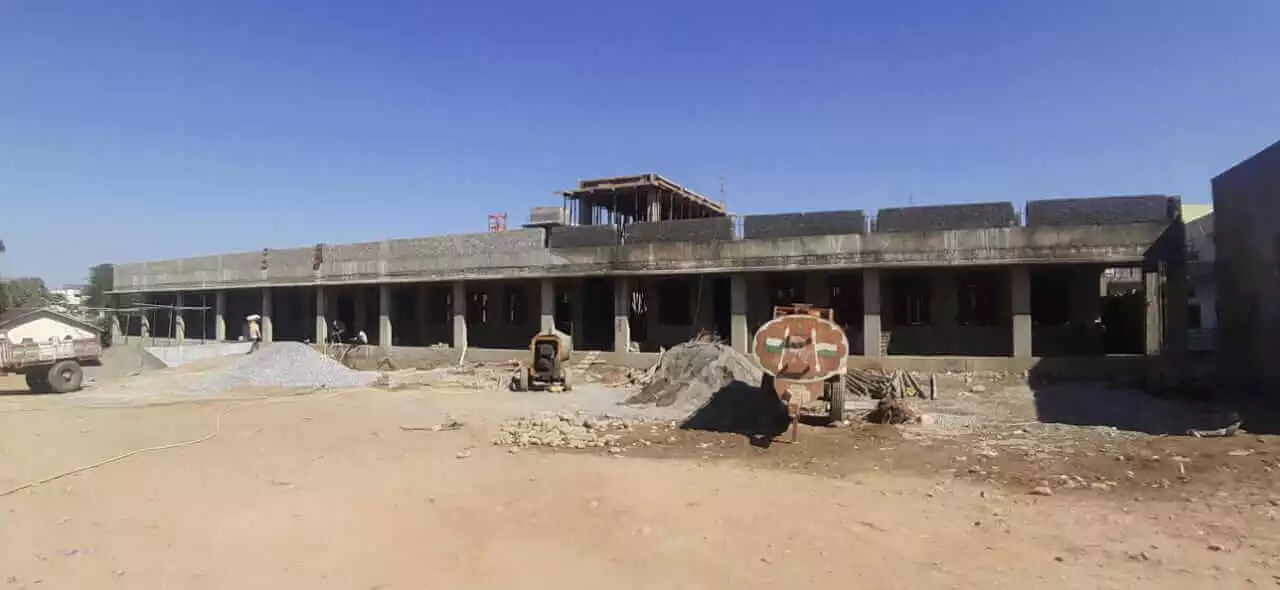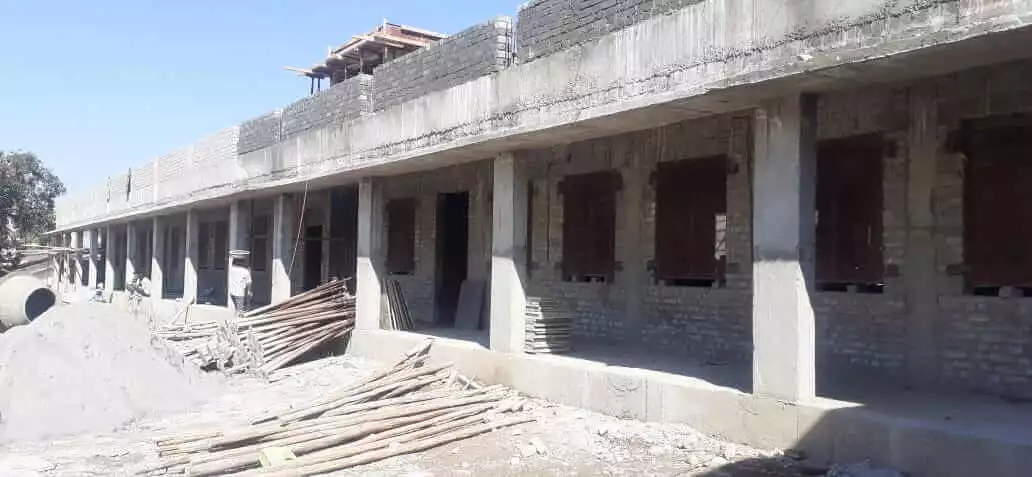 In India, during the past two decades, major emphasis has been paid upon development of programs and schemes, such as, Operation Blackboard, Sarva Shiksha Abhiyan (SSA), District Primary Education Program, Mid-day Meal scheme and so forth to elevate literacy levels. The major objective of these programs and schemes has been to build a robust educational system and ensure participation of children at government schools. It has been comprehensively understood that the infrastructure is regarded to have a considerable influence over enrolment and attendance of students at government schools. When schools are well equipped, students take pleasure in attending regularly and gradually completing their term.
IIFL Foundation has taken keen interest in development of infrastructure at government schools located in far flung rural areas of Rajasthan, supporting efforts of the Government. We have developed classrooms, washrooms, science laboratory and computer lab, to enrich the learning experience and boost the engagement of the students with the school.
| Location | Construction Support | Digital Class Room |
| --- | --- | --- |
| Kadechawas, Gogunda, Udaipur | Class rooms, toilet block with benches | Smart Board & 5 computers |
| Undithal, Gogunda, Udaipur | Classrooms & toilet block | Smart Board |
| Challi, Gogunda, Udaipur | Classrooms | Smart Board |
| Khamnor, Rajsamand | 4 classrooms with toilet block | Smart Board |
| Banokada, Kumbhalgarh, Rajasamand | 3 classrooms with toilet block | Smart Board |
| Residency School, Udaipur | Science laboratories and classrooms | - |