Know The Maximum & Minimum Tenor For A Personal Loan
Personal loan have a number of factors such as tenure, interest, budget etc. The tenure of a personal loan depends on the nature of the loan. Tenure plays an important role, so read to know more and choose wisely.
31 Aug,2022
19:31 IST
6 views
6 Likes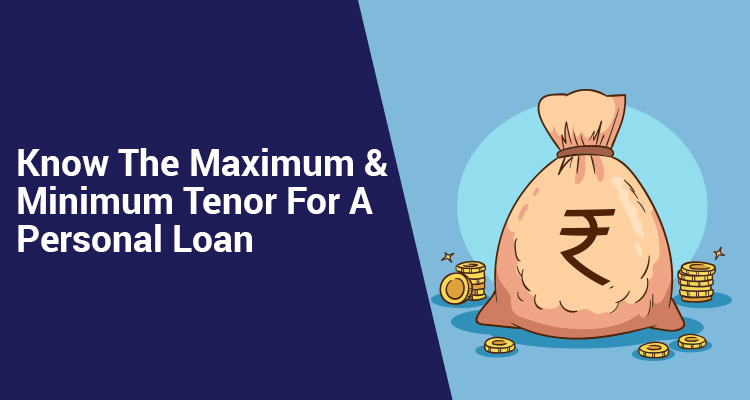 Personal loans cover a variety of financial needs, including paying medical bills, funding a business, weddings, and more. However, it is crucial to understand the nuances of a personal loan before applying for one. One of the most influential factors of a loan is its tenure.
The loan tenure is the period when the borrower will have to repay the loan. Learn more about personal loan tenure in this blog.
What Is The Maximum And Minimum Tenor For A Personal Loan?
A personal loan has a minimum tenure of 12 months and a maximum tenure of 60 months. However, it may vary from lender to lender depending on the borrower's needs, income, and credit history. Banks and financial institutions may also consider a borrower's age and employment status with these factors.
Your loan tenure, EMI payments, and the overall sum you return to the lender are strongly correlated. A long term, for example, would mean smaller EMIs, since the payment spreads over a broader period. But, it would also mean more accumulated interest, possibly resulting in higher debt repayment.
Conversely, a shorter tenure will result in higher EMIs, but less interest accumulated. To ensure a payment plan that doesn't compromise your financial future, you must strike a balance between its primary factors before selecting and applying for a personal loan.
Factors To Consider While Selecting Personal Loan Duration
You must consider these additional factors when choosing an appropriate personal loan tenure:
Monthly Budget
Formulating an effective repayment process requires an understanding of your monthly expenses. To determine your EMI amount, compare your net monthly income with your fixed and variable expenses.
Loan Amount
The loan tenure heavily influences the personal loan amount. If you are taking a small loan, you should aim for a shorter loan tenure since a longer tenure will cost you more interest.
When borrowing large amounts of money, it is best to choose a longer term. Short tenures strain your finances and may lead to default, which can harm your credit history.
Existing Liabilities
It is also vital to consider other financial commitments when choosing an appropriate tenure. The most common obligations to consider are other loans, credit card payments, rent, and tuition fees. Choosing a term that balances all obligations should be a top priority. Using spreadsheets and formulas will help you arrive at a clear picture.
Interest Charges
You must balance the tenure and interest rate that suits your ability to pay on time. Calculate interest by combining different tenure options with the proposed loan amount.
When applying for a personal loan, choosing the correct tenure is vital as it determines your fixed interest rate and the overall amount you will have to repay. Make the right choice by considering the above factors.
Frequently Asked Questions
Q1. Can I get a personal loan tenure of 10 years?
Ans. Most banks and NBFCs offer a maximum tenure of five years for long-term personal loans. Hence, it's unlikely that you will get a personal loan of ten years.
Q2. Is it possible to extend the personal loan tenure?
Ans. An extension in the personal loan tenure is possible only if your lender agrees.