Key Things to Know About RBI's Extended Moratorium on EMI
Key Things to Know About RBI's Extended Moratorium on EMI
27 May,2020
02:00 IST
228 Views
966 Likes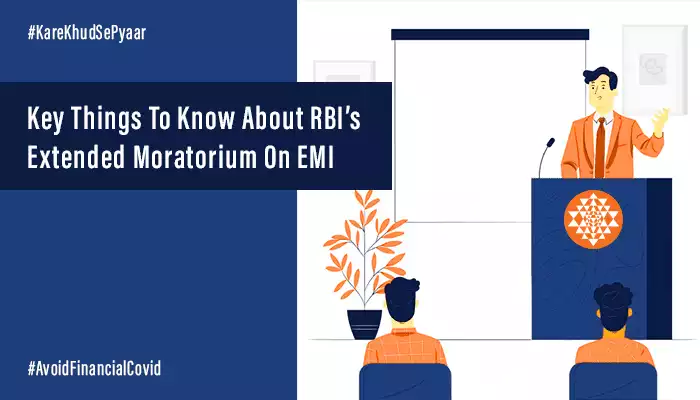 Planning to avail loan moratorium extended by another 3 months by RBI? Check out six of the most important things about this moratorium before deciding.
On 22nd May 2020, the RBI asked all the lending institutions in India to extend moratorium on loan EMIs by another three months to help retail borrowers who are financially struggling due to the COVID-19 outbreak. The moratorium is also available on credit card dues.
Lenders have now started implementing this moratorium facility. Most institutions are requesting their customers to visit their website to apply for this facility. If you are planning to apply as well, it is necessary for you to first thoroughly understand moratorium.
Here are six things borrowers should know about this 6-month loan EMI moratorium-
1. Types of Loan Eligible for Moratorium
As per the official announcement by the RBI, the moratorium facility is available for all the different types of term loans.
This means that it applies to retails loans such as home loans, auto loans, personal loans, and even agricultural term loans and crop loans. Even commercial loans like working capital loans are eligible for this moratorium.
2. Moratorium Period
6-month moratorium is available for EMI payments between 1st March 2020 and 31st August, 2020. Borrowers can apply for this moratorium facility to defer their EMI (principal + interest) payments during this period.
Regular payments would resume from September 2020. But borrowers should understand that the moratorium only defers the EMI payment and is not a waiver or concession.
3. Interest Accrual
Even during the moratorium period, the balance loan amount will continue to accrue interest. This will increase the total interest a borrower pays on his/her loan. We recommend you only apply for it in case of severe financial constraints.
The RBI has also reduced the repo rates. Lenders will mostly reduce the interest rate on repo-rate linked loans soon. This will help in reducing the loan EMIs. If possible, try and continue paying the EMIs so that you are not required to pay additional interest.
4. Collection of Accrued Interest
The RBI has not made any announcements about the collection of accrued interest. So, the lenders have some flexibility with regards to how they'd implement the moratorium and collect accrued interest
While most lenders are yet to decide, it is expected that the accrued interest will be recovered by increasing the loan tenure. However, in some cases, where the tenure cannot be increased, the EMI may be increased to adjust the accrued interest.
5. Moratorium Application Process
If you'd like to apply for this moratorium facility, please raise a request here, https://www.iifl.com/contact-us/home-loan/raise-a-request. You are required to fill your account number to take your application forward.
Note that all the borrowers who do not apply for the moratorium will continue paying the EMIs.
6. Refund of EMI Paid in March
You may raise your request at https://www.iifl.com/contact-us/home-loan/raise-a-request for the same.
India Fights COVID-19
The loan EMI moratorium was a much-needed relief measure for retail borrowers struggling with the economic impact of COVID-19 pandemic. Apply for this facility as soon as possible in case if you believe that you won't be able to pay your EMIs temporarily.
But do so only in case of severe financial distress as the moratorium can significantly increase the interest outflow of your loan. Do consult your lender before deciding.