Impact of COVID - 19 on Finance Industry
Impact of COVID - 19 on Finance Industry
27 May,2020
03:45 IST
817 Views
1105 Likes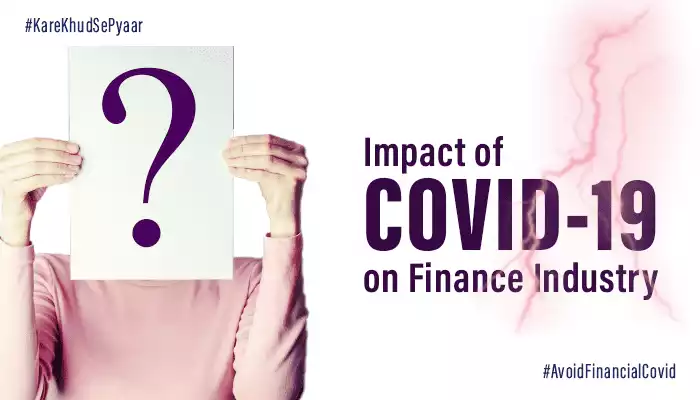 Introduction
Coronavirus disease (COVID-19), a new infectious disease caused by a newly discovered coronavirus continues to expand; more than 175 countries and territories have reported confirmed positive cases of COVID-19. This has now become a global issue and is causing a financial crisis globally.
Impact on Business
The Banking Sector may not be hit directly but as they are at the forefront of public attention, the impact on other sectors has indirectly affected the banking & finance sector. Banks play an important role in smooth functioning of the economy and provide funding to corporates and individuals. Thus, stability of businesses and individuals is crucial for the banking industry. In this scenario, a global slowdown would affect small and mid-size companies more acutely. Business loans especially to these small and medium enterprises are at risk due to the forced shutdown.
Service sectors, including aviation, travel, and tourism, are likely to be hit the hardest. Airlines have already experienced a steep fall in traffic on their highest-profit international routes (especially in Asia–Pacific). In this scenario, airlines miss out on the summer peak travel season, leading to bankruptcies (FlyBe, the UK regional carrier, is an early example) and consolidation across the sector. Interest rate payments are essential income for banks/ HFC's, without it there will be some liquidity crisis. Some of the sectors getting affected are mentioned below.
In consumer goods, the steep drop in consumer demand will likely mean delayed demand. This has implications for consumer companies (and their suppliers) that operate on thin working-capital margins. India imports consumer durables mainly from China as it doesn't have large scale manufacturing capability in this sector. Price increase due to supply shortage will adversely affect the consumer sentiment.
Exports comprise 30% of India's Seafood industry. China, which has a share of 22% share in India's export industry has moved towards lower demand leading to surplus stock. The prevalent fear of the virus spread among the buyers have also impacted domestic consumption causing lower supplier margins.
The construction industry has suffered a major setback due to diversion of state funds towards healthcare, weighing on demand growth in fiscal 2021. Extended impact would hit construction mainly because of non-availability of essential resources. Sales in real estate- specifically mid and high category could be impacted.
In pharmaceuticals, on the export front, government has restricted exports of 13 key active pharmaceutical ingredients to prevent shortage of medicines. Though, manufacturing resumes in China, still logistics between India and China is still impacted. India imports 68% of bulk drugs from China, and it can have a long-term effect.
Other industries such as retail textiles, IT and BPO, Fertilisers, Leather goods, etc. also continue to get affected.