Should You Take A Gold Loan For Higher Education Expenses?
Gold loan is an easy and quick way of funding the financial needs. But, should you take a gold loan for higher education expenses? Read to know!
20 Nov,2022
17:24 IST
12 views
3 Likes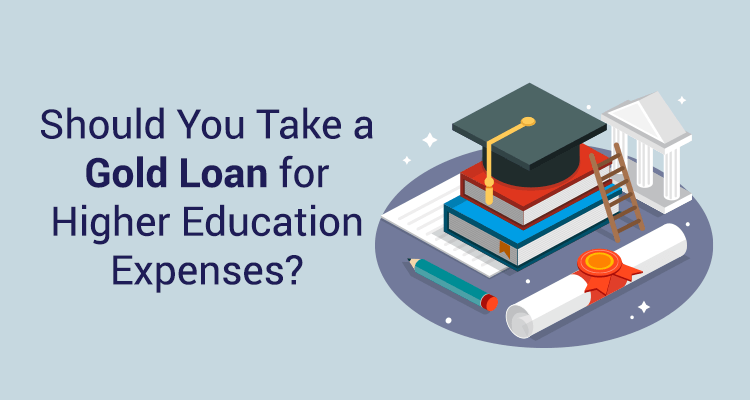 Most people dream of sending their children to a good university or college for higher education. It is the stepping stone for your child's future. But with increasing privatization, higher education has become very expensive within and outside India. The expenses for higher education have almost become outside the reach of middle-class families, forcing many to consider taking loans to fund higher education.
Though most banks and non-banking finance companies (NBFCs) offer education loans, getting them may not be very easy. Most banks have become cautious in approving education loans because of high defaults.
According to the Reserve Bank of India, education loans had the highest gross non-performing assets ratio among personal loans in scheduled commercial banks in March 2022 at 6.7%. Because of this high rate of default, most banks apply stringent conditions and getting education loan has become that much more difficult.
How Easy Is It To Get An Education Loan?
Eligibility Criteria:
Though eligibility criteria for educational loans may vary from lender to lender, most of them take into account the university or the college where admission is taken, credit score, current income, existing liabilities and age of the borrower and the guardian before approving them. Lenders also approve education loans only to select universities and courses.
Cumbersome Documentation:
Education loans will need a lot of documents including the admission letter from the education institution, fee structure, mark sheets, and income documents of the applicant or the guardian. In some cases, banks seek collateral as well.
No Full Funding:
Most lenders do not provide education loans to the full extent of the expenses for higher education. Typically, it covers only the tuition fees. Educational expenses are not limited to tuition fees. There are other expenses like travel, stay and food.
Margin Money:
Lenders normally do not provide loans for the total fees for the course. They insist on the loan applicant paying a part of the fees as margin money. The percentage of margin money will vary depending on the loan amount and whether the education is in India or abroad.
Credit Score:
Since education loans are usually unsecured, lenders follow stringent appraisal process. They approve loans only to those applicants with
good credit history
or if the loan is guaranteed by someone with a good credit score.
Though the government has been pushing education loans, banks have been selective in approving them. Luckily for those seeking financial support for higher education there are other options to education loan. A gold loan is one such option.
Why Gold Loan?
Gold loans are loans taken against mortgaging gold ornaments or even gold coins in some cases. Since they are secured, they are much easier to access and do not need cumbersome paper work.
Eligibility:
Unlike education loans, gold loans are not sanctioned on the basis of the borrower's eligibility. If a person has gold to mortgage, lenders do not look at the person's credit score or the university or the course to which their child have got admission. The process is quick and hassle-free.
End-Use Restrictions:
There are no end-use restrictions on gold loans. It can be used for anything including tuition fees, travel, and boarding and lodging.
Credit History:
Gold loans are not based on the borrower's credit history or score.
High Loan To Value:
Lenders sanction loans up to 75% of the value of the gold.
Low Processing Fees:
Gold loans typically have negligible processing fees.
Speed:
Unlike educational loans, which takes weeks for approval and disbursal, gold loans are almost instant. Many NBFCs even offer gold loans as quickly as 30 minutes.
Flexible Repayment Options:
Unlike other
personal loans
, lenders provide greater flexibility in repayment of gold loans. Lenders allow borrowers the option to pay only the interest component initially and pay the principal component at the maturity of the loan.
Conclusion
If you are tired of waiting for the bank to approve an education loan for your child, a gold loan is an easy and quick way of funding the financial needs. No wonder, it is the fastest-growing segment in personal loans.
IIFL Finance is a leading gold loan lender and provides
loans against gold
at competitive interest rates. IIFL Finance pan-India network makes it easier for borrowers to pledge gold to take a loan. The company follows a fully digital process that borrowers can use to apply for a gold loan from the comfort of their home.