Gold Loan Vs. Loan Against Property - What Is The Difference?
Gold loan & loan against property (LAP) are two different loans that help you avail immediate funds. Know the difference & choose the one which suits your needs!
30 Aug,2022
08:09 IST
34 Views
32 Likes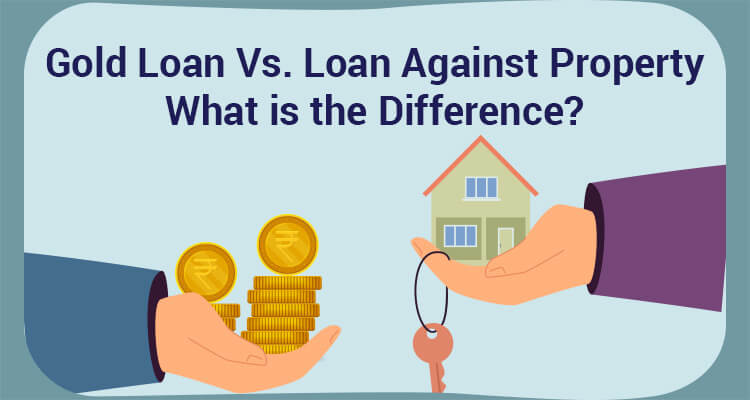 Loans are one of the most convenient ways to bridge the gap between you and your cash needs. However, with the wide variety of options to select from, it can get confusing to choose the best one for you. This article elaborates on the difference between a loan against gold and a loan against property to help you make an informed decision.
What Is A Gold Loan?
Gold has been a saviour for many Indians, from weddings to festivities to tough times. People's trust in gold has made it as valuable as it is today. It is popularly known as a haven for various reasons, the most influential motivation being its liquid nature. It is easy to convert into cash and get a
gold loan
.
A gold loan or a loan against gold is a secured loan taken to fulfill short-term or long-term cash needs. Here, you pledge your gold valuables as collateral. The approved loan can be up to 90% of the current market value of the committed gold, as per the Reserve Bank of India. The gold applicable for pledging can range from 22-24 karat.
What Is A Loan Against Property?
As the name suggests, a
loan against property
means availing of the loan against your property, commercial or residential. It has a longer tenor of up to 18 years with a loan-to-value (LTV) of 75% of the property's market value. Typically, the interest rate on loans against property is low compared to other loans.
What Is The Difference Between A Gold Loan And A Loan Against The Property?
Both gold loans and loans against property have their advantages and disadvantages, including the following:
1. Purpose:
A loan against gold is ideal for short-term cash needs, whereas a loan against property is helpful if you need a higher loan amount.
2. Loan-To-Value:
LTV
of a gold loan can go as high as 90% of the pledged collateral, whereas the LTV of a loan against property is up to 75% of the property value.
3. Tenor:
A gold loan tenor can range from three months to two years. A loan against property ranges from 2-18 years.
Apply For A Gold Loan With IIFL Finance
IIFL Finance is a leading gold loan lender. Since its inception, it has achieved a hassle-free experience for various gold loan borrowers. We have successfully provided a loan against gold to 6 million satisfied customers who received their funds hassle-free.
IIFL offers competitive interest rates and flexible repayment terms for short-term gold loans. We also ensure the safety of your collateralized physical gold until you repay the required amount. Furthermore, there are no additional costs when you redeem your gold mortgage.
Getting a gold loan has never been easier! Walk into any of our branches pan India, fill out an e-KYC and get your loan approved in under 30 minutes.
Frequently Asked Questions
Q.1: What is a gold loan?
Ans: A loan that you avail of against your gold ornaments or articles is known as a gold loan. In this type of loan, gold acts as collateral.
Q.2: What is the difference between a gold loan and a loan against property?
Ans: The evident underlying difference in both types of loans is the collateral involved. One keeps gold as collateral, and the other holds residential or commercial properties as collateral.
Another difference lies in the purpose of the loan. A loan against gold is ideal for short-term (3 to 24 months) cash needs, and a loan against property is helpful for a higher amount of loan with a longer tenor.